A Conversation with Dessane Lopez Cassell
Lorís SImón Salum
The Extremely Shorts Film Festival has formed part of Houston's native Aurora Picture Show since 1998, making it one of the oldest short film festivals in the city. Every year, a different juror selects around twenty mini-masterpieces to be shown at a two-day event. For its 22nd edition, the event will take place on May 17 and 18 at its very own venue on Bartlett Street.
Dessane Lopez Cassell, writer, curator, and film programmer based in New York, has been selected as this year's juror for the Extremely Shorts Film Festival. Cassell has held curatorial positions at the Studio Museum in Harlem, The Museum of Modern Art, and the Allen Memorial Art Museum. As a former US Fulbright fellow, she has organized curatorial projects and screenings for Flaherty NYC, Brooklyn Academy of Music, MoMA Film, and the Allen. In addition, her writing has been published in catalogs issued by the Whitney Museum of American Art, the Studio Museum, MoMA, and Experiments in Cinema. Cassell has produced podcast and radio projects for South African Bay FM and Creative X, the Danish Roskilde Festival, and she is a 2019 Advisory Committee member at UnionDocs. Some of her core research interests include black experimental film, contemporary practices that draw upon the archival, and investigations of labor and representation.
Can you talk to speak on the art of curating? How do you even begin?
I first became interested in curating as an undergraduate student. I had been studying Art History at Oberlin College when I learned about a student group called Exhibition Initiative, which organized exhibitions around town for both student and local artists. Working with them provided an exciting opportunity to develop my curatorial practice while still a student, and allowed me to experiment with art forms I hadn't had as much exposure to previously, such as performance and sound-based installation. I've been curating in various forms ever since. 
When it comes to starting a particular project, my approach tends to vary based on the particulars of what I'm working through, whether that be a film series, an exhibition in a gallery setting, or a public program. That being said, research and studio visits or conversations with artists are always core parts of my process.
Some may say that curating a project is almost like trying to tell a story through the art, or through the films. It is not a very passive action. What would you say?
I would agree with that. To me—as a curator who works with mostly living artists and filmmakers—curating requires an ability to interpret very nuanced intentions and works of an artist, and present them to audiences in a way that feels accessible without being reductive. I am most attracted to artists whose works interrogate notions of race and gender, and advance conversations about representation; so my work often requires extensive studio visits and conversations with the artists I work with, as well as a significant amount of research. This process allows me to present their work in a matter that highlights their intentions and concerns, in addition to teasing out the connections between their specific projects and the larger context they are working in. 
What has been one of the projects that you hold most dear?
One of the projects that I am particularly proud of is a film series I organized for BAM (Brooklyn Academy of Music) this past August, entitled "Women at Work: Radical Creativity." BAM had approached me to organize the series as part of their larger Women at Work series (of which my film series became the second in a trilogy). Tasked with interpreting the theme of women's intellectual labor, I conceived of "Radical Creativity" as a series that highlighted women's labor as artists and activists—domains where the contributions of women have often been overlooked. In the end, the film series featured 10 distinct programs, and included documentary, narrative film, and a wide array of artist's moving image (films that would normally be seen on small screens in a gallery or projected as part of an installation). Among many opportunities, the series gave me a chance to work with the Estate of Ana Mendieta—the late multi-disciplinary Cuban artist whose work I've long admired—and to program an evening of the artist's films. Most of her films were shot on Super8, which means that they're completely silent and until recently, had mainly been shown on monitors or projected at a fairly small scale in galleries. The screening we did at BAM allowed me the rare opportunity to present her works cinematically and thus, to enable new conversations about her films. I still marvel over how silently the audience sat as her films played in succession; it was so quiet you could almost hear a pin drop. Following the screening, I hosted a q&a with Racquel Cecilia Mendieta—the aritst's niece and a filmmaker herself— to talk about Mendieta's legacy and the process of restoring these films to high quality versions that could be seen and appreciated on a big screen in a theater.
How did you become associated with the Aurora Picture Show's Extremely Short Shorts? And can you talk about any films that stuck with you the most?
I'd been familiar with Aurora Picture Show for some time, and was interested in the way they had grown from being a roving micro-cinema to becoming a physical home for artist's moving image in Houston. I had met Mary Magsamen (the curator at Aurora) at a film seminar in 2018 and really enjoyed speaking with her about her work there, as well as about her broader thoughts on moving image curation. When she contacted me about jurying the festival, it felt like an exciting opportunity to both learn more about the organization and to see a wide range of very short-form films from all around the world. One of the best parts about the experience has been seeing the ways in which filmmakers have been able to create these very layered and unique films that run for just 3 minutes or less, which is no easy task. It's been particularly thrilling to see films that mine various archives, such as Erin Collins's "Thunderbird" and Brynne McGregor's "Sky Like." It's also been great to see filmmakers engage with complex topics such as migration (as in Keti Papadema's "Wine Festival") and spirituality (such as in Cheng Guo's "Bardo").
To attend Extremley Shorts Film Festival, visit their website.
Photo credits: Henry Murphy and Aurora Picture Show.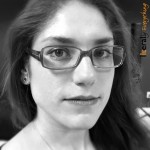 Lorís Simón Salum is the writer, director and co-producer of Ensoulment: A Diverse Analysis of the Feminine Principle in Western culture (2013), an award-winning documentary. Her latest project, a book,  Ensoulment: Exploring the Feminine Principle in Western Culture , was published by Chiron Publications in January 2017. Apart from continuing to shoot short films, Lorís works as Festival Director for Literally Short Film Festival . Her Twitter is @LorisSimonSalum
©Literal Publishing
Posted: May 16, 2019 at 9:16 pm