Two Poems
Dos poemas de Nathalie Handal
Nathalie Handal
Kilyoum*
No hay lengua verdadera que tenga el centro intacto.
César Vallejo
I have a country
it's invisible
it has no flag
or moonlight
no river
or mountain
no clouds
to understand heaven
or flames
to take desire apart
but in the sadness of its map
there's the answer we need.
a los Handal de Lima
y especialmente a Pablo y Mónica
*Kilyoum means "every day" in Arabic.
Habib y Walid with Ahweh
Manger Square comes back to them over coffee.
The smell of tobacco on their fingers,
their tanned arms side by side,
the seasons change but they never do,
if only the songs of their childhoods
could stay inside of them,
if only the places they drank coffee
weren't taken away from them
but they weren't travelers,
they were waiting for their faces,
the ones they saw decades ago
on their way to Shepherds' Field.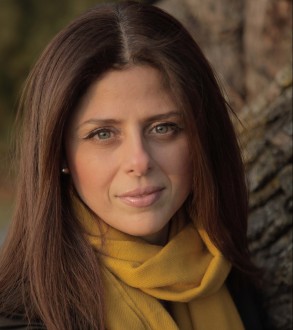 Nathalie Handal is from Bethlehem, and was raised in Latin America, France and the Arab world. Her most recent books include flash collection The Republics, and winner the Virginia Faulkner Award for Excellence in Writing, and the bestselling bilingual collection La estrella invisible / The Invisible Star.