Five Poems From Israel
Cinco poemas desde Israel
Anat Zecharia
Happiness
Do your bitch's howl for me
That's what your happiness sounds like
When it catches you red-handed
With your tongue hanging out
Later you will pay
Not as punishment, it's just
So.
© Translation: Efrat Weiss
Ate an angel
I ate an angel
Standing next to the sink
Lifted it with one hand
Off the ground like a plane in the air
Swallowed elevation to the body.
The wings, last to enter,
Still squeaked between my teeth when he set
In the round spaces insaide me, spreading
On the nothing.
That is exactly what I was lacking
One who would tremble deep insaide
While I'm ticking
Doing my part
To be
He who waits shall accomplish
Meanwhile, the one thing known about me
Is that I'm breathing
© Translation: Efrat Weiss
A WOMAN OF VALOR
"35 soldiers on active duty and several civilian employees at an air base have been conducting sexual relations with a 14-year-old girl over the past year. Many of the suspects claimed during questioning that the girl had told them she was of enlistment age."
Hannan Greenberg, Ynet News
The first
places your head on his naked lap
and one might think
you weren't being forced but rather
thanked and your head stroked.
The second slides slowly down your back
the feelings are new
and you can still concentrate.
The third inserts three fingers, says
"Don't move." You don't,
the map of greater Israel
in your eyes.
The fourth moves aside a pile of reports
on air accidents in the south
and takes you from behind.
A great love you think
a great love scorches me
and won't let up.
You raise and lower your arms
your body stretches to the edge of the sky
your hands cupped for the rain.
The unstoppable fifth and sixth
course into you.
The arrogant salt of the earth, avoiding eyes,
those waiting their turn. Soon your body may look beautiful
even to you.

© Translation: Lisa Katz
Translator's Note: A Woman of Valor, "Eshet Hayil" in Hebrew, is a hymn to the woman of the house which is customarily recited on Friday evenings, after returning from synagogue and before sitting down to the Shabbat evening meal. It is a poem twenty-two verses long (Proverbs 31:10-31) and begins: "A woman of valor who can find? For her price is far above rubies." (The Jewish Publication Society Bible)
The Real World
we lay side by side
knees, thighs hands touching
we could have made a child,
multiplied out of so much trust.
And I could have said: cheers to the mundane but I've always longed for the forest.
To fling the blanket and say:
please take what you're entitled to.
Letting the dogs loose
capturing well adorned antlered deer
killing and losing
(and hastening I aimed for the forest)
Here there's too much coffee, Chinese food too many Chinese and too much thinking about something clever to say.
Here I fake, get whipped
feel good.
Being everyone's favorite
suits me
men find me sexless
or interesting.
(and hastening I aim for the forest)
here running forward is slow death, hyperactive ambition.
Shaming, embellishing,
nothing becomes more beautiful with time.
And if in the end someone-you asks: where to now?
Into the forest
to dance dance dance
© Translation: Irit Sela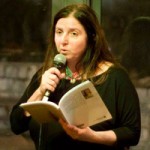 Anat Zecharia, (born in Tel Aviv) is an Israeli writer and photographer. She has published two collections of poetry, As Soon as Beautiful, from Helicon (2008), and Due to Human Error from the Bialik Institute (2012). Zecharia was chosen to represent Israel and be one of the 204 poets from Olympic nations in 2012.