Mendoza Argentina the Scent of Malbec Wine
Patricia Gras
I was born in Houston Texas while my parents were doing their respective medical residencies, my dad as an anesthesiologist and my mom as a biochemist.  But as child I really first noticed the world where I was raised, in Mendoza Argentina. It's always very easy for me to talk about this increasingly popular city where I grew up and where I was always surrounded by loving family and friends. You have probably heard of this city because it is the capital of the most prominent wine region in Latin America.
When I was growing up, I had no idea how important wine would be for this town. I knew I saw vineyards everywhere, but when you are a child you don't understand the economics of a place, you just like where you are depending who you are with, and if there is a place to play. In Mendoza, I was always surrounded by stunning views of the Andes Mountains. My backyard had a small vineyard and so did a lot of my neighbors. When we played, our snacks were always Malbec grapes.
In Mendoza I don't remember one day of rain. It was always sunny and the seasons well defined. I did hate the winter because we didn't have central heating, so I would shriver every morning before going to school in my mom's fiat. Everywhere you were in Mendoza, you could always see the snow capped Andes Mountains in the background and they were always stunning.
My grandfather had owned a wine business so I had a lot of family involved in that industry. I actually played in wine pools and can always remember the scent of wine, but frankly even though wine was never missing in a meal, I didn't understand its importance until I got older. My grandfather was from Molins de Rey, a town close to Barcelona in Spain and he like other immigrants from Italy and other European countries started vineyards to produce mainly Malbec and other fine wines.
Today, Mendoza is among the "Great Wine Capitals of the World," along with Napa, California, Bordeaux and Rioja. The region attracts winemakers from all over the world and they are investing in the region with the most innovating technology.
Tourism has also increased considerably since I was a child. Every year for instance between February and March, Mendoza celebrates the ever growing grape harvest festival (la Fiesta de la Vendimia.)
This was such a special event, especially for kids, that no one could deny its magic, beauty and attraction.
Approximately a thousand performers, entertain the city's residents and visitors in a musical Greek type Amphitheatre. Though I have travelled over 50 countries in my lifetime, I have yet to see the large-scale sound and light show I saw as a child in Mendoza. I also remember the much-awaited Carrousel parade where the local gauchos and festival queen hopefuls waved as they passed.
Life in Mendoza was full of rituals. There was the Asado or (meat grill) everySunday at different spots, like the Andino club or my uncle's farm. On Sundays, there was usually an important soccer game the whole family watched.
Every February we would get to dress up in funny costumes and get soaking wet during carnival. In March there was of course the grape harvest festival. During the winter holidays we celebrated Christmas and New years by the pool (yes, it is summer there during Christmas in the southern hemisphere.) In springtime, I would often go to the mountains with friends to just hike, talk and drink mate (Argentine tea.) Then there was the peatonal; these are the pedestrian areas in the city's center where people gather to have a cup of coffee, shop or watch street performers. This is where I would often meet friends on Saturday mornings to do some people watching.
Almost everywhere you are in Mendoza, you can see Aconcagua, at nearly 23,000 feet, it is the highest mountain in Latin America.  And so you will always find a mountain climber walking around the streets of city.
Mendoza owns part of my heart and I have never met anyone who didn't enjoy visiting. Besides great wine, the cuisine is exquisite, there are great crafts and galleries, adventure tourism and great plazas and parks, but for me the greatest gift Mendoza has to offer is its people. Perhaps I feel that way because I know their caliber and they know they live in a special paradise, far from the maddening crowd.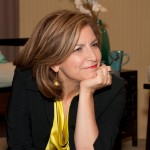 Patricia Gras is a seven-time Emmy Award-winning journalist. She is the founder and producer of the online series Passion Time. Her Twitter is: @PatriciaGras
©Literal Magazine
Posted: January 26, 2015 at 8:30 am