THE FISH SUBMERGED
EL PEZ INMERSO
Luis Armenta
Translated by Tanya Huntington
The fish will become absence once it is no longer named
after it cannot be seen by the spider
or given up for dead
in one nest or another.
The fish will become feigned wonderment
once it can be viewed on a visit
to the history section of the zoo
mounted
over a card:
                         Fish
                                     (extinct)
Then it will be missed.
More than one will claim to have known it:
it possessed a great pair of powerful fins
covered with metal scales
and on the tip of the body
right at the helm
a smokescreen
cast a shadow on
its passage.
And another will say no,
the fish was an ancient skyscraper
a pyramid of sorts made of glass and mortar
where kids would hide the coins
they stole from their parents.
And a glorious old woman
(as indicated by her lineage and gender)
will open the frills of her blouse
disassemble her torso
and show over the aureole
the unmistakable body of a fish
across her ribs.
And she will not speak the name that used to be
the legacy of water,
nor claim that man o' wars were invented by the elders
or that there is no other animal but man…
She will remain
nude
so fishlike
as if for a
very long time now
she were
in search
of a new crush
of years
that would lead her
back to water.
The woman
at the center of an air bubble
having emerged from her aureole
will drink once and for all what she once gave
to her son
she will be caught forever
on her maternal hook
and will rest in peace
her lips punctured by a kiss
her eyes white dusk
and her heart
split in three
by a drop of water.
And strangers will say among themselves…
                                                                   «She was the anointed one.»
convulsed
in fishy agony
she
will deny it with her gaze.
All that was a lie.
There is one thing to be said about her
without raising men's suspicions:
                                                                          womankind was
                                                                                        fishkind.
                                         It always has been.
Yet men abide
because from somewhere
in mankind must have come
                                      the tarantula.
Image by Wayne Stadler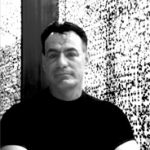 Luis Armenta Malpica is a poet and director of Mantis Editores. He is National Prize of Poetry 1994. National Poem Prize Clemencia Isaura of the Floral Games of Mazatlán 1995. National Prize of Poem Benemérito of America 1999. Prize Ramón López Velarde 1999. Winner of the Ibero-American Contest of Poetry Pablo Neruda 2000. International Prize of Poetry Nicolás Guillén, Mexico-Cuba, 2000. National Prize of Poetry Amado Nervo 2003. Prize National Poetry José Emilio Pacheco 2011. For his editorial work he received the Silver Pen in 2006. His books and poems have been translated into English, French, German, Portuguese, Italian, Catalan, Romanian, Arabic and Russian. His Twitter is @lemante
©Literal Publishing