40 years of Arte Público Press
Rose Mary Salum
Forty Years ago, Dr. Nicolás Kanellos decided to start a publisher house dedicated to give voice to a wide array of  Hispanic authors. From its beginnings to its current status as the oldest and most accomplished publisher of contemporary literature by U.S. Hispanic authors, Arte Público has become an icon of the literary world. We had the opportunity to talk to its founder and director, Dr. Nicolás Kanellos.
***
1.You were a pioneer in the field of Hispanic studies, establishing a literary magazine, Revista Chicano-Riqueña. How did you go from there to being the founder of Arte Público Press?
We founded Revista Chicano-Riqueña in 1973 to give an opportunity to Latino writers of all ethnicities to publish literary works and criticism in Spanish and English for a national audience.  Along the way, we noticed that given the dearth of available Latino texts, many issues of our magazine were being used as textbooks in university clases. So then we began publishing thematic issues, such as numbers devoted exclusively to "La Mujer," to theater, to Chicago-area writers, to the U.S. Bicentennial, etc. And, even more so, these were treated by our audience as complete volumes unto themselves to be used as textbooks. By 1979, we decided that because we had experience in publishing these thematic volumes, we could actually publish books—in fact, it is a lot easier to publish a book than it is to maintain a magazine. So, we decided to create Arte Público Press, naming it after the public art movement; that is, we wanted to be a reflection, like a mural for the community, drawing from that community and giving back to it. Our first ten books or so came from writers who had been publishing in Revista during the 1970s, such as Miguel Algarín, Ana Castillo, Sandra Cisneros, Rolando Hinojosa, Tato Laviera, Pat Mora, Miguel Piñero, Evangelina Vigil, Tino Villanueva —in retrospect, this seems to be a list of writers who began to establish Latino literature as part of the national culture.
2. You also participated in the Civil Rights Movement of Latinos in the 1960s. How has the perception of Hispanics changed in the US since then? In your opinion, have we gotten the same opportunities to access education that we deserve?
You got me: 1960s? Yes, I'm that old! Well, the major change in perception is that, seemingly, we are everywhere. We have become the largest minority and in some states and cities, we have become the majority population. With the demographic pressure we are placing on institutions and on the national conscience, we have been subject to a vicious backlash from nativists and white nationalists, many of whom lead our society's institutions. But we also have opportunities to become part of the leadership in all spheres, including in the arts and literature. Whereas in the sixties we had to raise the level of national consciousness just to call attention to the fact that we existed, today we have a more powerful base from which to take down the barriers to assuming our rightful place in society. Because today most people in the United States, including the middle class, have been comparatively impoverished as compared with their status in the 1960s; more and more families are struggling to house, clothe and feed themselves—and this is more pronounced among Latinos and African-Americans—so that higher education, its higher tuition rates and decreased government funding has made it more beyond the reach of poor and middle class students. As more and more minorities struggle to stay in K-12 and to enter colleges, conservative governments fund their education less and less.  Today's is a more subtle type of discrimination.
3. How do you address a readership that is composed of non-English and English speaking Hispanics?
That's easy. We publish works in English and Spanish. We choose the language for distinct markets or readers.  For instance, all of our books targeted at pre-K through 7th grade readers are published in bilingual editions. At the high school level, we publish the original Spanish or English of the text and occasionally, translation in a separate edition. The same is true for our general market books: some in Spanish, some in English and an occasional translation, depending on market conditions. But, please note: we aim to reach all non-Hispanic readers with our English editions. We want them reviewed in The New York Times Book Review and available in mainstream bookstores and in libraries across the country. We also have a vigorous foreign rights program and agents placing our books in the hands of movie and TV producers.
4. What has Arte Público done to make Hispanic authors become known in mainstream literature?
We employ commissioned sales reps to go to all bookstores across the country; we send out more than 200 review copies of each book to the mainstream and specialized media; we exhibit our books at book fairs and major industry conventions for book dealers, librarians and educators, as well as place writers on limited tours to bookstores, colleges, community centers, etc. For our efforts, we have scored a few mainstream bestsellers and won places for a good number of our authors on high school and college reading lists, in addition to having some of our books transformed into film/video, most notably on the Corporation for Public Broadcasting.
Let me state here that, other than in literary culture, Arte Público is a well-kept secret, especially in Houston, our home. Our wonderful Arte Público Press board, under the leadership of President Merisela Peña and President Emeritus Rosanna Moreno, are doing all in their power to change that, especially during our anniversary year.
5. The Census Office estimates we will have 138 million Spanish speakers by 2050, making the U.S. the country with the largest Spanish-speaking population in the world. Will all these people be ready and educated to consume what is being produced by presses like yours? In your opinion, what else needs to be done to have a more educated population?
Today, we place a great deal of effort and large investments in our Piñata Books for children and young adults. It is our effort to grow our audience and to help produce Latino biliteracy. More and more entire school systems are becoming "dual language," and we feel our books specifically serve that forward-looking educational methodology. I truly believe that in the 21st century, we will become like many other countries around the world in which all residents speak, read and write at least two languages. Of course, the two major ones here will still be Spanish and English. It is inevitable. And as that dream becomes reality, Arte Público Press will grow to serve that readership. We have made it to forty years and flourished; I'm sure we'll be here in the year 2100.
6. What have been the milestones produced by Arte Público Press during these forty years of existence… and the worst mistakes?
November 1979 Arte Público Press (APP) founded.
1980 APP's first book, La Carreta Made a U-turn by Tato Laviera, receives a 40-page review-article in Daedalus, the prestigious magazine of the American Academy of Arts and Sciences.
1984 APP publishes The House on Mango Street by Sandra Cisneros. Its panning by the Wall Street Journal, along with other multicultural literature adopted by Stanford University, leads readers across the country go to bookstores to find these new "multicultural authors."
1985 Dear Rafe by Rolando Hinojosa becomes the first Chicano novel to be reviewed in The New York Times Book Review. Our Spanish edition of Mi querido Rafa, published in 1982, went generally unnoticed by the reviewing media. Hinojosa's book also marked APP's inheriting of the canonic authors from Editorial Quinto Sol, which met its demise by 1980; these included Hinojosa, Alurista, Rodolfo Anaya, Abelardo Delgado, Tomás Rivera and Estella Portillo.
1988 Publisher Kanellos receives the Hispanic Heritage Award for Literature, presented by President Ronald Reagan at the White House.
1992 APP publishes its first national best seller, Rain of Gold by Victor Villaseñor. Thanks to this, we were able to assemble commissioned sales reps, work with new national wholesalers, learn how to publish a front-list hardcover book, etc.
1993 APP establishes Recovering the U.S. Hispanic Literary Heritage Program, which researches, preserves and makes accessible all of the written culture created by Latinos in areas that became part of the United States from the Colonial Period up to 1960. "Recovery" locates, microfilms for preservation and digitizes to make accessible hundreds of thousands of written items, from one-page broadsides to 600-page published treatises and literary works and entire runs of some 1500 newspapers. It makes these texts available in digitized facsimile pages in large databases distributed internationally by Ebsco Inc. and Newsbank. APP has also made available more than 40 volumes of recovered texts as well as anthologies and scholarship by hundreds of professors from throughout the United States and abroad.
1994 APP establishes Piñata Books for children and adolescents.
1990s to the present APP receives numerous awards and grants from some of the nation's major foundations and agencies: Brown, Cullen, Ford, Mellon, National Endowment for the Arts, National Endowment for the Humanities, Rockefeller and others.
2003 Certificate of recognition from The Texas Institute of Letters for "outstanding contributions to a literary Texas."
2005 Golden Book Award from the Texas Council for Reading and the Bilingual Child.
2014 The "Enrique Anderson Imbert" Prize of the North American Academy of the Spanish Language for Lifetime Achievement for contributing to the knowledge and dissemination of the Spanish language and Hispanic culture in the United States.
2019 "Recovery" establishes the center for US Latino Digital Humanities to train scholars and students on the methodologies and techniques for managing and understanding, as well as creating new knowledge from, databases of hundreds of thousands of texts.
2019 National Book Critics Circle Ivan Sandof Lifetime Achievement Award to Arte Público Press. An occasional award given by the association of hundreds of book reviewers and critics from around the United States.
Mistakes? Only our marvelous managerial staff—Marina Tristán, Gabriela Baeza Ventura, Carolina Villarroel, Nelly González—know but won't tell. You can read about them in my unwritten memoir, to be made available in better bookstores in the year 2100.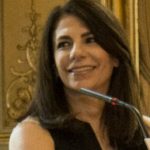 Rose Mary Salum is founding editor of the bilingual literary magazine Literal: Latin American Voices and Literal Publishing. She has authored The Water that Rocks the Silence (Translated by C.M. Mayo and the winner of the International Latino Book Award and the prestigious Panamerican Award Carlos Montemayor), Delta de las arenas, cuentos árabes, cuentos judíos winner of the International Latino Book Award) and Spaces in Between.  Her Twiter is @rosemarysalum
©Literal Publishing
Posted: November 29, 2019 at 12:29 am