Sleepchains
Who can sleep when she—
hundreds of miles away I feel that vast breath fan her restless decks.
Cicatrice by cicatrice
all the links
rattle once.
Here we go mother on the shipless ocean.
Pity us, pity the ocean, here we go.
Sunday
My washed rags ap on a serious grey sunset.
Suppertime, a colder wind.
Leaves huddle a bit.
Kitchen lights come on.
Little spongy mysteries of evening begin to nick open.
Time to call mother.
Let it ring.
Six.
Seven.
Eight—she
lifts the receiver, waits.
Down the hollow distances are they eldmice that scamper so drily.
Our Fortune
In a house at dusk a mother's nal lesson
ruins the west and seals up all that trade.
Look in the windows at night you will see people standing.
That's us, we had an excuse to be inside.
Day came, we cut the fruit (we cut
the tree). Now we're out.
Here is a debt
paid.
No Port Now
In the ancient struggle of breath against death, one more sleep given.
We took an offer on the house.
In the sum of the parts
where are the parts?
Silently (there) leaves and windows wait.
Our empty clothesline cuts the sloping night.
And making their lament for a lost apparel of celestial light
angels and detritus call out as they ow past our still latched gate.
Would Be Her 50th Wedding Anniversary Today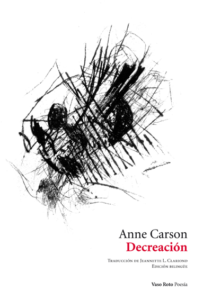 Cold orates upon a Roman wall.
Light is extreme (caught)
and shadows wait like
hoods to drop.
Brain taps twice
for salt.
Was it Ovid who said, There is so much wind here stones go blank.
Some Afternoons She Does Not Pick Up the Phone
It is February. Ice is general. One notices different degrees of ice.
Its colours—blue white brown greyblack silver—vary.
Some ice has core bits of gravel or shadows inside.
Some is smooth as a flank, you cannot stand on it.
Standing on it the wind goes thin, to shreds.
All we wished for, shreds.
The little ones cannot stand on it.
Not one letter, not one stroke of a letter, can stand.
Blindingly—what came through the world there—burns.
It is February. Ice is general. One notices different degrees of ice
*These poems belong to the book Decreación (Vaso Roto, 2014)