MOVING SEASON
TIEMPO DE MUDANZAS
Ana Merino
Translation by Tanya Huntington
What remained was my vacant house,
the empty space left by things
that had to go
in the moving van from one day to the next.
Traces of detergent, its thorough cleansing
adorned with the wrath of tiny spots.
A house that was never mine,
that I had no time to colonize with my chaos.
My identity of lint, my syndrome of Diogenes,
of an old woman storing papers
with transparent words,
the dead leaves of my private autumn.
How to pack up a life
once you cross the threshold of forty,
filling boxes with documents already expired,
but still you want to keep them
because the void triggers even more vertigo
than the hoarding, than the wall
of dense life and cardboard blocks,
worn furniture and rolled carpets.
Warehouse, furniture storage, small cave
where Joe the Indian fed off bats.
Circular madness of hasty relocation,
flight from the plains, syndrome of the landless
who grow old so far away
and every day, repent being nomads
who keep our whole lives in notebooks and agendas,
who feel odd in all countries.
 So much transformation, so much capacity to adapt,
to blend into the ice without melting,
to change my voice and modulate my tone.
So much tenacity, so much effort
just to seem foreign.
I THINK ABOUT ALEPPO
I think about the cities
abandoned by wars.
About the streets where field
hospitals are assembled,
about makeshift shelters
from the bombs that fall on buildings,
about the crumbled walls
and the trace of white dust covering the despair
of all those faces that never imagined
a war
drawing a new map of ruins and pain
over their alleyways.
I think of living streets
with their crowds and loquacious uproar
of markets and stores,
of games and musical rejoicing,
of present time filled with everyday dreams,
with family celebrations,
courtship and laughter.
They were like us
citizens of a place
that never imagined it would be
turned to rubble through the fault of men.
We never imagined bombs over our homes,
no one prepared us to contemplate
the inferno of those who loathe one another
from our balconies and windows. 
They were like us,
naïve citizens who think
of war as the distant, wretched murmuring
of broadcast news.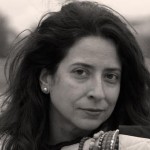 Ana Merino directs the MFA of creative writing in Spanish at the University of Iowa. She has published more than ten books of poetry. She is also the author of the plays Amor: muy fragile (Reino de Cordelia, 2013) directed and premiered in Zurich in 2012 and Las decepciones (Literal Publishing, 2014).
©Literal Publishing