[Wasps]
[Avispas]
MARÍA ÁNGELES PÉREZ LÓPEZ
Translated by Tanya Huntington
Thunderous buzz of reality, and yet I know nothing of wasps.
To what degree does their duty to the nest come into play?
 Can they never
                           wriggle out
…………………………..   of the pressing task of cheating death?
……….Don't they fret, knowing themselves to be indebted to the vindictive, puny gods of summer?
Hurled toward light and greed,
they obey their mandate day in, day out.
They attend their school of heat.
Some are sisters,
intertwined at night
                 for fear of darkness.
Each one of them delivers all six of her legs,
                 forming a tight chalk circle
…..…..…..…..…..they may only exit all at once.
…..…..…..Impossible to think, unless it's about everything,
…..…..…..about a substance somewhat viscous and primordial
…..…..…..…..…..that keeps the morning fires burning:
…..…..…..…..…..…..…..…..up to five thousand bits of amber
…..…..…..…..…..…..…..…..impatiently
…..…..…..…..…..…..…..…..reel the sun entire into the wasp's nest.
Others are loners like me. Trembling, I cling to my own two legs.
Nor do I know of their appetite,
…..…..…..their territorial organization
…..…..…..or their flags.
Or even whether licking fear arouses them.
I wonder if the head of a horse also bleeds in their nightmares.
When I open my eyes, I am drenched in that blood.
It flows from my center and climbs to my roots,
where hair delves into the invisible.
It swamps the full arch of my forehead.
Desperately, I wave my arms high
…..            raising a white flag
…..………………..that can't be seen either in the end,
…..…..…..…..…..…..…..its roots lost in mid-air.
I try to scream, but to no avail
and all that can be heard is a low intensity riot,
…..…..…..a scorched rumor in my ear.
Wasps converse with softened words.
Perhaps while forging their tasks, they say:
…..…..…..this is caving in,
…..…..…..the west wing was razed in the attack,
…..…..…..let's celebrate midsummer night
…..…..…..And I will deliver pulp and shortcuts
…..…..…..to the fatherland, that wasp's nest of a word…
They tear off glowing discharges
and surrender fearlessly to the energy
through which reality reverberates.
To them, those tiny cells form shelter, a parallel argument, a jumble
…..…..….. that allow larvae to grow toward the light.
I know nothing of their waists,
…..…..…..their disdain
or their distressing adolescence.
Nor of the way they fall in love with horses
…..…..….. until they are forced to die against my mouth.
…..…..…..As I reach out to their manes,
…..…..…..I too am devoured by my own sting.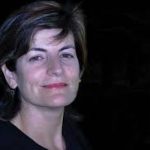 María Ángeles Pérez López was born in  Valladolid, Spain. She has authored more than 8 poetry books and won an array of national and international awards.
©Literal Publishing