Don't Hardly Know Them
So Mayer
It's been a year and I'm still ear-wormed by Joan Jett and the Blackhearts' 1981 cover of Crimson and Clover that plays "over and over" in Jennifer Reeder's dreamy and delicious short film Blood Below the Skin, which was a highlight of the BFI London Film Festival 2015 for me. Maybe it's the cyclical function of festival time, where one year's experience blurs into another's. Or maybe it's that films at this year's LFF recalled Reeder's intense blend of teenage drama and desire, sound and silence. Crimson and Clover has a funny status on the film's soundtrack: neither exactly diegetic nor extra-diegetic, it plays simultaneously in the mind's ear of the two central characters as – crushing on each other silently – they send each other psychic SMS, which finally seem to be received.
Girl power has long had an uncanny aspect, an extrasensory dimension, an ability to communicate in ranges out of human hearing. While this Hallowe'en time of year might mean revisiting cult favourites such as The Craft, Ginger Snaps, Spider Lilies or Buffy the Vampire Slayer to witness the awesome aptitude of girls together, it also has me reflecting on how those once-occult powers now appear in what passes as realist drama. Take Kelly Reichardt's Certain Women, which deservedly took Best Film at London. Not only was its depiction of a Montana winter precise enough to turn the heating down in the cinema to the point where we were all huddled under our coats huffing on our hands, but it works its will on the audience largely through silence.
Certainly the most silent of the main characters is Jamie, a ranch hand played by Lily Gladstone, who noted in an interview with OUT magazine that she reads and plays her character as "exploring her gender identity – where she fits on this non-binary spectrum." Reichardt, adapting Maile Meloy's short stories, changed the character of a horse-wrangler – who falls for Beth, a young townie barrister played by Kristen Stewart – from mixed Cheyenne/Irish and cismale, and cast Gladstone, who is mixed Crow.. Jamie's stoic silences, as much as their physical prowess, are more traditionally associated with cis male characters in Westerns; many reviewers have read Jamie as isolated, lonely and tragic: faced with Beth's self-focused incomprehension of rural life (and matters of the heart), Jamie closes the film repeating the actions that we first saw undertaken, silently running through the hard work of caring for horses. But it's Jamie, not Beth, who is the focus of the film's third chapter, and Jamie who owns the final scene of the film. Their strength and sense of place is what we're left with.
So maybe an alternate reading is that Jamie, in their silence, is more certain – however solitary – than the full-steam-ahead, frankly self-expressive female leads: Beth is not the only lawyer in town (town being Livingston, Montana); there's also Laura (Laura Dern), who gives the speech of the year when she blasts her client Fuller (Jared Harris) for accepting a fellow lawyer's reiteration of what she's been saying for months, simply because he's a man. Later, she's asked to use her fluency to talk the same client down from a criminal act. In the film's second chapter, Reichardt's muse Michelle Williams plays Gina, a woman clearly used to more urban and urbane life than the small town where she and her husband Ryan (James LeGros) are estate agents. She's his boss; he's having an affair with Laura; she knows something's not right and attempts to resolve it by building a country cottage with local sandstone blocks that were once the walls of a pioneer-days schoolhouse. Gina persuades landowner Albert (Rene Auberjonois) to part with the stone, in the face of his stony silence.
Albert's stonewalling gives nothing away: does he like or dislike Gina and Ryan? Why has he kept the stone? Does he know that his memory is slipping? Ryan goes along with the male, Midwestern code of not talking; Gina confronts it head-on – and relishes her victory, insisting on hefting stone onto the flatbed truck. But silence, like the stone she wants so much, gets under her skin – makes her a part of the place – and, in our final glimpse of her, she has walked away from a noisy party to smoke a cigarette alone with the spring afternoon sun low in the sky. She glows in her solitude and determination. It's like Jamie's decision not to pursue their feelings for Beth flips things for Gina and Laura – who finds herself visiting Fuller in prison – through a strange, psychic interconnection. Jamie, sitting at the back of Beth's education law classroom, can't will the junior lawyer to psychically feel their thunderstruck passion, but once they follow Beth to town and crosses paths inadvertently with Laura, it's like their deeply meditative silence and connection to place is able to ground and inspire the other protagonists, whose certainties – especially in their persuasive speech – have been challenged. Jamie's powerful silence implicitly reaches Laura and Gina, letting them both change and putting them at ease.
Gladstone has been nominated for Breakthrough Actor at the 2016 Gotham Awards, and has a role in the forthcoming puzzle film Buster's Mal Heart (Sarah Adina Smith) alongside Mr. Robot's Rami Malek. We will hear more of her for sure. Offscreen, she's making a noise to #StandWithStandingRock against the Dakota Access Pipeline, producing a short video about the non-violent protest in support of arrested water protector Olowan Martinez, where drumming and chanting speaks back to the cold commands issued by the cops. Gladstone's performative silence in Certain Women is not an absence of speech, nor an inability to express herself, but a form of communication that requires a more adept listening than we in the West usually deploy, whether in the explosively loud environment of cinema or the raucous shout-down of the political arena. Jamie's silence is self-protection – but also a kind of self-expression. Unlike Beth, who doesn't know how to listen, we the audience don't hardly need to know Jamie to think we could love them.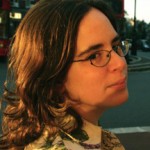 Sophie Mayer is a regular contributor to Sight & Sound and The F-Word.She's the author of Political Animals: The New Feminist Cinemaand The Cinema of Sally Potter: A Politics of Love, and the co-editor of Catechism: Poems For Pussy Riot, The Personal Is Political: Feminism andDocumentary and There She Goes: Feminist Filmmaking and Beyond. Her Twitter is @tr0ublemayer
©2016, Literal Publishing
Posted: November 20, 2016 at 10:32 pm