Lo que mi padre quiere realmente de mí
Eduardo Chirinos (1960-2016)
1
Anoche tuve un sueño.  Acompañaba a mi padre
por un camino de tierra.  Los dos íbamos a caballo
y apenas cruzábamos palabras.  A lo lejos se veía
la sombra de unos sauces, las luces de un pueblo
desconocido y remoto.  De pronto, mi padre detuvo
su caballo y preguntó si yo sabía a dónde íbamos.
Le contesté que no.  Entonces vamos bien, me dijo. 
2
Los caballos del sueño sabían de memoria
el recorrido.  Era cuestión de abandonar las
riendas, de dejarse llevar.  Eso me causaba un
poco de aprensión, incluso un poco de miedo.
Mi padre, en cambio, parecía muy tranquilo.
Pensé, parece tranquilo porque está muerto.
3
Aquí es donde vivo, dijo como si me quitara
una venda.  Fue muy poco lo que vi.  Sólo un
páramo de piedras, remolinos de arenisca,
huesos de caballos amarillos.  ¿Qué te parece?
No supe qué decir.  Tenía sed y me dolía un
poco la garganta.  Es un lugar hermoso, dijo,
pero a veces me gustaría regresar.  ¿Por qué
no regresas, entonces?, pregunté.  Porque es
más fácil que tú vengas me dijo.  Y desapareció.
• Poema tomado de la edición bilingüe de Medicinas para quebrantamientos del halcón [Medicine for the Ailments of Falcons], Literal Publishing, 2015.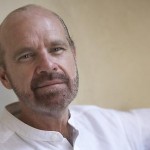 Eduardo Chirinos fue un poeta y escritor peruano que perteneció a la llamada Generación del 80. Fue autor de más de 20 poemarios.
©Literal Publishing. Queda prohibida la reproducción total o parcial de esta publicación. Toda forma de utilización no autorizada será perseguida con lo establecido en la ley federal del derecho de autor.
Posted: February 17, 2016 at 10:46 pm