POEMS FROM THE LIGHT OF THE HUMMINGBIRD
Alberto Ruy Sánchez
English versions by Tanya Huntington
AWAKENING FAR AWAY
When we awaken, embracing
other horizons,
other beds, other windows,
the world reinvents itself
through your body.
Your hand transports me
or brings me back,
your leg anchors me
or sends me adrift.
Distant dunes move
and are modeled
by the fleeting rhythm
of your smile.
Your breath
frees our steps
in cities we have loved,
street to street.
Forests,
rare gardens,
carnivorous flowers.
Like clouds, jungles
form and deform
the skin that joins us together.
Gazing into one another's eyes,
we navigate the slow tributaries
of rivers
that will turn wild.
Over your hips,
the world turns
and shelters us.
As every time we kiss,
we recover the corners
explored together
And upon awakening in your arms,
here and at the same time, elsewhere,
all is reborn.
FROM ONE SIDE TO ANOTHER
I love to awaken not knowing
on which side of the bed I rise,
whether you will embrace me with your left leg,
or is it the right
that presses against me possessively
from some dream?

Memory also turns,
enjoying every moment
of delirium:
Did I bite into
the left corner of your mouth
and linger at that eyelid,
or was it the other way around?
Here and there
a thin line
separates and joins us,
ceaselessly binding and unbinding
our extremities.
In the dark convulsion
of your kiss,
a fiery anxiety
from side to side and back again
always marks a single path,
deep within.
Your lips,
a carnal mirror
of my hunger for you,
where my right
becomes your left
so that the world may turn
…….… and a thin line that never ends,
transforming one into the other,
light into darkness
and vice versa,
               draws us together.
CONTEMPLATING YOUR SLUMBER
Your half-closed eyes
gaze
through the grate
of absences,
of your dream,
something intermediate,
A cloud or abyss,
shadow or glow
that passes without passing,
and that two fingers
of your slumbering hand
across your forehead
seem to stop effortlessly
as if longing to see
the invisible up close.
The aureole
of eyes sleeping
on your breast
and the labial lids of your mouth,
also slightly red,
palpitate,
surrendering themselves
to the rhythm of blood,
of this fleeting shadow
that in your half-awakened state
I have become.
While
unseeing, you see me
and like a gift of eternity
without pause
or delays,
pass without passing
as I contemplate you.
SUBMERGED SWAYING
From the razor's edge
of your half-open eyes
your swaying smile overtakes me,
from the submerged water
of your dreams
to the air that watches over you,
half-asleep, fulfilled.
The light of your skin
illuminates the water and thirst
of my desire when I awaken
and we come and go,
you to me,
from one world to another
and yet another, still unknown.
The weight of the world
in your empty hand.
The calm of the sun
in your smile.
On your aureoles
nothing
to distract
from your plenitude.
Everything emerges
and disappears
in the blink
of a warm night
we shared.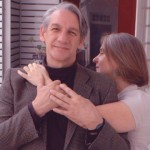 Alberto Ruy-Sánchez Lacy is a Mexican writer and editor. He has authored more than 25 titles that include poetry, fiction and essays. He has been a visiting professor at several universities including Stanford, Middlebury and La Sorbonne. He is the Editor in Chief of  Artes de México. His Twitter is @AlbertoRuy
Posted: February 6, 2019 at 11:15 pm