If I Could Fall Into the Sky
So Mayer
Watching a YouTube video of an actor at the London Film Festival talking about playing the lead in a film in which he is playing a filmmaker based on the film's writer-director, who has made a semi-autobiographical film, which debuts at the London Film Festival that features a Buddhist monk's YouTube videos definitely feels like falling into something. In the film, the eponymous Benjamin, played by Colin Morgan, is also falling into something: he's just not sure whether it's love, self-hate or the Zen evacuation of the self. Benjamin has written and starred in a film about a failed relationship called No Self, which debuts to muted applause and bewilderment (the audience doesn't get the monk), although the most pointed, accurate and significant criticism of the film comes from his ex, Paul, who doesn't need to see the film to snap, in front of Benjamin's new boyfriend and his parents, "I heard you wrote a film about me and cast a white guy." Burn.
Paul, played by Nathan Stewart-Jarrett, is a scintillating, towering presence whose late appearance opens up an entire past history of Benjamin's character, and then pulls the rug from under it. The film shifts uneasily with its all-consuming focus on the title character, a middle-class white man with a BAFTA award (for his first film) who has the privilege of wanting to have no self, while all around him characters like his writing partner and friend Stephen, a comedian whose set (and life) crashes and burns around the line, "Hands up, whose dad hit them" are trying to articulate and lay claim to themselves. Benjamin's self-disgust, his non-specific pain and awkwardness, are never attributed to his sexuality, which marks a development in LGBTQI+ cinema; but equally – at least for a long time – there's no sense that his sexuality might be somewhere he might find a way of being, if not himself, then a self.
As a film, Benjamin teeters into and out of what could be called focus, as if it too is looking to evacuate its self, its reason for being: there's cutting jokes about the awfulness of the contemporary branded art/craft world; about veganism; about zipless fucks; about toxic masculinity and domestic violence; but mostly about the way in which cinema continues to assign value in tired old ways. After No Self sinks (directly after the screening we see Benjamin washing his hands in the sinks at the Curzon Soho cinema: subtlety is not this film's middle name), Benjamin goes to visit his producer on a sound stage where she's producing a costume drama. The twist is that the director is South Asian, and although all the actors on set are white, they are talking (respectfully if ignorantly) about South Asia. The director asks Benjamin whether he's a "competition-winner," implying that he doesn't recognize the once-promising writer-director as a fellow artist.
It's the kind of misidentification-predicated dismissal that exponentially tends to affect women of colour, and it wears its awkwardness weirdly. The reveal that the outside of the sound stage is a grim grey warehouse with a billboard for a high-concept sex thriller starring No Self's leading actor only adds to the weirdness. Is this about where modest indie dramas sit in the hierarchy of British cinema, in relation to costume dramas and thrillers? Is it about who gets to write/direct a modest indie drama, and who is expected to (want to) make those bigger films? Yes and yes. And no. At these points, Benjamin's writer-director Simon Amstell feels crashingly in thrall to the main proponent of the semi-autobiographical film about an awkward Jewish writer-director, in its almost paranoid insistence on Benjamin's right to his lack of self-esteem and his introspection as the qualities that make him oddly attractive to both film financiers and to beautiful, talented lovers.
If there's a quality that saves Benjamin from (evacuation-of-)self-indulgence, it's not the asperity of its wit, which feels of a piece with that thrall, but its tenderness as a film, which is expressed through the moments in which characters who are not Benjamin take the screen – made space for by the script and direction, and by Morgan's mobile, controlled and careful performance. Paul, crashing in to Benjamin's dinner with French musician Noah, is the most commanding and electrifying, turning the viewer's head to wonder what No Self (of which we see several scenes) would have looked like if it had dropped its obsessive awkwardness and been true to Paul's intensity and intelligence. But there's also small moments such as when Benjamin leaves Noah after they first meet, and the camera lingers with Noah on the pavement outside the vegan dumpling restaurant; at once a musician looking small and vulnerable without his band, and a warning as to how his relationship with Benjamin – if there is one – might end. None of the characters around Benjamin feel like projections of his needs or thoughts, but have an independence. Elven Noah could easily have been a Manic Pixie Dream Boy – not least when Benjamin asks him, a classically-trained Guildhall student, to play the bravura, instantly familiar opening bars of Vanessa Carlton's pop hit "A Thousand Miles" – but he has a toughness, a guarded interiority, and a sweetness that compels. He can play Shostakovich and Billboard top five ballads.
What Noah offers Benjamin is the idea, perhaps, that instead of having no self, one needs to recognize that others have selves, and we are shaped in relation to them from the start. There's two startling references to wombs and being born in the film: in Stephen's achingly painful set where he asks how it's possible to be misogynist when we begin life inside a womb; and in a performance piece by a young artist, played by the incendiary Ellie Kendrick, called WOMB that sees her rolling herself up in butcher's paper and bursting through it. Benjamin is, naturally, incredibly awkward to her, focusing on the question of where she got the paper. A generous interpretation would be that he is asking: where did you get your skin, your sense of self, because I don't have one. But I think the film offers a tougher call: Benjamin doesn't realize that everyone needs to make themselves a skin, to rebirth and hold themselves. He thinks his pain is a privilege, and his privilege is a pain. At the very end, Noah offers him the opportunity to step outside that, to set down his small, familiar world, to change. It's an incredibly generous offer and there's a long, fixed take on Colin Morgan's face as, gorgeously, he softens and considers the implications of moving to Paris, for love. After all the sharp dialogue, awkward small silences, comic beats and angular music, it's in this classically romantic shot that the film finds itself, ending where things are just about to begin.
There's a frustration to that – who doesn't want to see Benjamin's and Noah's life in Paris, working out what love and creativity look like (it feels obligatory to say this: in the shadow of Brexit, and of rising populism in Europe)? The journey to that shot, to that subtly changing expression, can feel slow and parochial, like Benjamin's bus rides through North London suburbia. But it's also an argument that half-makes itself work: we need more films about characters who give up prickly intellectual narcissistic defensiveness in favor of opening up to love. In its reference to Paris as the place where that happens, the film seems like a sly nod to another film about a British writer-director learning from love, Sally Potter's The Tango Lesson, which came out the same year as Deconstructing Harry and is a thousand times more sophisticated, curious and generous. As with Potter's film, the truth of Amstell's can be seen in close ups and heard in the music: composer James Righton may be best known for his work with the new rave band the Klaxons, creating angular cityscapes for Benjamin's inner journey as well as the more nouvelle vague stylings of Noah's band, but his incidental music for the emotional scenes can't resist the plangent piano chords of "A Thousand Miles." But it's not irony: it's about getting over the need to be ironic, that apparent authenticator of the Great White Male Genius. From the moment Benjamin sees Noah, he is falling (as Carlton sings) into the sky, and the film finally lets its lead character and its narrative get over themselves. It's past time. Now let's see what happens when you fall.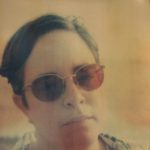 So Mayer is the author of Political Animals: The New Feminist Cinema, The Cinema of Sally Potter: A Politics of Love, and the co-editor of Catechism: Poems For Pussy Riot, The Personal Is Political: Feminism and Documentary and There She Goes: Feminist Filmmaking and Beyond. Her Twitter is @tr0ublemayer
©Literal Publishing
Posted: April 4, 2019 at 9:26 pm