Rivermouth: A Chronicle of Languages, Faith, and Migration
Greg Walklin
One day, when Alejandra Oliva spent time in Boston observing immigration court cases, she witnessed a strange event. The story appears toward the end of her book  Rivermouth: A Chronicle of Languages, Faith and Migration.  These asylum proceedings are usually routine, with the same judicial recitations and gavel swings and pleas: the individual, usually without legal counsel, is seeking to stay in the United States, desperate to avoid the dangers that brought them to cross into the country. But one day in court, Oliva witnessed something different. Instead of pleading to stay, the man implored the judge to boot him out: "'Please, sir,'" he said, "'can I just be deported?'"
He was being held until a decision could be made. If he was deported, he reasoned, he could at least find work in his home country to provide financial support for his wife and children—as he had been doing in America. But in jail, he was unable to provide them anything. When he realized his options to stay were nonexistent, he wanted the court to just, well, get on with it.
That the judge did not grant this reprieve—instead further extending out the hearing so the man could find an attorney—underscores many of the reasons that  Rivermouth was written. In the book, Oliva interweaves her own life as a bilingual child of Mexican immigrants with the frustrations and exigencies of the southern border of the United States: its bureaucracy, the inhumanity, and frustrations. The book straddles the line somewhere between memoir, philosophical meditation, and policy criticism. It is most successful when Oliva uses her sophisticated views on translation as an entré into immigration.
Oliva's bilingualism has given her a deeper understanding of other people, and through them, other systems. "Translation," she notes, "is an encounter, an embrace of another mind, willingly ceding the egotism of your own words to amplify another." There are many other compelling insights in here about the difficulties of translating for individuals in distress. How does one deal with the tragic stories? Can one separate advocacy from interpretation? Oliva adds: "Translation and immigration advocacy—because for me, one does not exist without the other—are a way of allowing me to read myself in a way that is new and strange, to put myself in a context where suddenly and somehow the fragmentation of growing up in two languages has had a purpose and a beauty beyond itself all along." Other linguistic insights, such as how "hielera" is also used by Spanish speakers to refer to the cold and sterile detention centers for the U.S. Customs and Border Patrol, are also memorable.
Some of Oliva's translating experience also came at the San Ysidro border crossing, which connects Tijuana and San Diego. Each morning Oliva would walk across the border to help. There, asylum seekers on "la lista"—a mysterious document, since "[n]o one quite knows who manages the list, or how"—queue to attempt to enter the United States. The stories here are not journalism; Oliva instead provides "pastiche": "The allegiances I keep are instead to myself and to the people I've met, to the hours together in church basements and at the border, to their right, however wrong it feels, to keep their stories between them and the U.S. Government, and me." Even so, they are often moving—among them are a woman whose children are nearly kidnapped, a lesbian who has been persecuted because of her sexual orientation, and a mother who makes a painful choice to send her child across the border with her partner.
While Oliva maintains close contact with immigrants and the immigration system, she is not embedded, and she is self-aware enough to understand the privilege of returning to San Diego and sleeping in a comfortable hotel room in the evenings. Refreshingly, unlike some other memoirs, the author doesn't pretend that her interest in assisting immigrants is entirely altruistic: "I went to Tijuana for myself," she writes. "I went because I wanted to be the kind of person who had moved towards those in need, who showed up. I went because I wanted to prove, to myself, my own goodness." It was Valeria Luiselli's "Tell Me How it Ends" that inspired Oliva to take action.
Two years before going to Tijuana, Oliva began advocating and translating at a clinic in New York City, helping with pro se asylum seekers. There, she notes that the asylum process—the "Application for Asylum and for Withholding of Removal," otherwise known as the I-589—requires immigrants to translate their own horror stories into English. "The power here only moves in one direction," Oliva writes, "and everything done by asylum seekers, every translation done by them and their allies, services only the reader: the United States government." Oliva is often dismissive and spiteful toward the "faceless bureaucrats" involved in the governmental immigration process. While it's undoubtedly true that there are some bad actors, books like Francisco Cantú's "The Line Becomes a River" demonstrate that border patrol agents and other officials should not be dismissed or reduced out of hand.
Oliva's doesn't strictly pinpoint overall policy changes, instead mostly calling the immigration a "Gordian Knot" and noting that "there is no solvable one thing without entirely dismantling the oppressive systems of the world." While she is correct about this morass, this review quibbles with the ancient metaphor; after all, Alexander "solved" the knot with his sword. Oliva would agree that fixing the immigration system in the U.S. or reversing the gross inequalities caused by colonialism are tasks that no sword can make short work of; indeed, refugee crises around the world have shown many of the problems with the United States are not unique. Stopping "Title 42"—immediate deportation instead of allowing the asylum process to play out, put in place during the height of the COVID-19 pandemic—was, in Oliva's view, a small start to improving immigration policy.
To be fair, though, this isn't a policy book, and its purpose is not to give readers wonkish bullet points, but to detail particular human experience. The author's time at the border and being involved closely with immigration cases, and her unique personal perspective, has enabled Oliva to look deeper. "(M)ost people," she notes, "were more than comfortable with looking the other way," through some of the harsher changes to immigration enforcement during the Obama, Trump, and Biden Administrations. Importantly, many of us also seem indifferent to an overtaxed system. Legal organizations providing counsel for immigration cases are, Oliva notes, "horrifically overburdened." The number of individuals seeking better opportunities or fresh starts in the United States continues to be high, despite rhetoric, additional fence-building, or accommodation; at any given time, there are more than a million asylum cases pending. She asks: "When was the last time you knew the name of one of the hundreds of people deported in a single day by the United States government?"
Throughout, Oliva asks herself a lot of tough questions, mostly around her faith. It's this humility and self-awareness that save some of the book's reductive political conclusions. Her beliefs, though, mostly linger in the background. Oliva attended divinity school, which she "had gone to halfway out of the same kind of desire that leads up to picking at a scab…" But by the time she is in Tijuana, she is "cautiously dipping a toe back into the waters of prayer…" Although she retains some measure of religiosity, she has her doubts too; these concerns do not seem to be with theology or ontology, but practical application of belief to life. Ultimately, she remains elliptical about her credo: "The closest I've come to finding God," she writes, "is in rivers." The book's title nods to this abstraction.
At one point, Oliva rhetorically asks: "Why endure these throbbing muscles, carrying your child on your back for hundreds of miles, across a border into a new life?" While desperation seems to be a word often used with immigration, courage rarely appears—the courage to take a big risk to support one's family, something prized by American values. Oliva's unique perspective, and her ability, through translation, to understand the underlying bravery at the border, is where Rivermouth is at its best.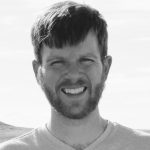 Greg Walklin is an attorney and writer living in Lincoln, Nebraska. His book reviews have appeared in The Millions, Necessary Fiction, The Colorado Review, and the Lincoln Journal-Star, among other publications. He has also published several pieces of short fiction. His Twitter: @gwalklin
©Literal Publishing. Queda prohibida la reproducción total o parcial de esta publicación. Toda forma de utilización no autorizada será perseguida con lo establecido en la ley federal del derecho de autor.
Las opiniones expresadas por nuestros colaboradores y columnistas son responsabilidad de sus autores y no reflejan necesariamente los puntos de vista de esta revista ni de sus editores, aunque sí refrendamos y respaldamos su derecho a expresarlas en toda su pluralidad. / Our contributors and columnists are solely responsible for the opinions expressed here, which do not necessarily reflect the point of view of this magazine or its editors. However, we do reaffirm and support their right to voice said opinions with full plurality.
Posted: October 25, 2023 at 10:56 pm