The Light of Desire
La luz del deseo
Marjorie Agosín
Translated by Lori Marie Carlson
We searched neither for
Temples
Nor monuments to love by
Only sacred time
In a sacred city
Beyond the hills
While Jerusalem dozed
In the holy time of piece
In a time without beginnings without forgetting
We searched neither for dates nor mementos
To love by
We awaited the arrival of silence,
The breath of Jerusalem above our heads.
*This poem belongs to The Light of Desire published by Swan Isle Press
*Image by Patrick McKay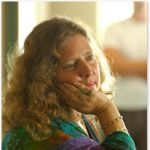 Marjorie Agosín is a Chilean-American writer. She has won notability for her outspokenness for women's rights in Chile. The United Nations has honored her for her work on human rights. She also won many important literary awards. The Chilean government awarded her with the Gabriela Mistral Medal of Honor for Life Achievement in 2000. She has authored 9 books.