A year ago, I enjoyed one of the greatest nights of my life: watching extra time in the England-Croatia men's football World Cup semi-final with filmmaker and France super-fan Agnès Varda, after hosting a Q&A with her. The previous night, she had cut short her on-stage masterclass at the British Film Institute so she could catch the second half of the first semi, between her adopted nation France, where she'd lived since she was a child, and Belgium, the birth country her family had fled as German bombs fell on Brussels. She wanted England to win, she told me, because they'd be easier for France to beat. She felt they had less on the ball, and particularly that they looked exhausted in extra time compared to the wiry Croatians.
She was frustrated by the amount of aerial challenges and headers, stating that she preferred to see passing, and for goals to come from strikes. Her sensitivity to the gestural language of the game, to the bodies on the pitch, seemed utterly in keeping with the filmmaking: her attention to the details not only of speech, cinematography, sound, editing, but also to the movements of bodies, whether human, feline or otherwise–from whose individual and general rhythms all her work seemed to arise.
Varda didn't get to enjoy the awesome spectacle that was this summer's Women's World Cup played across France, including several matches at Roazhon Park in Rennes in Brittany, not too far from her home in Nourmoutier, and from Jacques Demy's birthplace of Nantes. I think she would have enjoyed the rise of the French women's team, beaten by world champions USA after a very tough quarter-final.
The month-long tournament encompassed many of Varda's persistent passions: feminism, of course, with many teams speaking out about inequalities between the men's and women's games; brightly-coloured and celebratory collectives who can turn from welcoming to terrifying, making music and wearing decorative, declarative clothing; extraordinary architecture that creates light, shadow, frames and drama; surprise incursions by animal life (particularly pigeons, in several matches); everyday choreographies of hard work and self-determination; and, of course, brilliantly-dyed hair as sported most notably by Golden Boot, Golden Ball and trophy winner Megan Rapinoe, who only went pink immediately before the tournament–maybe in tribute to France's greatest late filmmaker's aubergine bob?
These facets and fascinations appear throughout her films and are highlighted in her final film, screened at Berlin shortly before her death this spring. Varda par Agnès is a performance-documentary, a mesh of her recent lectures and talks illustrated by clips from across her extensive oeuvre. Made in collaboration with her daughter Rosalie Varda, the film gives us Varda's speaking presence, her cinematic canniness, her associative thought process that moves us from image to image.
In one especially striking sequence, she talks the viewer through the famous thirteen travelling shots that travel with the protagonist Mona in Sans toit ni loi, known in English as Vagabond, which tells the story of a young woman living rough in southern France. "I wanted to walk the roads alongside her," Varda says in her lecture, and then dissects one of the shots–while riding on a dolly along a track, in the same landscape we see in the earlier film! She notes that the shots track right to left, the opposite direction to Western writing and reading, and that each shot starts with an object linked to the previous one, and ends by leaving Mona behind, out of the frame.
After the clip, we return to Varda on the dolly, where she is joined by Sandrine Bonnaire, who was only seventeen when she played Mona and is now a filmmaker in her own right. They are sitting in pouring rain, under brollies on the dolly: Varda loves a rhyme and a pun, and speaks fluent American and British English… it could also be a reference to Demy's breakthrough film Umbrellas of Cherbourg. The atmospheric conditions are a reminder of the harsh weathers that Mona endures in the film. Bonnaire reminds Varda that, before filming, she sent her camping on her own, so she could practice putting up her tent and pulling on her heavy backpack. She recalls working in a vineyard for a few days, learning the precise gestures necessary to prune vines, as Mona does. "All concrete, physical things," Bonnaire says.
She continues: "I said, 'Look, Agnès, real blisters like you wanted, and you said, 'Good!'" Varda pauses, looking moved, and responds: "I should have licked your blisters to say thanks!" What an exchange! Such frankness about the working bodies of cinematic performers is rare: not the dramatic stories of heroic weight loss or gym sculpting, but "concrete, physical things." "La creation est un travail," Varda says early on: creative work is work. While few of Varda's characters are in as difficult material circumstances as Mona, many of them work, often rehearsing and repeating, which Varda turns into cinematic brilliance: I think of Pomme and her collaborators practicing their strange shows in One Sings, The Other Doesn't.
As Varda notes in showing the ending of Le Bonheur (Happiness), it is a film about repetition, including the repetitive nature of domestic labour and also, differently, the repetition caused by shock and grief. The very first clip she includes in her performance-lecture in Varda par Agnès (which was itself repeated, with variations, around the world) shows a sequence of witty and emotive repetitions from her short film Uncle Yanco. She notes that she had the editing of the film in mind as she was shooting, and that is what allowed her to translate the immense emotion into the scintillating formal strategies. Her first encounter with her uncle is refracted from multiple angles (and through hearts cut from brightly-colored plastic cellophane), and with multiple minor differences as she and Yanco repeat their seemingly spontaneous greeting.
Which is one of the many reasons I wish she were still here: of course, to continue to speak with and through her films. But I also would love to have talked to her about the summer's hottest documentary controversy, video-assisted refereeing in football. For two reasons: the first is her interest in the gesture, and in its repetition. There is something mesmerizing about watching a second or two of fast-paced bodily movement replayed in slow motion over and over when VAR is used, often from multiple angles, that feels Vardadian in its intensity and curiosity. The repetitions become telling: not just about winning or losing, but about the feelings of rule-breaking or play-acting, of falling or flying.
But unlike a referee, Varda can suspend judgement on the truth according to FIFA, and instead invoke the feeling of that movement; of contact between boot and skin, or small shifts in stance. And that's the second reason I'd love her take on VAR: her unique relationship to documentary. In her performance-lecture, Varda distinguishes between "raw and pure documentary," and her own work, which she describes as "real reality, with a twist." She would surely remind referees that camera angles and editing both shape the "real reality" of even the most "raw and pure documentary," that they are always reading an image.
In a time of fake news, including deepfake videos and other interventions into news media that draw on audiovisual technologies and techniques, Varda is careful to delineate her idea of the documenteur (as she titles one of her films), her blend of autofiction and organized documentary. Unlike trolling fakers, Varda signs her work with herself. "On est complice," she says of her work with Jane Birkin in Jane B. par Agnès V.: we were in it together. She shows a clip of Birkin looking in a mirror that, when tilted, reflects Varda behind the camera. She often signals her films' emotional authenticity by appearing on-screen, and through the clear signs of her authorship, her ciné-écriture. Attention to gesture is one such signature; I think, automatically, of her self-shooting her hand "catching" lorries on the motorway in The Gleaners and I, one of many such gestures of gleaning that thread through the film, seen in nineteenth-century paintings and twenty-first century digital images of fields and city streets.
Varda notes that she likes to have a dispositif for the documentary-making that has been her primary mode in the twenty-first century, but stretches back to L'Opera Mouffe, a film that includes her own pregnant body. A dispositif is a plan, a device; she describes it as a way of organizing the reality she encounters, whether that's having an edit in mind, or being aware of her viewpoint, or having a thread like the gestures of gleaning, or using specific kinds of performance and participation, as in Visages Villages (Faces Places). It's also the technical term for a camera: dispositif photographique, a reminder that all documentary is devised in camera.
But I'm sure that she is also aware that her contemporary Michel Foucault used dispositif in a larger sense, to mean political structures, concrete social apparatuses that organize daily life–like (in different ways) a neighborhood, or a shipping company, or a family, or a football team, or a film production. Varda's documentaries rarely touch on the large-scale dispositifs such as governments; instead, they look at how small groups of people organize themselves within in the larger concrete structures of the state or status quo. In Faces Places she literalized that by working with JR who pastes large-scale images of individuals and communities onto concrete blocks and buildings.
It is Varda's small devices–her beloved digital cameras, her ingenious techniques for getting people to appear on camera as themselves, her associative edits, her repetitions-with-a-difference, her puns, her hearts of cellophane or potato–that show a wily way out of the Foucauldian dispositifs. They are what would be seen in a truly Vardadian VAR: not the often-misinterpreted minutiae that can change a game or a tournament, but the beauty of life itself, over and over, writing itself onto the world and the screen.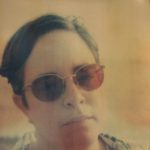 So Mayer is the author of Political Animals: The New Feminist Cinema, The Cinema of Sally Potter: A Politics of Love, and the co-editor of Catechism: Poems For Pussy Riot, The Personal Is Political: Feminism and Documentary and There She Goes: Feminist Filmmaking and Beyond. Her Twitter is @tr0ublemayer
©Literal Publishing
Posted: August 12, 2019 at 9:47 pm