Venezuela's Queer Future
Brian Riedel
Four years ago from a prison outside Caracas, opposition politician Leopoldo López wrote to the New York Times that Venezuela was failing.  It has only gotten worse.
Hugo Chávez's once grand idea of a Bolivarian Revolution has collapsed by whatever measure you choose.  Inflation reached 800% in 2017 and now remains the highest in the world at 8,900% according to www.tradingeconomics.com.  The BBC reports that inflation is expected to hit 13,000% later this year.
The country has also been hemorrhaging people.  Caracas-based sociologist Thomas Paez estimates around 1.5 million people left Venezuela between 1999 and 2015, a flight some have dubbed the "Bolivarian diaspora."  In a country of 32 million, that is approximately one in twenty; scaled to the United States, that is nearly the entire state of New York.  And the exodus has only quickened since Nicolás Maduro assumed the presidency in 2013.  The Economist reports a recent university study indicating 815,000 have left since 2012, the majority of those in the last two years.  The numbers show a nation starving and bleeding.  No surprise then that the Maduro government has stopped publishing such statistics.
In the midst of this deepening humanitarian, political, and economic crisis, talk of LGBT civil rights in Venezuela might seem frivolous.  It is not.  The opposition party López helped to found – Voluntad Popular – has embraced LGBT rights as part of its coalition to end Venezuela's present misery.  Indeed, in 2015 the party helped realize two firsts for Venezuela's National Assembly: the opposition's supermajority of delegates included Rosmit Mantilla, an openly gay man, and Tamara Adrián, a trans woman.
Now in his mid-thirties, Mantilla cut his political teeth organizing for LGBT causes within Voluntad Popular.  He also directly experienced the wrath of the Maduro regime.  He was arrested in May 2014 on charges that he promoted violence by paying protesters to block streets in Caracas.  While imprisoned, he was denied medical treatment for a life threatening gall bladder condition.  Although Amnesty International repeatedly petitioned the Maduro government to release Mantilla, negotiations brokered by the Vatican eventually lead to his release in November 2016.  He has since been traveling frequently outside Venezuela to build international support for a negotiated end to the crisis, with stops including the French National Assembly and a meeting of LGBT Latin American political leaders in Puerto Rico.
Adrián's years of LGBT activism also ignited her political career.  Now in her late sixties, she studied law in both Venezuela and France.  As an academic and practicing lawyer, she has also served in several transnational activist bodies, including ILGA (the International Lesbian, Gay, Bisexual, Transgender, and Intersex Alliance), IDAHO-T (the International Day Against Homophobia, Transphobia, and Biphobia), and WPATH (the World Professional Association for Transgender Health).  Her candidacy itself demonstrated much about the legal system she hopes to reform: Venezuelan election rules forced her to use her male birth name on her filing papers.  She campaigned with a promise to work for LGBT rights, including marriage equality and state recognition of name and gender-marker changes.
While the elections of Mantilla and Adrián were significant firsts, their ability to accomplish substantive change has been constricted at best.  In March 2017, the Maduro regime circumvented the opposition's supermajority: the nation's Supreme Court, filled with people loyal to Maduro, revoked the powers of the National Assembly and assumed them for itself.  In this climate of clashing government powers and economic instability, appeals to the rule of law rely on an understandably strained collective belief in the government.
At the same time, Mantilla and Adrián are not alone in their efforts.  The lawyer José Manuel Simons, currently living in Chile, is helping five trans women move a lawsuit through the Venezuelan courts to force the Bolivarian Republic to recognize name-changes and gender markers.  Within Venezuela, activist-academics like Quiteria Franco – general coordinator of the Unión Afirmativa de Venezuela – call out the contradictions of a state that will fund Pride parades in Caracas but will not legalize same-sex marriages.  Filmmakers like Mariana Rondon (Pelo Malo, 2013) help audiences around the world examine their own ideas of sexuality and gender through protagonists making a life within the peculiar blend of uncertainty and potential that is contemporary Venezuela.  The central character – a young boy taken by the idea of straightening his curly hair – triggers a cascade of reactions from his family and others, including his mother's suspicion that he might be gay.  Fittingly, when NPR's Jasmin Garsd asked Rondon about the film's silence around the boy's adult life, she replied, "You are asking about the future. I'm glad you're asking that. It means you know there is a future. And there is a possibility that things won't be the way they've always been."
That same mood hovers over the national election now set for May 20th.  Much of the opposition remains stalwart that refusing to participate is the only way to render Maduro powerless.  Nevertheless, opposition politician Henri Falcón has chosen stand for the presidency, leading some of his erstwhile opposition allies to argue his candidacy only lends Maduro credibility.  Questions persist of whether the elections will be free and fair.  Even so, some polls show Falcón with a solid chance of winning.
Whatever the result of the election, it is a mistake to focus exclusively on removing Maduro without holding tight to a vision of what the country should look like after his regime and chavismo are gone.  Warnings against that myopic strategy are already woven into the nation's history.  Just seven days after the State of Venezuela formed from the dissolution of Gran Columbia in January 1830, Simón Bolívar addressed the Constituent Congress of the Republic of Colombia: "Independence is the only benefit we have acquired, to the detriment of all the rest."  A government including diverse leaders like Mantilla and Adrián would guard against repeating such a mistake.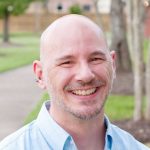 Brian Riedel is Associate Director of the Center for the Study of Women, Gender, and Sexuality at Rice University whose scholarship focuses on LGBTQ social justice movements.  He enjoys the life companionship of his partner and their dog, and believes science fiction just might save the human race.
©Literal Publishing
Posted: May 9, 2018 at 10:41 pm