Two Poems
Nathalie Handal
Ovid & Us
Maybe our nostalgia is the size of a cloud
and our sacraments buried in the stems
of the royal palms
Maybe worry doesn't understand death
it invites it in la sala para un café
that la tía of another lifetime
prepared for us one afternoon

after the sun burnt our foreheads
and spared our lips—
that's what happens mi cielo
in the city of a hundred fires
We were made, assembled
and imported by the same angel
she told us, la luna tiene sus voces
We grew up with la revolución
keep meeting in La Habana Vieja
for morning moon rum
Hace años
we met in the middle of the street
in Miami and said in chorus
Capitán, journeys are great circles
Years later
our eyes still carry us
to la Cuidad
but now we are
on top of the mountain
overlooking the island
Para Richard Blanco
Keskin Bıçak
Ancient nostalgia
when I see you
their faces return
their long stares
in the middle of the night
but when I move
towards them
they vanish
like you did
after you recited me
a poem
Suleiman wrote to Hürrem
by the half-open window
after you entered my heart
near Hagia Sophia
like silence

alling into the rain
hold me against you
one last time
don't leave me
between two nowheres
whisper maybe
whisper something
don't leave me
at the sharpest edge of desire
like an agony at the end of history
Years later
you come into focus
at the corner of a street
in Cihangir
in Taksim Square
an Ottoman tune
a chorus moves towards me
I want to sink my lips in the air
stop sailing
but the band is on the other side
of the Bospherus.
Keskin Bıçak means sharp knife or the sharpest edge in Turkish, and is the title of a song by Sezen Aksu.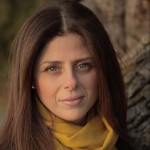 Nathalie Handal's most recent books include the flash collection The Republics, lauded as "one of the most inventive books by one of today's most diverse writers" and winner of the Virginia Faulkner Award for Excellence in Writing and the Arab American Book Award; the bestselling bilingual collection La estrella invisible / The Invisible Star; the critically acclaimed Poet in Andalucía; and Love and Strange Horses, winner of the Gold Medal Independent Publisher Book Award, which The New York Times says is "a book that trembles with belonging (and longing)." Handal is a Lannan Foundation Fellow, Centro Andaluz de las Letras Fellow, Fondazione di Venezia Fellow, winner of the Alejo Zuloaga Order in Literature, and Honored Finalist for the Gift of Freedom Award, among other honors. She is a professor at Columbia University and writes the literary travel column The City and the Writer for Words without Borders.
©Literal Publishing
Posted: January 4, 2018 at 9:55 pm