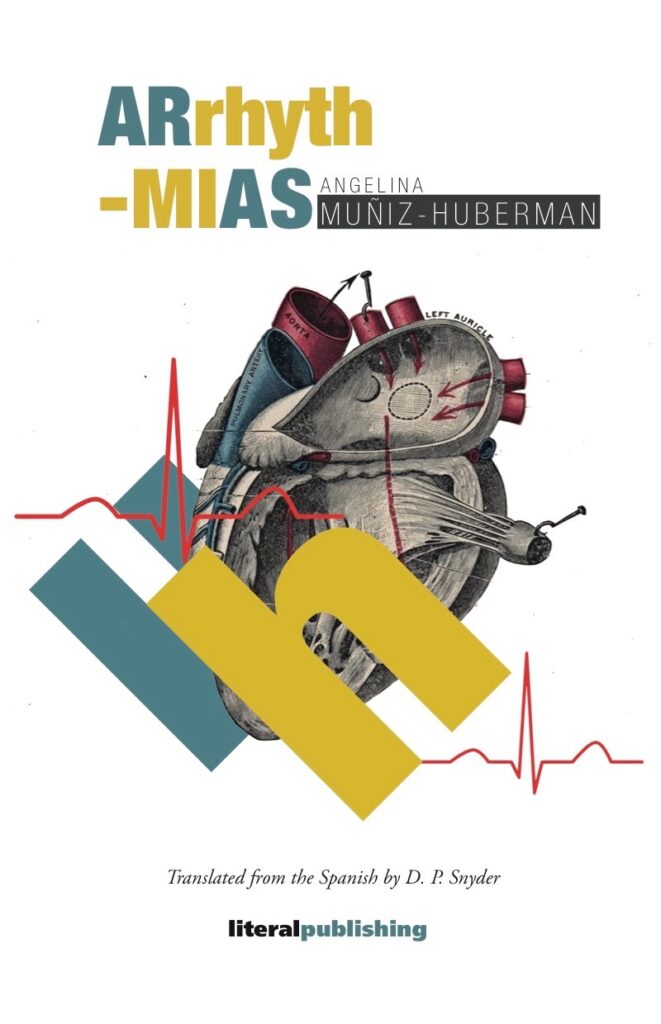 By Angelina Muñiz-Huberman
Translated by D.P. Snyder
In 32 poetic essays, award-winning Mexican poet, novelist, and essayist Angelina Muñiz-Huberman takes a stroll through the twentieth century, exploring an era marked by war, exile, and the rise of technology. Born in France of Spanish refugee parents, Muñiz-Huberman's family established itself in Cuba and then in Mexico as refugees fleeing wars in Europe. In "The Guts and the Skin" she takes aim at contemporary culture and the hatred of the Other.  "Ship to Nowhere", is the story of the doomed voyage of the St. Louis through the lens of Jewish poet Leo Baum, who plunged to his death in the port of Havana rather return to Europe and certain death at the hands of the Nazis.
Major themes in Arrhythmias are exile, art, language, mysticism, music, memory, crypto judaism, and the search for identity in an unstable world through art, love, and storytelling. She playfully disrupts standard grammar and punctuation in her writing, reexamines, reinvents, and refreshes language, and thus initiates a new genre baptized by Mexican writer Adolfo Castañón as "arrhythmic literature".
Angelina Muñiz-Huberman (Hyères, 1936) is a poet, writer, translator and one of the most unique voices in contemporary literature. She is the author of fty books of poetry, stories, essays, and works in translation and is credited for introducing the neo-historical novel and Sephardic mysticism into Mexican literature. Exile is a central theme in her work. Muñiz-Huberman is a professor at the School of Philosophy and Literature at unam and a visiting professor at European and American universities. Awards: She was the rst recipient of the Sor Juana Inés de la Cruz prize for the Novel (1993) and received the following honors: Xavier Villarrutia, José Fuentes Mares, Magda Donato, Woman of Valor Award, National University, Protagonista de la Literatura Mexicana, Honorary Member of the Mexican Cultural Seminar, Order of Isabela la Católica. Her writing has been widely translated and anthologized. She was inducted as a member of the prestigious Mexican Academy of Letters in 2021 and awarded a doctorate Honoris Causa by unam in 2022.
Posted: November 15, 2022 at 12:13 pm