Ciudad de México, Mucho Gusto
Brian Riedel
I visited Mexico for the first time on the eve of the nation's 101st Constitution Day.  As our flight from Houston approached Mexico City International Airport, my partner and I marveled at the metropolitan area of over 21 million spread out below, overflowing the mountain-ringed valley and drained lakebed. Later that afternoon, two friends from the United States joined us to explore the city, beginning at Enrique Alciati's Angel of Independence on the Paseo de la Reforma. Perched high atop a column, gilded and serene over a bustling roundabout, her face is turned toward the historic city center. She holds out a laurel crown of victory in her right hand and a broken chain in her left, symbolizing the liberation achieved during the Mexican Revolution of 1810. Among the best known of Alciati's works, the winged angel has become an icon for the city as a whole.
Indeed, my partner and I remembered seeing the statue before, in the title sequence for one of our favorite shows–the globe-spanning science fiction drama Sense8 by Lana and Lilly Wachowski and J. Michael Straczynski, first released in 2015. The science fiction appeal of the show rests on the idea that eight characters from different parts of the world are all psychically connected to each other. The dramatic appeal comes from how that idea focuses viewers' attention on the challenges and pleasures of being part of any human collective. With whom do we feel free to be completely and authentically ourselves? What do we hide from others, even when we do connect? What motivates our choices to conceal or reveal our inner selves?
These questions particularly mark the character of Lito Rodriguez, played by Miguel Ángel Silvestre. A gay telenovela actor in Mexico City, Lito dares not publicly reveal his relationship with the scholarly Hernando Fuentes, played by Alfonso Herrera. Lito's need to maintain a heterosexual public persona refers directly to a culture of machismo often ascribed to Mexico. He fears that publicly acknowledging his love for Hernando would dispel the glamor of his screen appeal and ruin his career. As Lito says late in Season 1, "Lying is easy. It's what I do."
Lito's closet was on my mind as our walk moved on from the Angel. However, the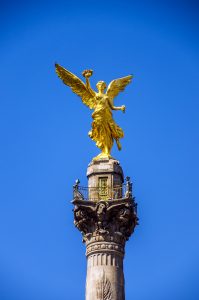 scenes along the Paseo de la Reforma were firm reminders that while a culture of machismo may well still operate in Mexico, it is clearly not the only game in town. We saw two young men straddling a concrete bench, facing each other and knees touching, so absorbed in each other's eyes that they did not notice us pass by as they leaned in to kiss. We also passed two women nonchalantly holding hands at a street crossing. One might presume these people, unlike Lito, have "nothing to lose." Still, such scenes do not surprise those familiar with Mexico City. Paseo de la Reforma forms the northern border of the Zona Rosa, an area regarded today as the center of both Korean and LGBT communities in the capitol. Beyond visibly queer passersby on the streets, there is also institutional strength. Calles Amberes is just one of several roads south of Paseo de la Reforma housing multiple LGBT-focused bars and shops. Last year, organizers estimate some 350,000 people attended the Pride Parade that began at Alciati's Angel and stretched four kilometers to the Zócalo.
For all that, the "pink zone" earned its moniker long before these strong connections to LGBT life. By the 1960s, the neighborhood contained a combination of wealthy residences, high-end clubs, boutiques, galleries and shops, but also more bohemian venues, some of which featured dancing girls. Purportedly, that mixture lead the Breakaway Generation artist José Luis Cuevas to quip, "Es demasiado ingenua para ser roja, pero demasiado frívola para ser blanca, por eso es precisamente rosa." (It is too naïve to be red, but too frivolous to be white; that's precisely why it is pink.) The area's current association with LGBT community would not solidify until the 1990s.
This contrast between Lito's closet and the present day texture of the Zona Rosa mirrors a shift in the social science of machismo in Mexico. During his fieldwork in Guadalajara from 1969 to 1971, the United States anthropologist Joseph Carrier described a deep-rooted culture of machismo, framing it as a pervasive dynamic that prevented men who have sex with men from embracing a public, homosexual social identity. In the 1990s, Mexican-born Héctor Carrillo's fieldwork in the same city led him to understand machismo more as a complex and evolving cultural formation linked to both masculinidad and mexicanidad. By the late 2000s, observers like Josué Ramírez suggested that multiple perceptions of machismo circulate in Mexico, differentiated significantly by class and geography. His work in Mexico City with young, university-educated people found them to increasingly reject all forms of machismo as relics of the past linked to what they deemed "rural backwardness."
Significant legal and institutional transformations reinforce the trends Ramírez describes, particularly in Mexico City. In 1999, the Federal District passed an ordinance banning discrimination on the basis of sexual orientation. In 2008, the capitol moved to allow transgender citizens to change their legal names and gender markers on official documents. Long before the 2015 Supreme Court guidance that effectively rendered same-sex marriage legal for all of Mexico, the Federal District recognized same-sex civil unions in 2006, and same-sex marriages and adoption rights in 2010.
A more recent indication of these transformations came just last year, when Ciudad de México collaborated with UN Women on the #NoEsDeHombres campaign to curb sexual harassment and violence on public transportation, specifically targeting men. The "penis seat" element of the campaign augmented some seats in the city's subway cars with impressions mimicking male anatomy. Signs on the floor at those seats read, "Es molesto viajar aquí, pero no se compara con la violencia sexual que sufren las mujeres en traslados cotidianos." (It is annoying to travel this way, but not compared to the sexual violence women suffer in their daily commutes.) Another element of the campaign placed cameras and video screens in the metro cars to display live close up photos of male passengers' buttocks. Both elements aimed to move men to understand how it feels to be sexualized without consent, and to see objectifying others as unmanly. Sense8 actor Alfonso Herrera was among the public figures participating in the official launch of the campaign.
To be sure, these movements in Mexico pushing machismo to evolve toward masculinidad exceed anything the fictional Lito experiences. And yet, those leading these movements, lovers on the street, and Lito might all agree that freedom means preserving and expanding the circle of people with whom we feel free to be authentically ourselves. As Hernando says to Lito on their first date, "Love, like art, must always be free."
Fitting then that the Angel keeps watch over both the independence of the Mexican nation and the Zona Rosa.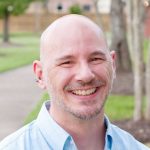 Brian Riedel is Associate Director of the Center for the Study of Women, Gender, and Sexuality at Rice University whose scholarship focuses on LGBTQ social justice movements.  He enjoys the life companionship of his partner and their dog, and believes science fiction just might save the human race.
©Literal Publishing
Posted: February 20, 2018 at 10:29 pm