Havana (An Elegy to Myself)
La Habana (Una elegía a mí misma)
Tanya Huntington
A poem…begins as a lump in
the throat, a sense of wrong, a
homesickness, a lovesickness.
Robert Frost
I came here to Havana with no song
inside my heart, except the one that died
last year when you were not with me: the day
you looked the other way. (And you were wrong
and I was wronged; your ego stoked with pride
augured the worst. I could not make you stay.)
It died but I kept singing, never seeing
you had gone until you told me so.
Then sorrow flew inside my open mouth
and nested in my throat. (I turned to flee
and cried me out a river that would flow
down to Miami, ferry me down South.)
The sorrow formed a lump so round and hard,
so smooth and cold, it sank down to my chest.
Havana doesn't know I keep it there.
It's on the right. It is my calling card.
I carry it with me inside my breast.
Its weight is more (and less) than I can bear.
A woman walks beside me with a cake
atop a square of cardboard twisted back
and forth in harmony with swinging hips.
Blue frosting glows with light. (For summer's sake
I left winter behind. The frozen black
of night exchanged for warmer fingertips.
You left, so I left too. My flight from yours,
our separations joined in symmetry.)
The hustlers on Obispo Street all say
psst-psst, hello hello. It seems that whores
are willing to embrace the Enemy,
the Coco come to steal their souls away.
Take those two sunburned women at the bar.
They taste daiquiris, escorts posed beneath
their thighs –both gigolos not half their age.
One of them groans, "bitte alzo wunderbar"
around a cracker held between her teeth.
Her limber tryst endures this, lips engage.
(I wonder if I'll ever kiss again
while standing on the edge of sand and sea.
The lump has risen back into my throat
and I'm no better than the rest who yen
for sex or the exotic to be free,
but I am foundered and I cannot float.)
Upon a sea of marbles glides a yacht
contained within a case of glass outside
a Mausoleum of Dichotomy
as if it were some installation fraught
with irony about stagnated pride,
an island never new (and never free.)
I came to hand out dollars in exchange
for rum, I came to hear the soft lament
of dentists selling ice cream on the side
to make ends meet, I came to them estranged.
But not to mock the fallen tenement
of failed utopia, of changing tide.
(Now I'm the only guerrillera here
at this, my final stand, ill-equipped to fight
for an outmoded cause: fidelity.
The trick is learning how to shed my fear
and overthrow the old regime. What might
have been is merely bourgeois fantasy.)
I came to recognize a hunger fed
by carpet remnants breaded, fried, and sold
as steaks. I came to light a votive flame
while clad in white. I came to rest my head
upon a plastic kitchen table bold
enough to boast an orchid without shame.
A dancer speaks to me of love and loss:
her voice blows an arabesque of sorrow
across the makeshift awning of her palm
(words unafraid to cut in where mine gloss
over gory details, yet even though
they open up old wounds, the sound is balm.)
Havana, an accursed circumstance
of water, water everywhere and not
a drop to drink. (I have no mermaid tail
and cannot sing or swim. I've lost my chance
to hold your heart: now I'm Calypso, caught
in archipelagos while you set sail.)
A poet with a regal name receives
me at her rooftop home for tea. She pours.
I note the pot of sugar crawls with ants.
She says she used to have a Pekinese
that she adored, until it fell six floors
in what she claims was suicide, not chance.

(And if I were to end it here and now?
Let the lump act as an inner anchor
and join that gray vault of undersea dead,
arranged in iron furrows each wave ploughs
deep through the sand before roaring ashore
against the seawall, leave these lines unsaid?)
When brave Odysseus embarked after Troy,
his would-be destination was his past
–unlike Aeneas, founder of new lands.
(But hearths can't be adjusted, no new joy
can come without unfolding from the vast
amount of pounding that our souls withstand.)
No new man awaits me in Havana.
Yet not unlike those epic tales of yore,
new life begins here where the old one ends:
in a hole in the ground. Fair Havana,
dolefully I waste away on your shore
while knowing I'll no longer make amends.

It is my lot to live the here and now.
Transference bears no golden branch, unless
it hangs above this void behind the shrine
that is the dwelling of Changó. I vow
that marriage will stay buried here, confess
that death will not us part by breathing brine
and spitting out the lump that's now a bone,
and hoping that the saint will heed my moan,
and knowing that from this poem, I will roam
until I've mapped an ending all my own.
• The long poem forms part of the book Solastalgia, to be published this month by Almadía.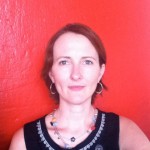 Tanya Huntington is the author of Martín Luis Guzmán: Entre el águila y la serpiente, A Dozen Sonnets for Different Lovers,  and Return. She is Managing Editor of Literal. Her Twitter is @Tanya Huntington
©LiteralPublishing