La beata de las locas
Raquel Abend van Dalen
Aceptamos el privilegio de atraparte
nunca hemos lamido una desnudez cabal
que hierva en calma
te recogemos dormida
para abrirte
sobre un ajedrez que aún se oculta
del peligro de nombrar
traducimos nuestro cansancio en entrega
una lingüística extendida ante el vacío.
***
Somos réplicas de
tus víctimas, tu nombre
haz de nuestra obscenidad un asunto tolerable
aún con tus manos puras
seríamos el cadáver que tocarías
¿qué es lo que convocas?
Se nos antoja esa soledad de muerte que realmente no existe
un este y oeste calcado
en este panorama de sal
la tierra arrancada que compartimos
signos de polvo que no dejan de retornar
un trago más y lloramos
venimos de tan lejos y más lejos iremos no queremos hundir el rostro
en el desencuentro
bastaría un exilio murmurado
desviar aquella sombra que se acerca por detrás la sangre que aún nos conmueve.
*Estos poemas pertenecen al libro La beata de las locas (Sudaquia, 2021)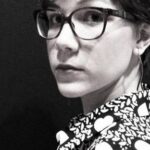 Raquel Abend van Dalen (Caracas, 1989). Magíster en Escritura Creativa en Español por la New York University (2014). Ha publicado, en narrativa: La señora Varsovia(LP5 Editora, 2020), Cuarto Azul (Kalathos Ediciones, 2017) y Andor (Bid&Co., 2013; Suburbano Ediciones, 2017); y, en poesía, La beata de las locas (Entropía Ediciones, 2019), Una trinitaria encendida (Sudaquia Editores, 2018) y Sobre las fábricas, (Sudaquia Editores, 2014). Actualmente realiza un doctorado en Escritura Creativa en Español e Historia de arte en la Universidad de Houston. Su Twitter es @Abend_Raquel
© Literal Publishing. Queda prohibida la reproducción total o parcial de esta publicación. Toda forma de utilización no autorizada será perseguida con lo establecido en la ley federal del derecho de autor
Las opiniones expresadas por nuestros colaboradores y columnistas son responsabilidad de sus autores y no reflejan necesariamente los puntos de vista de esta revista ni de sus editores, aunque sí refrendamos y respaldamos su derecho a expresarlas en toda su pluralidad. / Our contributors and columnists are solely responsible for the opinions expressed here, which do not necessarily reflect the point of view of this magazine or its editors. However, we do reaffirm and support their right to voice said opinions with full plurality.
Posted: July 8, 2021 at 9:41 pm