maize
maíz
Yolanda Segura
Translated by Tanya Huntington
maize.                                 an acre full.
pencils.
a pack of twenty-four full
the unaffordable luxury of staying home
oil converted into gasoline
oil converted into little toy cars
myriad nomadic oil
parents. an elementary school full.
a certain percentage of automobile parts assembled in mexico must be manufactured in the united states of america
it doesn't matter whether bodies assembled in mexico contain parts manufactured elsewhere.
all bodies, tiny parts of a greater machinery
it's a cliché to say so, a cliché
for those who cannot afford
the privilege of staying home.
certain seeds were born to fight.
a traumatic event on wall street is a traumatic event in every household of
this community and we do everything in our power to avoid it. that's the butterfly effect.
persons, predominantly men
certain seeds grow even when they are abandoned.
even with a father on the other side, even with a mother who goes back-and-forth and contraband, even with no one.
first, an automatic filter was placed in the hole: so corncobs would bounce back, drowning us in corncobs. second, a hole was opened up inside the hole so persons, not corncobs, could fit inside.
persons, predominantly men between fourteen and forty-five years of age
the economy was opened to global competition and all forms of support or subsidy for agrarian products were removed
when we entered this new cycle, sonia was presented with four small luxury automobiles: she couldn't play with any of them because they were collectibles. four little cars in a row staring her down. sonia and her little cars.
it doesn't matter whether bodies assembled in mexico contain parts manufactured elsewhere.
all bodies, tiny parts of a greater machinery
certain seeds generate cobs: the word monsanto has yet to appear
in the vocabulary. 
if we were to replace with little toy cars the empty spaces of all the absent
fathers of all the girls of all the boys of
mariano matamoros el palmar elementary school
cadereyta de montes code 22dpr0258g into the hole
go persons and out come little plastic remote control automobiles for christmas and reyes
smuggled pickups illegally imported  ……..pickups with wide tires
if we were to replace, said as a possibility ……..but these blank empty spaces are
……..……..……..……..……..……..……..……..……..……..not made to be filled by any toy
if people can get out illegally, goods can get in but their status
as goods susceptible to being expropriated
is an indelible stain, a sticker on the windshield,
a license plate from nevada, arizona, new jersey, florida
FLOrida they say when they get back,
florIda we say learning on our own
how to see flowers in a dry field
deficit of persons ……..……..……..……..surplus of little cars
pickups left behind that no one drives
anymore
globalization would seem to be an optimum means for the reduction of poverty:
wealth is shared
sonia's little toy cars are a reminder:
she will not be/will not have/will not leave: study hard, daughter
her father tells her on telephone calls while over there
he works driving a truck that transports construction materials
as far as employment generated thanks to international commerce is concerned, there are two possible scenarios: a positive outcome where persons are given marvelous job opportunities and another negative one:
his calls are
always cut off by noise
like a tire that rolls across communication and suspends it
like the noise of a tractor trailer driving off down the highway
his calls are a tire that makes way through mud and rain
a tire that brakes before entering a lane
a tire that bears the impregnated smell
of a skunk in mid-field.
the telephone in this booth possesses the language of a tire, like the ones
they use to manufacture swings at mariano matamoros
elementary school: one thing placed
in another's stead.
with the passage of time, the mexican economy has "specialized" in the generation of three forms of merchandise that turned out to be extremely attractive on the global market: 
cheap labor, illegal drugs and …….. the telephone in this booth
undocumented migrants (who therefore provide very cheap     speaks the language of a tire
manpower).
i'm right there with you, her father tells sonia in english
it is not enough to start up a business as common as a tortilla shop……..a tortilla is a circle
you need something innovative that adds value,     made of maize papá, but no matter how many wishes I make it won't
something adequate for international export. take me with you
something that if exported will significantly enhance the gross national product papá I want
three men signed on behalf of three countries…………….a tyco rc driven by
free trade agreement…………….remote
control
a box of crayolas with thirty-six
in recent years maize has become the most ……..colors this time when you
come but
exported product from the united states to mexico…….. most of all
the tyco is
when politics and economics mix, it's to be expected that……..this little two-wheeler that can
the economy influences political decisions and not vice versa turn on its axis
the agrarian economy was increasingly focused on   yes, just like a tortilla, pá
the export of certain products with comparative advantages, just like that
the agrarian counter-reform of 1992, approved during and also for christmas I want
the administration of carlos salinas de gortari, a barbie hot wheels
the best land, hoarded by international monopolies I already know you can't
to such a degree that by the year 2013, 80% of the main products for agroexport and certain subsidiary bring me one, but listen wouldn't it be better when you come industries were in the hands of foreign companies if we buy the new pickup here
mexican calves —most likely fed on american maize— are exported to the united states where they are fattened and then yes, yes, think it over slaughtered in order to export veal to countries abroad and you can let me know next week including mexico. but next week never comes or rather next week does come but there is too much volatility what they tell sonia on agricultural markets is like a tire about to run across a nail or better said like the hollow of a doughnut closing borders in the middle of her stomach or losing access to trade partners concerns farmers the important thing your papá, her mamá tells her is to put a filter in place is not coming home this year so goods can come out but people can't come in but ask and if they do santa claus come in let them be invisible to bring you that little car you want and let them settle so much your tyco because for a little less than your papá told me the minimum wage that they told him that let them santa put him in charge make themselves very small of bringing you one and fit box ten that has in a room the exact same size and rise you up early for work asked for and mamá doesn't know how to tell her what everybody at school already in the end knows, that her papá the free isn't coming back this year trade or the next you can see agreement the sadness in her gaze and sonia was best she knows but she wants to think more about the tyco and the crayons and the rugrats tshirt that comes as a bonus with the box for in the exact same size this she asked for and no longer wants: country a box has it took the exact same every size of papá lying down one sun town day at seven in the morning in before going out to make a li ME ving the box takes months XI to get there because of the pa CO perwork and the tyco does out not include batteries of when six men lower the body its from the pickup. comfort the box is everything that crosses the border zone and reaches the heart of the country.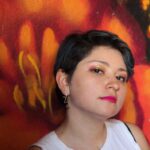 Yolanda Segura (Querétaro, 1989) completed her Master's and Ph.D. studies in Literature (Universidad Nacional Autónoma de México) and the Seminar of Photographic Production 2017 at Centro de la Imagen. She is currently studying screenwriting at the Centro de Capacitación Cinematográfica. She has published four books of poetry, among them o reguero de hormigas (FETA 2016) and per/so/na (Almadía, 2019). She won the Premio Nacional de Poesía Carmen Alardín 2018 and the Premio Nacional de Poesía Joven Francisco Cervantes 2017. Her poems, reviews and essays have been published in various magazines and anthologies.
©Literal Publishing