Plaza Requiem: Stories at the Edge of Ordinary Lives
Greg Walklin
Plaza Requiem: Stories at the Edge of Ordinary Lives
Martha Bátiz
Exile Editions
$19.95
If you're wondering what this story collection is going to be about, you can look no further than the title of its first story. In "Paternity, Revisited," Paula meets up with an unnamed man, who calls her "Adriana" and considers himself her father, although she doesn't agree. Along the Rio de la Plata, they argue over the past, and she accuses him of crimes. At one point, Paula considers the river: "A colossal oxymoron, this strange beast in front of her: its water a peculiar womb that embraces the dead while nourishing the hopes for the living." Paula's observation frames the rest of the stories in  Plaza Requiem: Stories at the Edge of Ordinary Lives. Martha Bátiz has crafted a sharp collection, including a few stunning ones, which mostly center on the ramifications and contradictions of parenthood and—as "Paternity, Revisited" makes clear—parenthood's absence.
Only in the heartrending "In Transit" does the theme appears in its ideal form. Eulalia sold her land and house to obtain passage for Andrés, her son, to the United States. But after Andrés dies, she seeks out the spot where his last moments took place; all she wants to do, she says, is "bring him water to calm his thirst." Through a tragic, realistic story, Bátiz has shown how guilt and tenacity interweave, and how the desire to take care of one's child never ends.
If "In Transit" is dolorous, then "Maria Times Seven," about a mother who has seven daughters, all named Maria, is a humorous antidote. When Doña Toña's septuplets' tears have magical properties—they lead others to weep, too—she starts a booming business selling them. (Among her clients are lawyers looking to assist their clients in pulling the heartstrings of jurors.) "Maria Times Seven" probably doesn't play to Bátiz's strengths, but it makes for an amusing interregnum, because the rest of the book does not pull a punch.
As the creepiest story "Ants" makes clear, parenthood can be sinister, too. In "Ants," the narrator doesn't understand why her daughter, Isabel, is estranged from her after Isabel's father (and the narrator's husband) dies. Yet it was exactly their "unique kind of love"—I will let you read the story to find out what that means—that has alienated them. "Ants" is reminiscent of the creepiness Shirley Jackson conjured in her best moments, such as the eldritch love portrayed in "We Have Always Lived in the Castle."  Like "Paternity, Revisited," "Ants" presents a complex range of emotions from an unusual point of view, which makes it one of the finest stories in the collection.
In equal measure in these stories, the absence of parents, and of family, either is the tragedy itself or leads the protagonists into tragedy. Emma, in "Decalogue for a Doll Without a House," convinces herself to stay with her abusive husband because she didn't want to be like her mother, who had left her and her father. This leads her to become so bitter that she eventually advises her niece to "[a]lways distrust the things you like. They are a trap." Similarly, the narrator of "The First Cup of Coffee" also bemoans never having become a mother, although the abusive marriage she was in would have been a terrible place to raise a child. Meanwhile,  the absence of a mother is felt by the main characters of "Polar Bears are Bullshit" and in "Paginini for Two." In the former, Maggie, who lives and takes care of her father, waits for her Godot, Raymond, to return and propose to her. In the latter, Rebecca's pain is aggravated when her father, a concert violinist with a Stradivarius, takes up with an old friend. In all, Bátiz shows women hovering around motherhood and falling victim to the traps a family can set.
Perhaps, though it's in the concise "Still Watching, Still Waiting," where the absence—or more specifically, the destruction—of the family is the most raw. When the narrator's father fatally wounds "The General" and runs afoul of the country's regime, the consequences are catastrophic—not only for him, but also for his family. "In a place without rules or rights," Bátiz writes, "a tyrant's followers, even after his death, are ruthless." As an "enem[y] of the nation," the narrator is forced to leave her parents behind and abscond with Nacha, her neighbor. Now a mother herself, the narrator watches her son sleep "like I haven't done in years" and tries to assemble her scattershot memories of her own father. She rejects her neighbor's claim that the narrator's parents died so she could live in a better country. "Bullshit," she says. "No country's good for a girl who's left totally alone, Nacha." The narrator wonders:
"What would father say now, seeing himself in bronze, his name on a plaque, flowers adorning our flag placed at his feet? Did he like birds? I don't know. But he'll be surrounded by them in the park. They'll defecate all over his statue. In this country, even the most sacred things become shitty."
"Still Watching, Still Waiting" presents a strong case that a sacrifice for one's nation often requires an even bigger sacrifice of one's family. (One peccadillo: given her proximity to history, the narrator's life is hardly "ordinary," so the subtitle of the book seems misplaced here.)
The author was born and raised in Mexico City, but has spent much of her life in Canada, where she currently lives and teaches. Perhaps that background informed the most resonant (and final) story here, "The Last Confession." Marcela, a refugee from an unnamed country, is trying to learn to adapt—to the winters, and everything else, in Toronto. "Other people's cries," she confesses, "are like tattoos inside my skull." Marcela blames herself ("I have nightmares almost every night: I deserve them") but eventually finds some measure of commiseration and solidarity with Farah, who is also a refugee. Farah wears a chador and, like Marcela, is trying to overcome her country's traumatic past.
In "The Last Confession," Bátiz reserves the horror for the end, leaving a bitter taste when one finishes this book. One of the most refreshing things about Plaza Requiem is the author's restraint, and although "The Last Confession" departs from this style a bit, and although not much happens, it is nevertheless searing for how authentically it conveys pain and trauma. As Marcela observes, "[h]istory is usually not written down in my country without first being beaten into the people." This book poignantly shows how bad history's beating can be, and how long the pain can linger.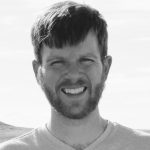 Greg Walklin is an attorney and writer living in Lincoln, Nebraska. His book reviews have appeared in The Millions, Necessary Fiction, The Colorado Review, and the Lincoln Journal-Star, among other publications. He has also published several pieces of short fiction. Twitter: @gwalklin
©Literal Publishing
Posted: May 21, 2018 at 9:32 pm