Tierra
Christine L. Monahan
San Pedro Sacatepéquez, Guatemala
TV reporter:
a black suit
bites into him
at the shoulders,
arms
and waist.
Stalk
of the microphone sways
between the hospital bed pillow
of the boy
and his wilting
IV bag.
What was there to eat
in his village
to make him sick?
Eyes are bulbs
over holes
of a nose;
over lips
that pull away
from the teeth:
2 rows
of bone
that grow, and invade
the eroding brown
of his face.
"Tierra," he answers: dirt;
Earth.
The reporter explains:
The boy had been left alone
with his hunger
and had helped himself.
A camera swallows
the boy's empty home:
slat-wood walls;
the door is nothing
more
than a blank
bed sheet;
the bed he rose from
with the Sun
is bare
board;
the floor:
tierra; dirt;
Earth
on which he stood barefoot
and dreamed
of feeling full.
*Image by Antonio Rubio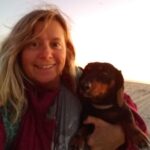 Christine L. Monahan
is a writer of fiction, poetry, newspaper features, and online essays, and an ESL teacher of many years. Her publications have appeared in newspapers and literary journals in the U.S.A., Ireland, Wales and France.  The Portsmouth Herald, Crazyhorse, Chronogram, The New Hampshire Alternative, Argonaut, WP Journal, The Great Midwestern Quarterly, Long Islander, Breakfast All Day, Many Mountains Moving, The Wisconsin Review, Argus, The Sunday Suitor, Still Waters, Starting Rumors Anthology, Eye-Rhyme
,
and The York Weekly.