Two Poems
Alberto Ruy Sánchez
Translated by Tanya Huntington
I DRINK FROM YOUR MOUTH
I drink a moment
from your mouth,
light,
wind.
I drink your gaze
from your mouth,
your steps,
your song.
I drink the dawn
from your mouth,
a flower that falls
and a slow,
distant cry.
I drink
and I go on drinking
the very subtle thread
of a life in flames
that leaps from your mouth to mine,
joining in your flavor,
in the flavor of your desire,
all that is fleeting
to eternity.
While it is true
that the soul is air
and there is a breath
within the word "spirit",
little by little
I drink in
your soul
with every kiss.
IN YOU I DISCOVERED LIGHT
Like a cry of fire
the sun rises along the road,
just as another sun rises
in your mouth, another delirium,
the extreme, possessive joy
of being in you, of being with you.
That sun rises from your throat,
like a tremor, a torrent,
it burns my eyes, it burns my hands
and sets the skin I desire on fire along the way,
the skin of the world that covers your body.
It leaves you and it comes back to you,
for you are the measurement of days.
And the night becomes clear
in the enlightened touch of your words.
In you I discovered light,
that point upon thinking, full of life,
that the sun is found in everything,
enjoyment, splendor,
the longing to love
enters your mouth
and I go with it.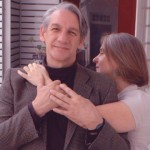 Alberto Ruy-Sánchez Lacy is a Mexican writer and editor. He has authored more than 25 titles that include poetry, fiction and essays. He has been a visiting professor at several universities including Stanford, Middlebury and La Sorbonne. He is the Editor in Chief of  Artes de México.