The Rise and Fall of the Saudi Prince
Hélène Dieck
The Washington Post journalist and Saudi national Jamal Khashoggi's brutal killing at the Saudi Embassy in Turkey, which included him being tortured and his body dismembered, shifted allegiances to the newly nominated Saudi Crown Prince Mohammed Bin Salman (a.k.a. MBS).  Although the Prince is still denying that he ordered the killing himself, the C.I.A. is certain that he was the one that long planned and orchestrated it, with the help of his close advisers. The Agency also recently released an intercept of the Crown Prince saying that he had "a bullet" for the journalist. This killing shouldn't have caused much surprise, as getting rid of political opponents is a longstanding tradition in the Kingdom. What made it surprising however was that it was ordered by a new leader that many thought would modernize his Kingdom.
Indeed, Mohammed Bin Salman was previously believed to be a reformer, leading his country to finally embrace a modern Islam and a more open society. Apart from being quite young – MBS is in his 30s – the Saudi leader also agreed to some important societal changes.  Women are now allowed to drive, which allows them to more easily participate in the economic life of the Kingdom. MBS also reopened cinemas and welcomed concerts again. Although MBS has eased restrictions on gender mixing, he also has increased crackdown on dissent, allegedly using torture against women's rights activists and Muslim clerics. Despite these recent improvements, Saudi Arabia has still a long way to go before reaching gender equality in political and economic participation, health and education. Indeed, the country ranked 138 out of 144 in the 2017 Global Gender Gap. Conservative clerics are still a powerful force and MBS has been careful not to go to far. In January, after a Saudi 18 year-old woman flew to Thailand and pleaded on twitter not to send her back, the Crown Prince briefly contemplated the idea of ending the male guardianship rule, according to which any woman is required to have a family member's approval for any important aspect of her life, before having a change of heart and deciding otherwise.
Although the international community seemed to have withheld their critical judgment until the journalist's killing, there were already blunt human rights violations way before then. Consider the imprisonment of many Saudi leaders without any trial or due process, under the umbrella of an anti-corruption campaign, released only on the condition that they accept their sentence. Or consider Mr. Faisal al Jarba's disappearance for the past 6 months, who tried to flee to Jordan after his friend, an important Saudi Prince, was arrested and another friend died in government custody. Although repatriating critics abroad to the Kingdom has always been in Saudi Monarchs' repertoire, MBS has made this practice a government policy, going as far as kidnapping dissidents in Europe or allegedly holding the Lebanese Prime Minister and forcing him to resign. MBS is perceived as being an erratic decision-maker, exemplified by his decision to cut all diplomatic ties with Canada and suspend all trade and investment relations for instance because he took offense with Canada's Minister of Foreign Affairs' comment on twitter regarding the imprisonment of a human rights activist in 2018. Other brutal reactions include the imprisonment of women that attempted to drive on their own before the end of the ban. Or the humanitarian disaster and civilian casualties that are still resulting from the war in Yemen, which is being orchestrated by the Saudi Prince.
Killing a journalist, especially one who worked for the Washington Post, was the ultimate human right violation that led US leaders to reconsider their position. Given the overwhelming evidence, this event led many U.S. leaders to withdraw the overwhelming support that followed his ascension to power. Recently, the newly-elected House of representatives voted a bill requesting to stop providing support to the Saudi-led campaign in Yemen, daring the Republicans Senate to vote it down. However, one leader is still not reconsidering his ties to the ruling family:  the President of the United States.
Indeed, soon after the U.S. elections, Prince Mohammed bin Salman, son of Saudi Arabia's King, managed to build close ties with the President's son-in-law and senior adviser Jared Kushner. Mr. Kushner became the center of a successful effort by the Saudis to get the U.S. to back the Prince's ambitious policy in the region as well as his ambition to become Crown Prince. Breaking protocols, the pair became on first name basis and continued their informal conversations even after the assassination of the Saudi journalist. According to Martin Indyk, a fellow at the Council on Foreign Relations and a former Middle East envoy, "The relationship between Jared Kushner and Mohammed bin Salman constitutes the foundation of the Trump policy not just toward Saudi Arabia but toward the region". This relationship led the U.S. to support the Saudi-backed blockade of Qatar and the Saudi military intervention in Yemen. In exchange, Mr. Kushner is hoping for the Saudi's backing of an Israeli-Palestinian peace process. However King Salman already declared that Palestinian rights remain his priority. Saudi Arabia also promised to buy more American weapons and to spend $100 billion in the American infrastructures, although only $20 billion have been spent on contracts so far.
Despite this close relationship with the White House, one of the Crown Prince's close advisers recently admitted that his future is now unclear. The assassination of a journalist has caused foreign investments to drop, leading the Saudi royal family to voice concerns over the Crown Prince's fitness for his role. King Salman heeded these concerns and admonished his Heir. The country is under a lot of pressure from the international community for leading a war in Yemen that created the world's worst humanitarian crisis and in which thousands of civilians have died, including from U.S.-made bombs. Another reason for the international community to have turned its back on the young Prince is his 18 month old blockade of Qatar, which has failed to produce any positive outcome. At the G20 last December, the journalist's murder was at the center of the attention and many world leaders voiced their concerns directly to him.
There is no more doubt that the new Saudi Crown Prince is likely to continue Saudi's tradition of authoritarianism. Nevertheless, the U.S. Administration is still betting that MBS will remain in power. As such, they believe there is no need to sever relations with an important trade partner. This relationship is the only one preventing a more forceful international reaction against MBS's human rights violations.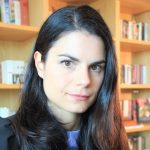 Hélène Dieck received her PhD from Sciences Po, Paris, France. She was previously responsible for elaborating military doctrine at the French Ministry of Defense and served as a visiting researcher at the RAND Corporation, Washington, DC. She currently works as a migrant welfare specialist at Qatar Foundation and recently publishedThe Influence of Public Opinion on Post Cold War U.S. Military Interventions (Palgrave, 2015).
©Literal Publishing
Posted: February 25, 2019 at 10:54 pm