In her new film Visages, Villages (2017), co-directed with artist JR, Agnès Varda speaks on the voice-over of going "vers de visages," towards faces. The documentary travels with Varda and JR as they roam the French countryside, from the former mining towns of the north to the lavender fields of the south and back again, taking pictures of people in places. In fact, what they are doing, with their digital cameras, requires a different phrase: they are giving pictures–giving them back to people, both their subjects, and us, the viewers.
Such an act of giving back is differently palpable in Yance Ford's Sundance-award winning documentary Strong Island (2017), in which he uses family photographs to regain ownership of his family's narrative from the racist justice system that allowed his brother's murder to go unprosecuted. In telling the story of his older brother William's murder and its impact on their family, Ford makes two particularly striking stylistic decisions: to address the camera head-on, and to position family photographs on a work table, his hands visible in shot. These latter acts of composition, of avid archiving, of tender connection, reactivate the snapshots into a previously-untold–or unheard, in feature cinema–narrative of African American working-class family life in 1980s Long Island. Without allowing us to get too close, and eschewing the now-familiar Ken Burns effect, Ford shares his family's images, but retains control of their framing and placement, and in doing so, reminds us that this story is unfinished and complicated.
Strong Island is Ford's first film as a director, having worked as a series producer for PBS's documentary program POV for many years; similarly, JR moves into filmmaking for the first time–a move that, as with Ford, allows for a refreshing of the image. Calling himself a photograffeur, JR has worked internationally as a print muralist, pasting large-format black-and-white poster images on walls and industrial surfaces, placing eyes where you might expect to see advertisements. Having fallen for the huge murals Varda captured in her documentary Mur Murs, he recently teamed up with the 88-year-old filmmaker to act–in some senses–as her eyes (and her Instagram account), as she is now partially sighted. Together, they travelled to meet the villagers, artisans, workers, cats, outsider artists and outspoken women who have long been the subjects of Varda's cinema, and to turn their portraits into public art.
In some ways, the dynamic duo–travelling in JR's photo-van as Varda's feminist troubadour Pomme travelled with her band in L'Une Chante, L'Autre Pas (1977)–take these routes back to cinema's roots. One of the most fascinating aspects of Sagar Mitchell and James Kenyon's films made in the north of England in the early twentieth century, discovered a hundred years later in Blackburn, was that the moment of filming–at the gates of a factory, say–was really a way of advertising the real clincher: the moment of screening, later that evening, in a local hall. Before the Kodak Brownie made cameras widely available at mass market prices, and long before movie cameras were available to many, Mitchell and Kenyon-style filmmakers offered working-class people the opportunity to see themselves and their neighbors, twice as large as life or more. When, in Visages, Villages' first public artwork, Jeanine, the granddaughter of a miner, sees her portrait pasted on the front of her house–the last inhabited house in a terraced row slated for demolition–she cries. Gratitude, recognition, connection, pride: she owns her own story not by being photographed, but by seeing herself.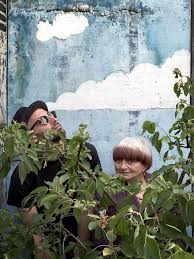 This mobile, quizzical, critical relationship to the photograph, and especially the photograph of the face, feels like a subtle argument with one of the most famous essays on cinema, Roland Barthes' 1957 "The Face of Garbo," written shortly after Varda had made her first film La Pointe Courte (1955). Barthes (translated into English by Annette Lavers) meditates floridly on the ecstatic experience of encountering the cinematic close-up, of Garbo's face as "an Idea," an essence of cinema, hieratic and holy. Strong Island both embraces and challenges Barthes' theory of the close-up through its use of Ford's to-camera monologues, shot in front of a black background. Watching it, compelled by Ford's vulnerable-yet-powerful delivery, I couldn't help but think of Zora Neale Hurston's statement in "How It Feels to Be Colored Me" (1928), quoted in Glenn Ligon's painting Untitled (1990-91), which appears at the centre of Claudia Rankine's powerful poem Citizen: An American Lyric (2014): "I feel most colored when I am thrown against a sharp white background."
Both Rankine's poem and Ford's film have become texts of the Black Lives Matter era, although their studies of racial injustice began long before; and both make a similar move: to see what happens when blackness is placed against a black background, when African American stories and images are embedded in African American culture. Ford's close-ups have all of the overwhelming cinematic power that Barthes' attributes to Rouben Mamoulian's close-up of Garbo in Queen Christina (1933), but they abrogate to themselves articulation: the right to move, and move the viewer, through a palpable dual sense of the filmmaker's intelligence before and behind the camera.
Like Strong Island, Visages, Villages is concerned with giving back subjectivity to what Barthes calls "an admirable face-object." It does so through a practice Varda documented back at the turn of the millennium, in The Gleaners and I (2001). Watching families in a village abandoned mid-construction bring it to life by printing and cutting out poster images of their faces offers more than "a portrait gallery in the open air," as JR describes it on the soundtrack; it's a revivification of the images in which we are all now saturated, a return of the self to the selfie, a collective involvement in (as it were) making faces. This insistence on finding a liveliness in the cinematic image, of exploring its potential to address the finality of death–whether of a loved brother, or a way of industrial life, or (as JR and Varda discuss) of the filmmaker–is present, too, at the end of Strong Island. Ford offers a final monologue, addressed in the second person to his brother, over a brief, chiaroscuro animation suggestive of his memories of William. It's an intimate inclusion of the viewer in a private conversation. It's not an elegy, but an impassioned communication, a direct connection; a refusal to let the image speak only of death.
At the end of Visages, Villages, Varda and JR give each other a close-up: Varda finally gets the photograffeur who works in anonymity to remove his trademark dark glasses, which remind her so strongly of her long-term friend Jean-Luc Godard. We see his face from her point of view, out-of-focus both to respect his protected identity, and to convey the effects of her macular degeneration. From JR's point of view, we see a candid close-up of Varda, addressing the camera. Most of their conversational sequences have been shot from behind, or in medium-long two-shots, so that their faces do not dominate the screen, making space in the viewer's visual imagination for all the other faces that they record. But here, in this moving final moment, they give their faces–young and old, male and female, mixed-race and white, sighted and partially-sighted–to each other. This movement "vers de visages" is perhaps documentary's greatest gift, one that Varda and Ford–l'une toward the end of her filmmaking career, l'autre just beginning his–give so generously, even when contemplating loss and death.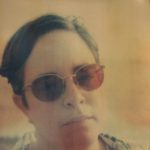 So Mayer is a regular contributor to Sight & Sound and The F-Word. She's the author of Political Animals: The New Feminist Cinema and The Cinema of Sally Potter: A Politics of Love; and co-editor of Catechism: Poems For Pussy Riot, The Personal Is Political: Feminism and Documentary and There She Goes: Feminist Filmmaking and Beyond. Her Twitter is @tr0ublemayer

©Literal Publishing
Posted: July 30, 2017 at 11:18 pm