Apocryphal
Apócrifos
Tedi López Mills
From the Apocryphal series*
English versions by Tanya Huntington
8.
No one can say I didn't tell you so when all else fails, no one can lodge a complaint at the dusty window after the fact: "they were going to use another color for this, something more authentic than unpolished sheets of copper or tin," to give an example, although I'd rather not: the copy of the copy of a pretext I can no longer recall. It's already understood. What else is to be done with the bauble of rationale, the impeccable way it combines with certain arguments? For lack of a better cause, consequences may be used as triggers; they only work because we seldom or ever pay attention to fresh annoyances that must be assimilated as if they were our own, all the while crying out that it is too much to bear. My sense of pity doesn't go so far as the sidewalk of my most hostile neighbor, it can't so much as cross the road. I was going to ask you not to rub that patch of skin the wrong way, but then the Lady intervened in her singsong voice: oh, the cruel passage of discarded finery. A melody from yesteryear, she explained, that also mentions bees, and summers piled up like recyclable sheets of paper. Sighing, the Lady inquired after our hoarse throats: what were you up to last night? We climbed and climbed the narrow staircase, the body steadily peeling away from its mold every time. Or something along those lines. In the dark, our elbows were symbolically excessive. But how could we break this to the Lady? She recites speeches and prayers, she takes care of us, feeds us, teaches us. We shall boast of our creations to her: the parades along the riverside, the rites of buffoons who inflate balloons, the franchises in the suburbs, and the enterprises we've planned with bills and coins. The Lady will no longer have to scrape the bottoms of drawers, searching for loose change! This we will swear to her today, once the table has been set: the checkered cloth, the right china, the unavoidable absences, the instructions at hand: never any affection wasted.
[Oh, the cruel passage of discarded finery!]
10.
I could not do what I did until I did it. I could not give what I gave until I gave it. Neither logically nor chronologically: your choice. Today, dimensions lose their density once they cross paths with household timetables. Suddenly, the most figurative landscape is known as world, region, terrain; or is this but a whim of chance? They warn me that a rough season draws near: strident voices, libertarian impositions, instructions, sheets of metal and weeds covered with tires to simulate rooftops. I remain silent. I know my stubbornness has prevented me from reaching the fever pitch of my comrades. I know also that it is necessary to give indulgences in order to receive them. This echo is not akin to any music under heaven that singles out sounds. And the fever pitch of one's fellow man tends to repeat itself if no one comes to the rescue. A woman chides me over the telephone. A man dies in another home. A cat sticks its nose in. A weak character from a story substitutes one corpse with another in order to save a soul left faceless, but alive. Where was I? If conditions were ripe, I would speak to you of the pale body I caught a glimpse of in a crook of the skylight we composed in a corner of our home. The Lady forbade us from going up to the attic that day. Because of all the rats and rust and toys under the chiaroscuro of the dirty lightbulb. Her message was a double entendre, one we failed to understand.
[My stubbornness has prevented me from reaching the fever pitch of my comrades]
18.
It was not an acropolis, it was not a polis, it was not a metropolis, it was not a syllabic game, it was not a platform, it was not an unevenness of rivers, it was not a faux pas, it was not a partition adjoining the marble corner. There were no signs, no billboards, no beltways, no interstates; several vultures sat on the barbed wire and the effect was dramatic, no doubt, but the people down there went on with their errands or shopping or were merely distracted while crossing one street, or the next. They warned us we would not be able to go anywhere until after the news was broadcast. They explained that tomorrow, there would be no one to clean up the mess or take out the trash or be in charge of dispelling rumors. As if guilt had more to be ashamed of than the act that spawned it. That is what you said to me in your confusion: one dead boy and five innocents, even though they were the ones who killed him. Stories of tenderness repeated alongside others, mutilated until they resemble propaganda. As I examine the maps and the dotted lines along every trench, I try to remember the whole story. Everyone killed everyone else. We are all responsible, and therefore we are all absolved. This is what's known as fatality. There are impeccable theologies that require no gods, where savage gentlemen seek diversion beneath the light they shed, where the experience of said chronicles is not cumulative. My hand brings them together out of inertia; yours pushes them away. These are the risks. You still haven't told me how many words are left.
[Where savage gentlemen seek diversion beneath the light they shed]
*The phrases that appear as footnotes, in italics and between brackets were taken from the Illuminations of Arthur Rimbaud.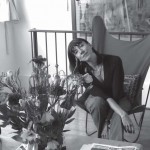 Tedi López Mills is an internationally recognized Mexican poet. She has received the Efraín Huerta Award, the National Literature Award, and the Xavier Villaurrutia Prize, among others. Her works Death on Rua Augusta and Against the Current are available in English, translated by David Shook and Wendy Burk, respectively.
©Literal Magazine