Behind the Screen
So Mayer
What is the screen? It's a question that seems both ever more pressing and ever more distant as we watch—half-watch? look through? look beyond? look ever more closely at?—films on screens of different scales, in multiple settings and time frames; asynchronously rather than concurrently with other viewers, and sometimes while engaged by multiple screens.
This question often plays out in critical conversations as pure nostalgia (oh for the glory days of the Big Screen) or pure techno-positivity (the radical democratization of access provided by digital technology), but with little thinking about the screen itself, as at once a mediating technology and a material object. Two recent documentaries draw attention to this, both obliquely and deliberately, to radically shared ends despite their different means. One, American Factory, co-directed by Julia Reichert and Steve Bognar, won the Academy Award for Best Documentary and is available internationally on Netflix, which produced the film via the Obamas' production company. The other, Here for Life, co-directed by Andrea Luka Zimmerman and Adrian Jackson, was funded by British site-specific art funders Artangel, and has been screened at festivals and independent cinemas and in the community garden where much of it was shot, and as a fundraiser for the homeless community who are the film's subjects and performers.
This difference in production values matters, as do the resonances (and also differences) in the films' ethical and aesthetic values. Both are films about place, a tale of two cities as much as of two screens. Reichert's oeuvre of fifty years of documentary work has been not just about, but very much located in, Dayton, Ohio, as Patricia Aufderheide reflects in her feature on the filmmaker for Film Quarterly, while Zimmerman and Jackson have both worked, independently, on previous projects with local marginalized grassroots communities in East London. Both films consider how communities of people—factory workers who have moved from a defunct General Motors plant to a new Chinese-owned Fuyao plant in Dayton; formerly homeless people who have performed with Cardboard Citizens Theatre in London—make a place; particularly, what is unseen of a place beneath the official histories.
American Factory offers Reichert and Bognar's signature blend of vérité—including smuggled footage—and reflective interviews, while Here for Life challenges documentary form by weaving a non-linear portrait around rehearsals for a live performance by the company in the Nomadic Community Gardens. It includes what seem like talking heads confessions but have an indeterminate status as several speakers simultaneously tell the same story, sometimes switching between first, second and third-person pronouns. In order to make visible communities of individuals who are ignored to the point of homogenization, if not active erasure, under neoliberalism, both films attend carefully to inner voices, feelings, strategies for making self and kin. American Factory proposes unionization as one name for this, while Here for Life suggests the theatre company and theatrical performance as another.
In fact, both films are fascinated by how performance enables their subjects to navigate dispossession and regaining dignity; although American middle managers performing "YMCA" by the Village People to a dining hall of their Chinese colleagues (whose highly-skilled performances include street-dance interpretations of the company's vision statement) at Fuyao headquarters, and the Cardboard Citizens' devised production of a shaggy-dog story based on Vittorio de Sica's The Bicycle Thieves, staged for a community audience under a summer twilight, are literally thousands of miles apart, they also share something: a vulnerability, a rackety risk, a liveness. Something that could be seen as the opposite of a screen; of a screen falling away.
Each film meditates on a very particular kind of screen and its relation to documentary, and to lived experience. American Factory is concerned with one of the most common screens seen—or rather, unseen—in documentary: the car window and windshield. Few narrative documentaries, particularly American ones, are complete without establishing shots through a car window or windshield, often accompanied by voice-over narration by a documentary subject. There are a few purposive shots through windows in American Factory: an extended shot through a minibus window, for example, showing the American visitors' first glimpse of China; and later shots of unionizing picketers in the cold dark of an Ohio winter morning. Purposive, because Fuyao manufactures glass for the global automotive industry. In several sequences, we see the screen itself being manufactured: at high risk, including high temperatures and threat of breakage, as well as high employee stress.
In a morning meeting, the Chinese workers sing a company song that stresses "transparency," singing the word multiple times, ending by valorizing "a transparent world." Transparency is presented as a key value for Fuyao in its working practices in the US as well as in its high standard for glass manufacture, suggesting how Reichert, Bognar and their small team of cinematographers gained such access to the factory from initial construction through the closing shot of automation replacing many of the American workers whose employment was the basis for financial support from both city and federal funding. The filmmakers spend extensive time with Chairman Cao, both in China and on his visits to the US, and capture candid remarks by his team, by the US managers, and by political representatives, as well as extended interviews with both Chinese and American workers (as a note, there are no workers in the film who identify as Chinese-American).
Within the narrative of the factory set-up is a second narrative, about the attempt to unionize in order to increase both wages and health and safety provision to the levels present at GM. Cao is extremely transparent about his feelings, saying "If a union comes in, I'm shutting down." As well as firing and removing employees who express vocal and visible support for unionization, Fuyao hire union-busting consultants to hold mandatory meetings on site. These meetings are not transparent: both in the sense that the consultants are presented as independent labour experts, and that the filmmakers have to record one sound-only. In busting these union-busters, the film performs a particularly valuable service, acting as a warning to other unionizing workplaces.
The final scene suggests that automation was always the endgame anyway, perhaps from long before Fuyao arrived. It is, after all, in the DNA of the American automotive industry that saw the invention of Fordism, the manufacture of standardized products dependent on special machinery and minimizing human labour costs. Lots has been written about the parallels between Ford factories and the "dream factories" of the Hollywood studio system that could perhaps now also apply to the massive increase in scale of producing content for streaming services. Through its screens, American Factory looks back on Reichert's half-century of independent documentary production, and the time, effort and care needed to work with a community to tell its story. Its attention to the means by which the material surface through which we look is made calls attention to its own in-depth, time-intensive making, and to our need to be alert—as viewers—to claims of transparency.
Here for Life starts, in a sense, at the other end: with a surface that signifies, brilliantly, the absolute lack of transparency inherent in the operations of capitalism; the (aptly-named) hoarding. Immediately after the title screen there's an arresting trompe l'oeil shot of a white man in shorts, leaning casually against a skyscraper, against a city skyline. He's actually leaning against a two-dimensional hoarding featuring a hyper-real aerial view of a postmodern docklands, one that uses its drone's-eye sky view to eradicate any signs of human habitation from its urban fantasy. Here, says the film, is life disrupting that, if only briefly; if only as a startling visual pun. In the next shot, the same man looks through a barbed-wire fence at Billingsgate fish market, where subsequent shots will show a bounty of fish on ice. Later, we see him pass a hoarding around a police station that is being converted into a boutique hotel that reads "Here for Life."
This is—as in Zimmerman's first film Taskafa: Stories of the Street—a dog's-eye view of the city; of London, this time, not Istanbul. There's only one dog here, who belongs to Errol; or rather, who companions him, while not being anyone's pet. Like Taskafa, Here for Life is a song of resistance, a study of the very fabric of a city excludes those who are not participants in, exactly, hoarding capital. Where the cars that were the fabric of working life in Dayton circulate regularly through American Factory, in Here for Life the pulse of the film is carried by bikes; stolen bikes. Or rather, bikes whose private ownership is not recognized when there are people in need. "Everybody deserves enough money for the basics because our birthright has been taken from us," says one of the players, looking back to the Enclosures that destroyed the culture of common land in England, a practice that—as Silvia Federici and others have argued—underlay and drove the genocidally-acquisitive processes of colonialism.
Here for Life's process is about dis-enclosing. Not disclosing: the decision to have multiple speakers deliver a story means that we, as viewers, do not get to appropriate anyone's story or feel catharsis at hearing another's trauma. And, while the film makes us very aware of the literal hoardings that litter the city's streets, hiding its history and sometimes making them difficult to navigate, it does not tear them down. Instead, it offers playful and performative strategies for us to use, to tear down the hoardings in our heads, the screens that keep us from connecting to one another, and from seeing the people and narratives that dominant culture would rather erase.
The players play, building a utopia that is very present, albeit at the very edge of what seems imaginable for many of us: "Slay not your dreams to pay your bills," says one player early on, "because you already have a job inside of you." In one lively sequence, the players interact with the hoardings in surprising ways that challenge normative street behavior: they pretend to sip from an 2D outsize coffee cup, or leap into the flat, impossibly blue sky. Both the dreary, disconnected way in which most people navigate the city and the invasive illusions of the hoardings are shown up and broken up. Similarly, the rehearsal space of the Shoreditch Town Hall undercroft allows the film to play with dramatic proscenium framing through brick arches, and with planes of perception as a performer appears suddenly from behind a sheet of mirror glass propped up in the darkness.
Switching the (flat, two-dimensional) stage for (a sense of) depth created by a provisional stage, and injecting the liveness of performance, is a feature of Zimmerman's previous film Estate, a Reverie, shot over ten years with the community living on the filmmaker's housing estate, staging their dreams and desires as they confront the threat of demolition. Here for Life too uses devised community theatre to un-hoard, to give back and to bridge difference. We see the process from scratch, both in terms of rehearsals and of building the stage, and also beyond the "curtain" through late-night discussions with the audience around a bonfire and, implicitly, in the liberating impact of the performance community on its members' lives. During the final credits, two of the cast members dance away from the camera naked under a summer dawn, with the towers of the city recessed into the far background; a dis-establishing shot, perhaps. Capital's hoarding is gone, and the autonomy of the players to remain unhoarded—undissected, unextracted—by the documentary form itself remains.
The commons have reasserted themselves, linking body, earth and sky, in a garden that is unedenic, defiantly wild in the face of gentrification and industrialization, "living with the trouble" as Donna Haraway puts it. We see that there is a behind the screen, a living world of birds, briars, beer cans, bike rides and crumbling bricks. The golden stream of sand seen in the opening credits of American Factory asks us to see the grain in the supposedly-transparent manufactured window of news media that we look through every day. In fact, we see the world in a grain of sand, and—in Here for Life—heaven in a wild flower.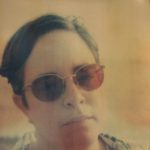 So Mayer is the author of Political Animals: The New Feminist Cinema, The Cinema of Sally Potter: A Politics of Love, and the co-editor of Catechism: Poems For Pussy Riot, The Personal Is Political: Feminism and Documentary and There She Goes: Feminist Filmmaking and Beyond. Her Twitter is @tr0ublemayer
©Literal Publishing
Posted: April 22, 2020 at 10:39 pm