Whitten on Waves
Diana Whitten
Diana Whitten's debut film, Vessel (2014), covers the story of Rebecca Gomperts, an unusual doctor that lives at sea. "Why would she live at sea?" You may ask. Well, Gomperts's mission is to bypass abortion laws worldwide and create a medical haven for women in need of an abortion. Women on Waves, Gomberts's project, offers girls and women hope in the realms of international waters, no matter what their country of origin policies are. The controversy and hostility that accompanied Gomberts throughout her voyage at sea is painstakingly documented by Whitten, a brave, first-time filmmaker I had the pleasure of talking to. I will say, there is not a person in this world, man or woman, who would not benefit from watching this documentary.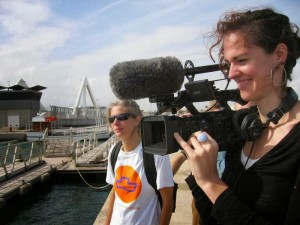 From what I have heard, you were more of a filmmaker than you were an activist before you started this film. What made you delve further into these issues?
My initial interest in Women on Waves was intellectual. I was compelled by their use of the offshore – typically a space of crime or personal gain – as a space to advance social justice. I also thought the metaphor inherent to their work was beautiful: a woman leaving one realm of sovereignty to reclaim her own. Over the seven years I worked on the film, however, my connection became much more emotional. It was impossible for me to witness these activists working with women and not internalize how deep the need is for their help.
Could you briefly explain to our readers the status quo with abortion laws worldwide?
Approximately half of the world's 42 million annual abortions happen in illegal settings, proving that laws have no influence over whether or not abortions happen. The only thing laws can control is whether or not they happen safely, and in countries where abortion is illegal, in most of the global south, they are not safe. A woman dies every ten minutes from an unsafe abortion. But even where abortion is legally protected, access to safe care is often systematically denied. In the US, legislative restrictions to accessing abortion care have rendered Roe v. Wade meaningless in some parts of the country.
How did you end up meeting Rebecca Gomperts?
I learned about her work and called her up! We met in her Amsterdam office, where we filmed an interview that day – the first interview I ever conducted and filmed. By that point in her career, she was accustomed to media interest, and probably thought I'd interview her once and disappear. Little did either of us know we'd be working on this film for the next seven years!
We see quite a bit of conflict with the people that are receiving this movement in their country, were you not afraid? Weren't there any risks of violence? (Especially being a group of women going into strongly male-dominated countries.)
The most violent reactions to abortion care, to my knowledge, happen not in the countries where I filmed Rebecca's work, but here in the States, where people are killed and clinics are bombed in the name of "pro-life."  Over the course of filming internationally, we did find ourselves in the occasional volatile crowd, but I found an interesting adrenaline would kick in those situations. Also, holding the camera made me feel more protected. A would-be attacker might think twice before hurting me if I'm filming him do so.
Did you ever participate in Women on Waves or Women on the Web as one of the phone operators or in any strike? Why or why not?
In my experience filming Rebecca and her team, I felt she lived her creed to "trust women," and allow the people she worked with to apply their own skills and strengths to the overall effort. It took great faith for her to trust me – a first time filmmaker – with her story. Although I learned a lot about Women on Waves' work over the years, ultimately I am an artist with a specific skill set, and I was there to observe and translate their story. The best way for me to contribute to the movement was through storytelling.
That said, there were times during campaigns when we used outtakes from the film as part of the media strategy. Additionally, elements from the finished film will be repurposed for outreach work, specifically the animation that details the WHO protocols for self-induction of abortion using pills, which will be released online, in multiple languages, for providers and women to share.
Not saying that medical abortion should not be an option to every woman, but do you think there is a risk of normalizing abortion to the extent that it trivializes it?
Normalizing abortion is a step toward securing comprehensive health care for women, regardless of location, economic status, or political situation. It's problematic to generalize about how women experience abortion, because the procedure is so common – it's one out of every three women who will have one. Medically, an abortion – especially a first trimester abortion – is an extremely simple and safe procedure.  The "seriousness" of it is an emotional call that only an individual woman can make for herself.
In a perfect world, what do you want to achieve with this film?
My hope is that audiences feel empowered and inspired to join the movement. I hope the film will educate those unfamiliar with the potential of medical abortion, and offer solidarity to audiences of providers working in clandestine isolation. I also hope it serves as a cautionary tale for audiences in countries like my own, where abortion remains legal but increasingly restricted, and greater vigilance is required to curb the shortsighted legislation that puts women at risk.
What's next for Vessel?
Vessel is currently on the festival circuit. We had a spectacular launch, winning the Audience Award and a Jury Recognition Award for Political Courage at our SXSW premiere. We were in the top 20 Audience Favorites at our international premiere at HotDocs, and have several exciting festivals on the near horizon, including Sheffield, Nantucket, and Jerusalem.  In the meantime, I'm working with partners Fork Films, Impact Partners, Chicken + Egg Pictures, and Cinephil to explore our distribution options, and am designing and fundraising for a robust outreach and community screenings campaign.
Further information on Women on the Web:
Posted: May 12, 2014 at 8:29 pm