Five Poems
Cinco poemas
Luis Hernández
The Song
M. Balakireff
They say I am a dreamer
Who dreams
And others say of me
So long. I'm going to another place
And if sorrow
Catches up with me
And if sorrow catches up with me
I'll bury myself in the depths
Of the sea. And I shall no more
Die
And I shall no more.
Elegy Number Five
Yo solo cruzo su silencio
Abraham Valdelomar
Today you bestow on
On the sea
Of Sweet Water Beach
Its only story
It's just that
Now
Your spent body is
A time
A time of
Love.  So
Silent am I
That your memory
Grants me joy
And the faint trace
Of rust that ships
Trail in their wake
As they depart.  So
Silent am I
That were I
To sing
At the same time
From the clear
Slopes, at the same time
From the light
And flickering foam
Would spring forth
Twining tendrils
So silent am I
That your memory
Grants me joy
[My heart lies]
My heart lies
awash in an unknown
sea:
In an arcane
sea
and you will feel sorrow
for me
Only emotion
Endures
Not so poetry
To Friedrich Hölderlin
As distant from yourself
And as close
To that harsh sacred kingdom
Waiting for the sun
Next to an orange sky
So close
Waiting for the sun
Behind the wooden
Slats of a fence
Weeds on the ground
And you falter before it all
Before the sky
Before the two faces
Of the winged blind madman
Sweet as memory
Sweet as oblivion
Blue as memory
Blue as forgetting
And behold
Friedrich Hölderlin
Deep in the valley
Resplendent under the waters
And the infinite shimmering lights
Blind like a star
To a Suicide in a Swimming Pool
Die no more
Listen to a symphony for marching band
You will love yourself once more when you hear
Ten trombones
With their indigo clarity
In the night
Do not die
Weave into its indigo clarity
Do not die
In the name of what God loves best
Emerge from the waters
Towel off
Look into the mirror
Where you were drowning
Stay on the third planet
Known only
For its gorgeous beings
Who emit sounds from their throats
That hinge between body
And dreams
And with the innocent devices
They raise to their lips
Or stroke with their hands
Purest art
Called Music
Die no more
With its indigo clarity
[Brian, 1971]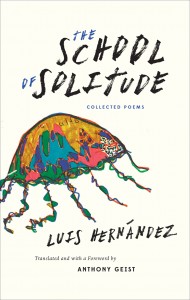 These poems belong to The School of Solitude: Collected Poems by Luis Hernández; translated and with a foreword by Anthony Geist. Swan Isle Press (2015)
Luis Hernández (1941–77) was a Peruvian poet who published three books during his short life.
Anthony Geist is professor of Spanish and chair of the Department of Spanish and Portuguese at the University of Washington.