Three Poems
Tres poemas
Tanya Huntington
RES NULLIUS
Those who alleged a marked distinction
between life and death were wrong;
in fact, I've been hauling molecules around
for forty years that, in isolation,
are far older than any animal will ever be.
What a puzzle!
Pure assemblage,
all organic…
In reality, I have never been alive.
And I (or rather, that which forms
some part of me) shall never die.
HIERVELAGUA
Birds that tear through sulfur-charged air
above flayed terra-cotta stones
encrusted with thick minerals
have left the glowering sun behind
a heavy bank of splendored clouds
reflected in the toxic pools.
Then, from the indigo sierra
came the sudden crush of rainfall.
(No, not "then," as if in the past.
But right now, while I'm writing this:
here come the sheets of beating rain.)
ANTHROPOCENTRISM
For Sabina Berman
And is it possible to write a poem
without man residing in the middle,
at the core: without his presence or gaze?
Only trees falling down in the forest
with no further reflection ensuing
about the sound, or else the lack of sound.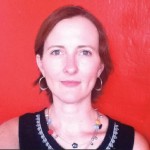 Tanya Huntington is the author of Return and Managing Editor of Literal. Her Twitter is @Tanya Huntington