Weddings & Funerals. A Poetry Event
Literal
Weddings & Funerals That's when the Latino Lit family meets. So this will be one of those!
Poets Unidos Celebration of Bilingual Poetry Houston Poetry Fest Wednesday, October 18, 2017 6:00  to 7:30 pm
Featured bilingual poets 7:30 pm Bilingual open mic
Hosts, Tony Diaz, El Librotraficante and Lupe Mendez.
Featured writers:
From Dallas: Sylvana Avila Alonzo
From Houston: Vanessa Torres, Miriam Damaris Maldonado Marlon Lizama Jasminne Mendez Majo Delgadillo Natalia Trigo Maria Palacios, THE FEMALE KING Leslie Contreras Schwartz, FUEGO, and to be released NIGHTBLOOM & CENOTE Mikaela Selley, Hispanic Collections and Oral History Archivist Dr. Lorena Gauthereau, CLIR/DLF-Mellon Postdoctoral Fellow Recovering the US Hispanic Literary Heritage and US Latina/o Digital Humanities
Partners: Nuestra Palabra: Latino Writers Having Their Say, Librotraficante, Tintero Projects, Houston Poetry Fest, Arte Público Press, Talento Bilingue de Houston, Iconoclast KPFT, Literal, Latin American Voices,  Cronopios, Casa de las Americas, First Fridays, PhD Creative Writing Spanish. University of Houston, Houston Metropolitan Research Center, Houston Public Library Conversing Through Poetry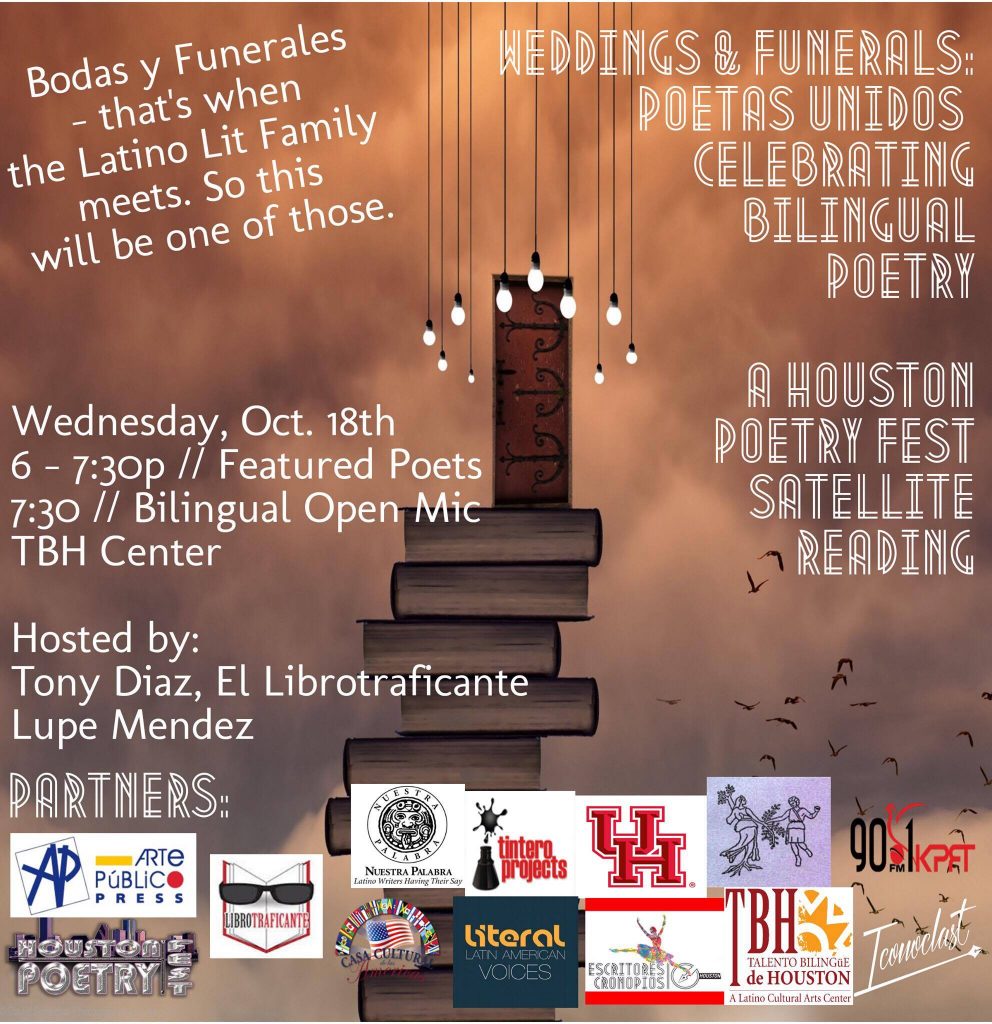 Posted: October 2, 2017 at 12:24 pm