Translated by Tanya Huntington
I.
My mother was a riot cop,
a character in a comic strip,
stunned alter ego of a video game You
activated by a colossal joystick.
Magical remote control
of our great stalker,
who in lieu of ignoring our existence
amid astral mystery,
penetrates us and spills into our center,
trapdoors us among its barbs,
laps us with its subsidies,
chews us up for a living.
Despite such tenacious stealth,
its flight is a dead giveaway. Here comes
flag –our great stalker –
and here comes its drone
ready to acid and sniff us out
to rapid scan and dissolve us spinning.
Every afternoon the TV set,
our great stalker,
stuck us with its antenna,
burying it in the lime pits of our foreheads,
all-possessing us,
its screen, its sun, yes, yes, its heaven,
forming a dazzling plot of land.
Those afternoons before the luminous abyss,
my mother with her sanctified commercial halo,
her lipstick and nightstick
laid out on crocheted plastic doilies,
as if all that would mean swallowings
to the bellies of four, three
–if we were even that–
phosphorescent children,
eager to gouge out the door's eyes
or strip the pages from beauty salon magazines,
crinkled hairdos and ties,
pretty, beautiful, terse
radiating the unfathomable
in our efforts, our desire:
cleansing ourselves with scandals and stars
that licked our shit with their pretties.
II.
My mother was a riot cop,
an indifferent mist, a blind step,
a density with no center, no clog
a dumpsite of bone-weary
that would swell up
into an unbearable lump,
then burst.
Those lightbulb nights
of orderly sinister shadows,
reflections on a screen: shards of colors painted us
as if blue man, yellow girl,
or green spread onto walls by dead man's hand.
The moss sniffed us out with fingers
made of concrete and earth,
its green becoming the Martian who never came,
the most beautiful gelatin glass in this world,
its green transparency, little gumdrops for the tasting.
And to the south, to the south, she was
the riot cop who settled down
and remained there in the three-day jar.
A fermented fungus.
It is we,
It is I who cannot see me.
The only mirror I've ever known
is the visor on the helmet of her gear.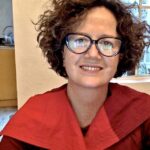 Carla Faesler is a writer and experimental poet. Author of the novel Formol (Tusquets, 2014), considered the best book of the year by La Tempestad magazine, and the books of poetry DRON (My mother was a riot cop), (Impronta Casa Editora, 2020), Catábasis, exvoto (Editorial Bonobos, 2011), Anábasis maqueta (Editorial Diamantina y Difocur, 2004 – Gilberto Owen National Poetry Prize, 2002), No tú sino la piedra (Ediciones El Tucán de Virginia, 1999) and De ríos sagrados que la herejía navega (Ediciones Mixcóatl, 1996).