#Harvey

: How We Feel
Multiple Authors
In the wake of the destruction left by worst rainfall in the history of the United States, we checked in with some of our authors to articulate what we've lived through and how we feel.
***
After Math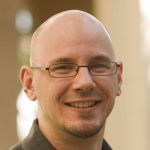 Brian Riedel
Alongside the water, numbers large and small flooded the Gulf Coast this last week.  Before Harvey made landfall near Corpus Christi, meteorologists tracked a torrent of data to yield his climbing category of strength.  Then we witnessed him drop over 27 trillion gallons of water – more rain than any other single storm has produced in recorded United States history.  When grocery stores reopened in Houston, they admitted customers in groups of five to ten at a time, instructing us to buy no more than two loaves of bread, two gallons of milk, two cartons of eggs, and two flats of water per household.
Another math is now under way, a reckoning that comes somehow "after" but feels more like a beginning.  We are counting.  More than 100,000 flooded homes and workplaces.  More than 8,000 people seeking refuge in Houston's George R. Brown Convention Center, with overflow spilling into the Toyota Center.  We are counting bodies as the waters yield them.  We will total the damages, likely to exceed $190 billion, nearly twice the cost attributed to Katrina.  Just as likely, flood insurance rates will be recalculated from actuarial tables soon to be adjusted to reflect Harris County's three "100 year" floods in less than three years – the 2015 Memorial Day flood of 162 billion gallons, the 2016 Tax Day flood of 240 billion gallons, and Harvey, dwarfing them both.
A sense of vulnerability can seep alongside such numbers, prompting some to ask how anyone could be so reckless as to live somewhere so clearly and consistently at risk.  True, we are vulnerable here on the Gulf Coast.  True also, none of us can control everything, especially the weather in this thin ocean of gases that envelops our home planet.  More deeply however, what counts now is what we can control – ourselves.  In the immediate moment, each of us can choose to be the person our fellow survivors can count on, whether we know them or not.  And for the less immediate future – a shifty, risky horizon no numbers have ever fixed despite our most desperate desires – I believe something must remain after the math.  Harvey's gift is yet another opportunity to choose our future, and the numbers do play a role in those choices.  My hope is that the values driving those choices exceed the math of mere damage totals and actuarial tables.
Houston is a Hot, Wet Octopus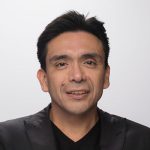 Tony Díaz
Our DNA is in both the floating colony of fire ants and the category 4 hurricane that forms
We give them both names to try to tame them.
They continue to shatter our language, our imagination, our homes.
I struggle with delusions of grandeur and insignificance, stacking plastic jugs of water one moment, then sitting, waiting for my number to come up the next.
In this infinite moment, my debris loose in the gusts, I cling to the notion that matter is neither created nor destroyed. The bits and bytes the lead up to me shall continue, one way or another.
Growing up on the concrete river of Chicago prepared me for growing old on the silicone swamp of Houston.
The din and bravado or our violence pales in comparison to the aphorism of the Great Chicago Fire. The lesson is simple. One day forces may come to try to wipe you out. We can blame Mrs. O'Leary's cow as they famously did back then, but we'll never really know.
And sooner or later, once the ash has been moved around, we remember differently.
My knowledge up to this moment in this infinite present can't fathom all the ways I may die this time or live forever.
All around me the glory of holding my son high, as my scared father in his wheel chair clings to me, delivered from high water, drive by's, border patrol, Y2k, the plague.
One breathe away from letting go and diffusing into the ether or inhaling deeper into my gut to become harder.
Me Reporto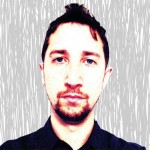 John Pluecker
As a steady stream of messages and calls have come in over the last week from friends and family, I copied and pasted a message in Spanish and English to respond to each person: "Thanks for checking in. Day 1,2,3,4,5 of the neverending hurricane. Power went out for 24 hours but it is back on now. Our house is okay and dry, though lots of friends have water in their houses. It's really bad. Very upsetting and sad. And the rain is supposed to continue all week. :/ " As the days progressed, I'd clip and edit the message. In the end, I posted on Facebook, "We are doing okay, rolling up our sleeves to get to work during what is sure to be a prolonged recovery period. And since this work cannot be done by any one person alone and it cannot be done with no funds, I would encourage you to donate to the Fe y Justicia Workers Center in the fight for #AJustHarveyRecovery. Our local Workers' Center has always been a shining light in our city, and I have deep trust in their values, which includes language justice and working in collaboration with Antena Houston. Right now, the Center has big plans to work to rebuild our city in a way that is safe and fair for all the people who live and work here."
Harvey has taught me how gigantic Houston is. It used to feel small, provincial; those of us who live here would repeat endlessly to outsiders that we were the fourth biggest city in the country, but it almost felt like something unbelievable. But now, the city feels enormous. So many far corners, so little time. I've volunteered, racked up a list of stories that will trickle out in my writing over the next months and years, helped friends with water in their houses, but my mind races and there is little calm. No matter how much I do or how little sleep I get, I know I'm not doing enough. Nothing I could do could be at the scale of this disaster. But then, I quiet my mind (or try to) and I just do whatever small thing I can do at that moment.
For all the helicopters flying over or all the sirens sounding, the crisis is now an interior one. Inside houses, in apartments and businesses that have been affected. This has always been the issue with this kind of flooding in Houston. The public crisis lasts a short period of time. The highways drain out quite quickly and then we are left with interior destructions. Interior wreckage. I'm writing more these days, and I'll have more soon. Right now, I need to go help someone move furniture.
Word Count:  123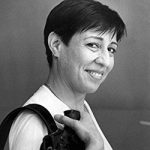 Sarah Cortez
To go to sleep not knowing if the water would continue rising in dark swirls.  To be awakened over and over and over by broadcasted alarms for flash floods, tornadoes, flash floods, tornadoes.
To pray, to pray, to pray.  Normal routines, suspended.  Ugly brown water coming is swift currents to devour cars, homes, hospitals, art.  To listen for the roar of an approaching funnel cloud.
Afterwards, a time to pause.  A time to be thankful that it wasn't worse, that so many were rescued by tireless police and fire personnel, that neighbors and strangers affected by those luminous commodities of sympathy and helpfulness, helped each other through the worst of it.
A time to feel reassured that, ultimately, all will be well.
There´s a deluge after the flood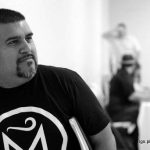 Lupe Mendez
With all the change that occurs after a hurricane, there is one thing that does not change – the need for community. In my neighborhood alone, the moment the sun came out, even though the streets were filled with feet of water – I saw and spoke with, laughed and exchanged greetings with the whole neighborhood. There were more than fifty people in the street, kicking up water. People were walking and laughing, holding hands and smiling. People were together. And as I later volunteered at the George R Brown Convention Center, I saw the same, a blur of evacuees and volunteers, all doing the same thing. I volunteered with Writers in the Schools, working with children evacuees, helping them think of stories and drawing, helping them pass the time, for a moment, trying to forget where they were, in some quickly organized makeshift home away from home. I can remember what this is like as a child – I remember the destruction of Hurricane Alicia in Galveston and later, I knew the heart break of losing a home. I lost my apartment in Tropical Storm Alison in a foot of water and I know we can make it.  I think this city is full of heart, and every community member I know is out in the streets. We have come out after the storm, after the hurricane. We have felt the tightening of a cocoon, felt the change we were pressured into and outside we are some kind of steel made butterflies, ready or stumbling to take on what we have gained and what we have lost. 
©Literal Publishing
Posted: September 3, 2017 at 11:15 pm