Photograph of "Woman on Street – Blue Scarf, Red Dress"
Lupe Mendez
          "Dona Maria como vai você ?"
  -Traditional Capoeira Song
You are the third woman I find
no shoes,            with no home,
in bright colors,            in closed eyes. 

you are waiting for a fight,       the hate,
the waiting for someone            to come
                                                               back.
If I didn't know any                              better,
I'd say you've been waiting                       a bit    
"said he'd be back in three days,
he left me here on these sharp rocks,
                            took my shoes so I can't leave,
don't want to slice each sole down to the muscle"

                          I want to say a prayer with you,
but you are not that María, you tell me
it would be a waste              of your time,
a waste of your day,       a waste of a virgen,
maybe you should stand up
in that red skirt, in that blue reboso,
                                  and march around,
maybe go collect        that last conversation,
the set of words you         have pursed
in your lips, in an image       in your head,
I know you are a bit punchy.
                                                I am sorry
to take your picture,       but I want to take you
                                                                   with me,
you don't want to be left here,
you hate that someone,
           want to grind him with your teeth.
I won't tell anyone          if you don't believe
                                                           in a god.
Cut him in his side,                make him
wish he never crossed you.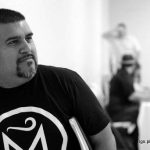 Lupe Mendez is an internationally published poet. His work has been included in the Norton's –Sudden Fiction Latino: Short-Short Stories From The United States and Latin America, The Bayou Review (University of Houston), Flash (University of Chester, England)- the international forum for flash fiction, Revista Síncope (D.F., México), Ostrich Review, New Sound Journal, Pilgrimage, Gulf Coast Journal the Los Angeles Review of Booksamong others.
©LiteralPublishing
Posted: January 4, 2017 at 9:45 pm