Reading Carlos Slim

. A look inside the library of one of the richest men in the world
Diego Enrique Osorno
A few weeks ago, during a series of interviews, business mogul Carlos Slim Helú allowed Mexican essayist Diego Enrique Osorno access to one of his favorite places: his library. For hours on end, the billionaire and the reporter conversed about the volumes found there. This dialogue forms part of Osorno's research for his book Slim: Political biography of the world's richest man, to be published later this year in Spanish by Debate, featuring a prologue by Jon Lee Anderson and an epilogue by José Martínez. In this chapter, Slim reveals another facet of himself as an avid reader of texts on economy, finance, art, sports, and national politics. It also gives us a look into some of the secrets of the wealthiest Mexican on the planet. This interview was translated by Tanya Huntington.
***
Carlos Slim Helú stands up from the table where we were discussing the different influences he has had over his lifetime. He takes six steps towards the library located in a corner of his broad, carpeted office then starts to point out specific volumes with his right index finger.
"Look, this book by Baruch is interesting, so is this one by Ling (he founded a conglomerate and wound up bankrupting it, but it is interesting to see how he did it); or this one by Vesco, who came into a fund and then fled to Cuba. Or this book, which is very good because it describes the crisis of the seventies! Here is one by Ford. Or this one by Pepe Iturriaga, who I was telling you about last time. Here is a book by Getty, and over here, another one by Getty that I read when it appeared in Playboy magazine."
The telecommunications impresario rated in March 2015 by Forbes as the second richest man in the world removes a book from the shelf. It is small and looks worn. Así hice mi fortuna is the title originally published by oil magnate Jean Paul Getty as My Life and Fortunes. As he leafs through the pages, I can see that many phrases and paragraphs are underlined. It is one of the few books in Spanish in this section of the library, where books in English, a language Slim has read fluently since his youth, prevail.
"Was Getty your main role model?"
"Noooo! Not my main role model. Baruch came before him, Rockefeller came before him…" Slim replies, then immerses himself in his library again. "Look, this book is by Rockefeller's grandson, and the guy from Chrysler is around here somewhere. So you learn from all of them, and let me tell you, you learn from the good and the bad. This book, for example, makes a fair assessment of Gates back when he was starting out. It judges him fairly, it says, "this guy isn't selling, he is developing his business well." Or over here is Paper Money, for example…"
The Mexican billionaire is an avid reader of biographies as well as books on business, sports statistics and economics, not to mention history, stacked six stories high on the austere bookshelves that take up an entire wall of his approximately 90-square-meter office inside Corporativo Financiero Inbursa, located in the Lomas de Chapultepec neighborhood, not far from the property where he has resided for forty years. On display in the office are some family photos, classical paintings, and a Spartan desk that Slim almost never uses, because he prefers to work at a table overflowing with papers (including wrappers of sugar-free chocolate for diabetics). While near-sighted in his right eye, he sees very well with his left, which allows him to read without glasses at the age of seventy-five. He has a tendency to interrupt our interviews so he can show me books or documents kept in his library. If, as Borges used to say, one is not what one has written, but what one has read, these digressions by Slim turn out to be more revealing than some of the things he says, given that they shed light on the personality of a man about whom many continue to ask themselves how it was that he managed to amass a fortune that, as of March 2015, totals 79 billion dollars.
One of the books he pointed out to me the first time we met in his office was Mr. Baruch, written by Margaret L. Coit and edited by the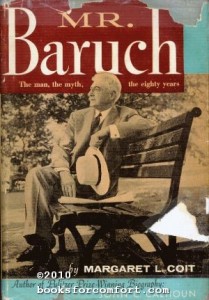 Houghton Mifflin publishing house in 1957, the year Slim began studying Civil Engineering at the National Autonomous University of Mexico (UNAM). It tells the story of Bernard Baruch, a financier from the United States who became a millionaire in the early 20th century by speculating on the sugar market and who was nicknamed "the Lone Wolf of Wall Street" for acting against the grain of investment firms at the time. Baruch gave the story an interesting twist by leaving Wall Street to move to Washington, DC, where he got into politics and became a war room advisor during the Wilson, Roosevelt and Truman administrations.
Another of the biographies Slim has read is Ling: The Rise, Fall and Return of a Texas Titan, by Stanley H. Brown. The synopsis of this book, published in 1972 by Atheneum, explains how Jim Ling, an electrician from Oklahoma with a high-school education, became one of the great corporate speculators and the founder of Ling-Temco-Vought, one of the largest conglomerates in the world until it went bankrupt in the crisis of the 1970s in the United States. There is also Vesco, by Robert A. Hutchison (Praeger, 1974), about Roberto Vesco, born in Detroit to an Italian father and Yugoslavian mother, a fascinating and contradictory character who did not even graduate from high school but who, by the age of 30, thanks to his ability as a salesman, became a millionaire, although he would eventually cheat a Swiss company out of several million dollars and flee to the Caribbean: first the Bahamas, then Costa Rica and finally, Cuba, where he received a warm welcome from the revolutionary government until he defrauded one of Castro's nephews, winding up in a jail in Havana.
The Crash of '79, by Paul E. Erdman (Simon & Schuster, 1976), is another of the books Slim proudly displays. The text on the back cover reads in Spanish, "Erdman is familiar with the intrigues of international high finance. No one can describe this world better than he. With a masterful hand, he draws the reader into today's centers of power." Also The Fords: An American Epic, by Peter Collier and David Horowitz (Summit Books, 1987), a book that focuses on father-and-son conflicts while spanning three generations of the family that created one of the world's greatest automotive empires.
As for the entrepreneur Jean Paul Getty, whose example Slim has followed since the 1960s, two of his books are present: the autobiography As I See It (1976) and How To Be Rich (1965), its first chapter titled "How I made my first billion."
"I see you also have poetry in your library," I say to him, coming across a book by Jaime Sabines.
"We made that one ourselves. Well, his secretary made it, and we published it. Look, if you want to talk about poems, here is an interesting one," he says, moving to the right along the shelves and pulling out a book by Khalil Gibran.
Slim asks me if I would like him to read something by the Lebanese writer about charity, and I answer in the affirmative, aware that he did the same in 2007 with journalist Tim Padgett from Time magazine, after he questioned Slim about his philanthropic methods.
And so, standing next to his library, his sky-blue shirt bearing the initials CSH embroidered on one side and his blue tie, loosened, one of the richest men in the world starts to recite poetry.
***
Art magazines by Christie's and Sotheby's abound in the office of the single most important shareholder of The New York Times, although I have never seen a printed newspaper lying around. Slim tells me he tends to stay abreast of the daily news via an internal synthesis prepared by Grupo Carso, his business conglomerate, and that whenever he feels the urge to open a newspaper, he tends to choose Reforma, a moderate daily, and from time to time, Excélsior, considered to be conservative, or La Jornada, considered to be leftist. One has the impression that the owner of Telmex also keeps tabs on what is going on in the media. He speaks in great detail about publications, editors, and journalists alike. Some of the analysts he claims to read regularly are Federico Reyes Heroles ("he's very good"), René Delgado ("a brilliant guy"), and Jesús Silva Herzog Márquez ("fucking brilliant, although sometimes I don't understand him").
While there are independent journalists in Mexico known for questioning Slim, such as news analyst Denise Dresser, or Ramón Alberto Garza, among those closest to the billionaire is legendary U.S. interviewer Larry King, who is his partner in Ora TV, a web television channel. Another member of his inner circle is José Martínez, author of Carlos Slim: retrato inédito, the first biographical sketch depicting the owner of Telmex, published several years before he made the top of the Forbes list.
Julio Scherer, founder of the magazine Proceso and winner of the Maria Moors Cabot Prize awarded by Columbia University, was perhaps the journalist to whom Slim felt closest. Although several disagreements mar the otherwise perfect track record of their friendship, one of Slim's favorite anecdotes is about Scherer, who died earlier this year. It revolves around the journalist's gentlemanly demeanor toward Mexican actress María Félix, considered the diva of national cinema until the day she died. "I remember a wonderful encounter with Julio Scherer. He was visiting Juan Antonio Pérez Simón and he called to say that he wanted to give me a book, so I said, 'Come on by, I'm dining with María Félix,' and it was truly memorable. I remember that all of a sudden, María dropped her napkin and Julio picked it up, then María dropped it again and Julio picked it up again and he said, 'For you, I would do this a thousand and one times, María.' And María replied, 'No, Julio: let me give you a more interesting occupation.' Beautiful, just beautiful! Julio and I took part in many gatherings where my wife was also present. Were there disagreements? Of course. You know how Proceso is." (Mexico's most important political weekly magazine, Proceso is considered to be leftist).
Miguel Ángel Granados Chapa, who died in 2013, was another emblematic journalist from Scherer's generation with whom Slim sustained a friendship that began in the 1960s, when Granados Chapa was a reporter covering the budding operations of the Mexico City Stock Market, were a young Slim gradually built his reputation as a financial broker.
"Granados Chapa told me you were the invisible patron of the Mexican media, that nearly all members of the press would come and ask you for money."
"No, that isn't right."
"Miquel Angel said that even he once knocked on your door…"
"Yes, he asked me to back the magazine Mira."
"…but that you turned him away."
"No, no I didn't."
"He told me you did."
"I gave him advertising, because as a media partner, I am only with The New York Times. Wasn't Federico Reyes Heroles at Mira? Yes, yes we did give him money. Perhaps he wanted us to give him more? That might be the case. I'll check on that, but I believe we did. I held Granados Chapa in high regard."
"Do you give advertising to media up front, to help them survive certain crises?"
"No, it isn't that. Thirty years ago, Televisa invented the French Plan, which meant that instead of selling you advertising and gradually paying it off, they would sell you an advertising package in advance at a special rate. So what we do, I believe, is negotiate advertising packages for our businesses that last the entire year: it isn't that we give out an advance whenever they go through a crisis."
"Journalists from Televisa have said that the newspaper Reforma is controlled by you and that Carmen Aristegui is as well. Proceso likewise. What is your opinion of Reforma, Carmen Aristegui, and Proceso?"
"What I think is Televisa must be saying that, because they don't control them. Everything they don't control has to be me. They have put together a very interesting strategy. They have their people and then they put them on strange programs, on channel x, or forum y, and that is where they co-opt them. Then, as you may have noticed, nearly everyone is on some program or another, including Denise Dresser, who was there for a while, but then she got away from them… So, they have them co-opted and then they also have others, but these are the ones they use as hatchet men, like Los Alebrijes (a financial commentary program)… Coincidentally, didn't they also tell you that La Jornada was mine?"
"That too, but the ones Televisa mostly indicates are those others."
"They used to also say I had bought La Jornada. And there, the partners are individuals. Carlos Payán (founder of the newspaper, a senator at the time) was a good friend of mine. I have a lot of regard for Payán, I hold him in very high regard. But anyway, they also say Reforma is mine, they are certain about that!"
"Well, Granados Chapa told me that there were some meetings of the board of editors at Reforma between you and Alejandro Junco, owner of the newspaper."
"That is true."
"And Granados Chapa and another of the editorial columnists who were present at the meetings told me that sometimes, you would even scold Junco in front of them."
"No, what I do is to say what I think. I didn't scold him. I contradicted him and perhaps they didn't. But I would never scold him, much less there. What I do is confront them. And I did the same thing with Payán in his day. I would sit down with his people from La Jornada to discuss the issues. For example, there is someone, Demetrio Sodi, who had very close ties to Roberto Hernández [a rival banker of Slim's] and he started to give me a black eye, until we held a meeting and I brought in some paperwork. I have done that as well with people from Proceso and other media. I like to confront them."
Slim sustains an ongoing conflict with Televisa, the largest television broadcaster in Mexico and one of the most important in Latin America.
The level of confrontation is such that, in 2011, Televisa stopped airing commercials paid for by the billionaire's enterprises, arguing that there had been a falling out over economic rates. The version told by Slim's team is that this was due to the fact that Televisa wanted to diminish the Telcel brand name, because the broadcaster had entered the cellular telephone market with Iusacell in partnership with TV Azteca, the second largest Mexican television broadcaster nationwide. TV Azteca joined in the Telcel boycott, which was denounced by Slim. However, during this year's Oscar awards ceremony, commercials from Telcel reappeared on the channel owned by Ricardo Salinas Pliego, who in 2015 dissolved his Iusacell partnership with Emilio Azcárraga Jean and, a few weeks later, obtained juicy profits upon selling his stake in the telephone company to AT&T at more than three times the amount it had cost him.
This conflict between Slim and the country's major television channels has benefited several Mexican newspapers and magazines, given that the advertising accounts of Grupo Carso businesses normally earmarked for Televisa and TV Azteca were significantly redistributed among the press, not to mention radio stations and cinemas. In the midst of this mêlée, more than a few influential journalists have been branded as being on Slim's side or on Televisa's side –the latter being one of the business consortiums closest to the administration of President Enrique Peña Nieto.
A few years ago, at Slim's request, the journalist José Martínez organized a dinner party for the billionaire and some of the daily political columnists who write for major national newspapers. As Martínez tells it, the journalists, habitually so critical, found themselves fascinated by the magnate. It was the first time one of them had ever conversed with the owner of Telmex, yet he stated in front of everyone that since the billionaire had managed his businesses so well to the point of becoming the richest man in the world, then he should also be made president of Mexico, so that the country would be run just as well. Some of those present blushed. Slim responded by saying that he would never become involved in politics.
"It grabs my attention, the way Julio Scherer related to you. Do you believe an independent journalist should sustain a relationship with such a powerful public figure?" I once asked Slim.
"What powerful figure?"
"Well, you."
"No, the powerful ones are the media and the government."
"You believe yourself to be less powerful than the media and the government?"
"Than the President? Of course. And as for the media, which? The TV broadcasters? Television is what runs things, you know that. Haven't you seen how they have attacked us?"
"As a matter of fact, I also have several questions about that."
"No, well, on that subject I might not answer everything you ask me…"
***
"These books that are here are ones I've read, several of them on business, but I have many more at home," Slim clarifies as we stroll alongside his library.
"And what else do you read?"
"A lot of things."
"Do you read economic theory?"
"I almost never read theory. I don't like it."
"So you are omnivorous?"
"Look, these ones here are about art."
The impresario who built one of the largest museums in Mexico, which bears the name of his late wife Soumaya, points out a shelf composed mostly of books received as gifts that he has decided to keep here, in his library, from among the hundreds that reach his doorstep every year and that are piled up with other kinds of gifts in a contiguous room that acts as a customs house or filter that selects what does and does not enter Slim's office. Some of the art books that passed inspection that I was able to identify are: El Greco. Su revalorización por el modernismo catalán, by J. Álvarez Lopera et al. (MNAC/Enciclopèdia Catalana, 1996); Rodin's Art: The Rodin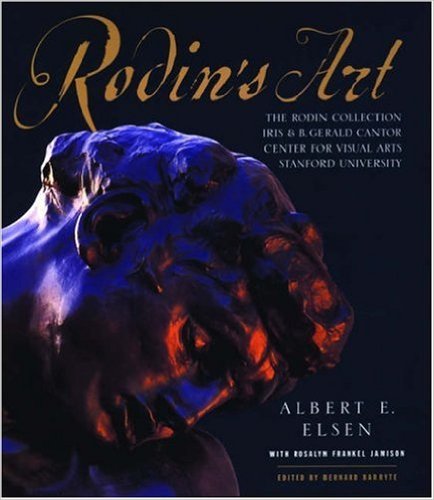 Collection of Iris & B. Gerald Cantor Center of Visual Arts at Stanford University, by Albert E. Elsen and Rosalyn Frankel Jamison (Oxford University Press, 2003); Rodin. Plasters & Bronzes, n/a (Robert Gordon/Gruppo Mondiale, 1999); Rodin. Le festin d'une vie, by Alexandre Bailhache (Du Chãne, 1998); Frida & Diego. Passion, Politics & Painting, edition by Dot Tuer & Elliott King (Art Gallery of Ontario/High Museum of Art Atlanta, 2013); Juan Gris, by Juan Antonio G. Nuno (Poligrafía, 1991); The Annenberg Collection. Masterpieces of Impressionism and Post-Impressionism, by Mr. Colin B. Bailey, Joseph J. Rishel and Mark Rosenthal (Philadelphia Musem of Art, 1989); Para saber de vinos, by Asher Benatar (Benatar Comunicaciones, 2004); Alfredo Zalce, by Beatriz Zalce et al. (Gobierno del estado de Michoacán, 2005); Rufino Tamayo. Catalogue raisonné, gráfica prints 1925-1991, n/a (TURNER, 2005); Pintura y vida cotidiana en México (1650-1950), by Gustavo Curiel (CONACULTA, 1999); Tu hijo puede ser un crack, by Jaume Alguersuari (Planeta, 2012); The Accidental President of Brazil. A Memoir, by Fernando Henrique Cardoso and Brian Winter (Public Affairs, 2007); and Harvard Art Museum Handbook, edited by Stephan Wolohojian (Harvard Art Museums, 2008).
As we advance, Slim remembers something. Wedged between the book Historia de la deuda exterior de México, written by Jan Bazant and published by El Colegio de México in 1968, and the biography Hammer, by Armand Hammer and Neil Lyndon, is an old volume he removes titled Geometría analítica y cálculo infinitesimal, by Woods & Bailey (UTEHA, 1979).
"This book is from my sophomore year in college," he proudly observes.
Next is La Reina del Sur, a novel by Arturo Pérez Reverte about a woman dedicated to the drug trade. Slim clarifies:
"This has nothing to do with me, there are also others here I haven't read… Look, this one is very good, see what a nice title it has." 
I look at the cover and read "Reinas, mujeres y diosas. Mágicos destinos", while Slim removes the transparent plastic cover still in place. 
"We made it at Sanborns, the cover is a painting from the Museum."
Slim keeps rummaging around.
"The Peter Principal: this one is very good," and he shows me the volume by the author famous in the business world for his motto: "In a hierarchically structured administration, people tend to be promoted up to their level of incompetence: the cream rises until it sours."
Above the same section appears a beautifully illustrated book that describes the modern wars, which he says he has just read, and that I should also read to my son. There is also a biography of the Kennedys and the book Outliers, by Malcolm Gladwell. He asks me if I have read it. When I respond that I haven't, Slim says that I must and that he is giving it to me as a gift. As I take it from his hands, I can't help but notice the subtitle on the cover: "Why some people are successful and others aren't."
***
Carlos Slim Helú is not only an avid reader, he is also a major bookseller in Mexico. Sanborns, his chain of nearly 200 restaurants and stores, comprises the largest network of bookstores nationwide, the implication being that for authors and publishers, it is vital to establish a successful sales relationship with the company currently directed by Patrick, his youngest son. As I was told by an experienced editor with whom I have worked on several occasions, "If your book isn't sold in Sanborns, it does not exist. It's that simple."
The scuttlebutt over the past few years has been that books that disturb either Slim or those who are close to him are censored. But the impresario denies this rumor, citing a recent example: Daron Acemolgu and James Robinson, the former a professor at the Massachusetts Institute of Technology and the latter, at Harvard University, wrote Why Nations Fail, in which they include a small paragraph about the owner of Telmex. "Slim has made his money in the Mexican economy in large part thanks to his political connections. When he has ventured into the United States, he has not been successful." This passage caused the business magnate to consider filing a lawsuit so that the professors of two of the most recognized universities in the world, whose book has been praised by several economists who have won the Nobel Prize, would publicly retract this statement. The one who did take legal action against the publishing house was Jacques Rogozinski, head of the Office of Disincorporation of Public Businesses during the Salinas de Gortari administration, through which Slim acquired Telmex. Rogozinski objected to the phrase, "Even though Slim did not put in the highest bid, a consortium led by his Grupo Carso won the auction," and succeeded in having the publishing house strike this statement from subsequent editions of the book written by Acemoglu and Robinson.
"That book, despite everything, is being sold in Sanborns. Seven hundred copies were sold for 349 pesos," Slim says.
"You have never blocked a book?"
"Well, yes. Only once we refused to sell a book."
"Which one?"
"I don't remember the title. But the author said that if we did not do this or that, he would stand outside Sanborns to sell it himself, just to gain publicity. So we did not sell it for a while so he would stop screwing around."
"Are you referring to Rafael Loret de Mola?"
"How did you guess?"
"Well, because it was an accusation he made public in the 1990s…"
"Well yes, it was the sort of pressure that we don't like; but he's a good guy, he's odd and all, but a good guy."
In addition to being a reader, seller and even an occasional editor of books, Slim may explore in the near future the possibility of becoming the author of his own biography. The first time I interviewed him, one of the things he clarified was that he too is writing a book about his life story and his family, and that he is being assisted in this endeavor by his nephew, Roberto Slim Seade, "a kind of personal secretary," who is also the son of his late brother Julián, and who officially handles the management of the hotels owned by Grupo Carso. "The only official biography out there is currently being written by me, it's just that for the time being, I have other work to do," he warned. "I will answer all your questions, but as for your book, let me just say, don't publish too many lies."
***
"Look, here is something special: once they invited me to dine at Los Pinos during the presidential administration of Vicente Fox and when we were done, they invited me to view the library, which I had never entered. Accompanying me was someone who worked with President Fox. All of a sudden, I see a book there on the shelf that bears only the word 'Leonardo', and it pulls me in. And what do you know? It was a book my mother had given me! I open it and see written there, on the first page: 'This book was donated by Linda H. De Slim.' This was a copy they had taken from me but it really surprised me, what had happened, because I discovered the book among the ones that were there in the library, and it turns out to be a biography of Leonardo Da Vinci donated by my Mamá."
"So in this library, you keep your most prized books?" I ask.
"Look I'm not single-minded, I do not have a uniform vocation. I am highly pluralized."
"But this is a special library and it is interesting to look at, as if it were saying: 'by your books, you will be known'."
"Well, no, you won't know me, because these are also books about all the bullshit that can happen," he says disdainfully.
Then he continues our tour of the shelves.
"Look, here is the annual report of the Banco de México from 1994. Why '94? Because it tells the story of the devaluation (he shows me a series of indicators in tiny font and points out the date March 21), here is Colosio, the reserves and where they are removed, here is the 'error of December'."
Then he pulls out a hardcover book: the memoirs of George Bush, senior. On the title page a dedication is visible, but I manage only to glimpse "Family and friends" and a date, May 2006.
"This book by Bush is fucking amazing. Do you know what he and Gorbachev agreed on?"
"Ending the Cold War?"
"No, no, not just that, they also agreed to bring democracy and liberty to the entire world. What happened in Chile [the resignation of Pinochet], that was them; what happened in Panama [the fall of Noriega] and all of Eastern Europe [Velvet Revolution in Prague] as well… A very good book."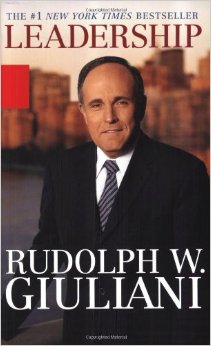 Another of the volumes with personal dedications that Slim shows me is Leadership, written by Rudolph Giuliani, former mayor of New York famous for his hard-handed policies and his actions after the attacks on September 11, 2001. I only managed to read the final words of the dedication in Spanish: "With admiration and friendship," followed by the signature of the former mayor, now a security consultant. Near Giuliani's book is El desacuerdo nacional, by the moderate Mexican politician Manuel Camacho Solís, whose dedication the businessman reads to me out loud: "For Carlos Slim, who is capable of seeing the forest and fulfilling his dreams, with friendship and the determination needed to reach an accord in order to achieve growth with justice."
We continue to explore the shelves and Slim takes out a bound manuscript with a frontispiece that reads "Revolutionary Wealth, Alvin Toeffler".
"Alvin Toeffler asked me to take a look at this before it was published."
He turns the pages, where some notes appear made in the margins of the raw text by the greatest contemporary futurologist, who is a friend of Slim's.
"And did you make some corrections?"
"There were some numerical errors."
"And did Toeffler make the changes?"
"No, because I didn't get them to him on time."
Unlike the book Why Nations Fail, of which Sanborns bought only seven hundred copies, the Spanish edition of Revolutionary Wealth was acquired almost entirely by Slim's chain. The stroll through the library continues. The book Los retos que enfrentamos appears before us, published in 2014 by former president Felipe Calderón, but the impresario ignores it. On the other hand, he removes with enthusiasm a dog-eared volume titled Desarrollo estabilizador, by Antonio Ortiz Mena, and exclaims, "this one is great."
"What are you going to do with all these books?"
"You mean, what are my children going to do with them when I die?"
"Well, you could also make arrangements beforehand…"
"You are asking whether I am going to make a gift of my collection. Well, no."
"Why not let the National Autonomous University of Mexico use them as reference works?"
"No, we have our own study centers."
"Or the University of Austin. For example, the politician Bill Richardson just donated his library to them."
"But up there, they buy collections."
"Yes, they bought Gabriel García Márquez's for two million dollars."
"Twelve million dollars?"
"No, two million."
"Ah, well, that was a bargain.
"And Bill's?"
"I think he gave it to them."
For a brief moment, the businessman falls silent. He seems to be thinking about what will happen to his books in the future.
But he says nothing.
***
On separate occasions, I asked a pair of successful thirty-something Mexican businessmen whether they would find it interesting to know what books Slim kept in his personal library. Both of them, despite the generation gap and their criticism of the billionaire's predominant role in the business world, answered yes. After I had commented on some of the titles, one of them told me he would start looking for them and intended read them soon, while the other continued to be impressed by the fact that he hadn't heard of most of them, despite being a regular reader of literature on business finance and strategies. Among the titles of this ilk that I saw in Slim's library, where the most oft-repeated word is "money", were: Money: Whence it Came, Where it Went, by John Kenneth Galbraith (Houghton Mifflin, 1975); The Money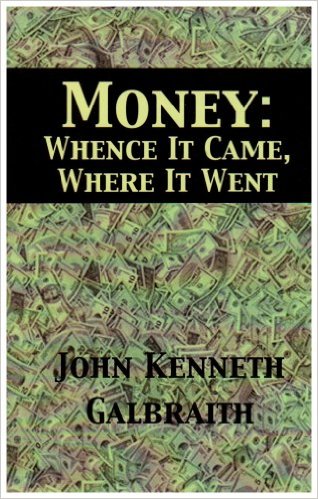 Machine. How KKR [Kohlberg Kravis Roberts] Manufactured Power and Profits, by Sarah Bartlett (Warner Books, 1991); Paper Money, by Adam Smith (Dell, 1982); Supermoney, by Adam Smith (Random House, 1972); Common Wealth: Economics for a Crowded Planet, by Jeffrey D. Sachs (Penguin, 2009); The Warren Buffett Way: Investment Strategies of the World's Greatest Investor, by Robert G. Hagstrom (Wiley, 1997); Why Things Go Wrong, or the Peter Principle Revisited, by Laurence J. Peter (Spanish translation, Plaza & Janes, 1991); Up the Organization: How to Stop the Corporation from Stifling People and Strangling Profits, by Robert Townsend (Spanish translation, Grijalbo, 1970) and The Money Lords: The Great Finance Capitalists 1925-1950, by Matthew Josephson (Weybright and Tally, 1972).
Of all the titles in that section, the one that intrigued me most was Winning through Intimidation, by Robert J. Ringer (Spanish translation, V Siglos, 1974). My book dealer told me it would be hard to find a copy, but that he could help me get one for a thousand pesos. I asked the same bookseller how much he believed an edition from the 1960s of a book by Getty, underlined by Slim, would fetch, and he answered me that it could be worth up to fifty or one hundred thousand pesos.
I also discussed a list of over one hundred of the books from the library that I was able to identify with Daniel Gershenson, a well-known independent activist and critic of Slim's monopolistic practices. Gershenson, who has lived much of his life in New York, was of the opinion that "his selection of titles is pretty conventional; undistinguishable from that of any moneybags on Wall Street (or 'Masters of the Universe,' according to Tom Wolfe), who also happens to be a baseball or basketball fan."
Of the dozens of sports books found in Slim's library, Gershenson focused on the fact that the billionaire owns a biography of Ty Cobb, the Detroit Tiger who was nicknamed the "Georgia Peach," considered by experts to be the best ballplayer in history, outperforming even the renowned Babe Ruth. "Cobb was a grouch: an irascible and belligerent racist who played in the segregated Big Leagues [until 1947, when Jackie Robinson –the first black ballplayer– was hired by the Los Angeles Dodgers]. Famous for his violent character and outspoken, cleats-first savagery at a time when such 'attributes' were highly regarded. Someone who, according to US folklore, twisted the rules and exploited unfair advantages in order to achieve his goal: winning at any cost. A 'dirty,' but successful, baseball player. The pinnacle of gringo pragmatism."
***
The last time I visited Slim in his office was on the evening of Friday, March 20, 2015. A few minutes after I had sat down at my favorite worktable, he asked me to take one more look at the bookshelves where this time, he had a new acquisition.
"What do you imagine is in that backpack over there?" He asked, pointing at a green bag nestled among a row of books.
"From the kind of bag, it could be a weapon. But my guess is that there are books inside."
The billionaire asked his secretary to pass him the bag. He set it down on the table, then opened it up. He took out a pamphlet, a German agenda of sorts, and a notebook with various handwritten annotations. All facsimiles of the diary that Ernesto "El Che" Guevara kept in Bolivia before his assassination. The copies were so perfect, even the colored stains and cigarette burns found in the original diaries of the mythical guerrilla fighter had been reproduced.
Slim explained that Evo Morales, President of Bolivia, had copies made as gifts for various world leaders and that somehow, this gift had found its way into his library.
At that moment, my interview abandoned the subject of books to take up a more direct line of inquiry: whether one of the richest men in the world considered himself to be a conservative or a liberal…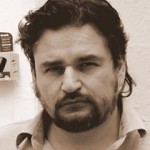 Diego Enrique Osorno has authored many books about social problems in Mexico. His most recent titles are  Contra Estados Unidos. Crónicas desamparadas (Almadía 2014),  Nosotros somos los culpables (Grijalbo, 2010), País de muertos (Compilador, Debate, 2011) and La guerra de los Zetas (Grijalbo, 2012) among many others. His twitter is @DiegoEOsorno
©Literal Publishing. Queda prohibida la reproducción total o parcial de esta publicación. Toda forma de utilización no autorizada será perseguida con lo establecido en la ley federal del derecho de autor.
Posted: August 10, 2015 at 11:23 pm