Agujas
Needles

by Gabriela Polit Dueñas
Literal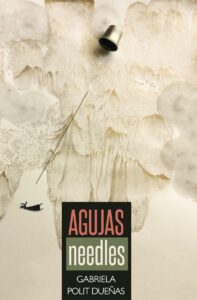 Needles by Gabriela Polit Dueñas
Translated by Sean Manning

Este grupo poemas mínimos cuentan varias historias. Sus personajes gravitan entre la memoria y la ficción. El carácter lúdico de las palabras es un hilo que atraviesa el ojo de la aguja. El hilo une. La aguja hiere. La memoria se recrea.
***
This collection of short poems recounts various stories whose characters navigate between memoir and fiction. The ludic nature of the words is a thread that passes through the eye of the needle. The thread unites. The needle wounds. Memory is resewn.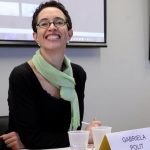 Gabriela Polit Dueñas es escritora y la autora del libro de cuentos  Amsterdam Avenue (Dislocados, 2017). Como investigadora, publicó por Beatriz Viterbo Editora. Trabajó con María Helena Rueda en un volumen titulado Meanings of Violence in Contemporary Latin America (Palgrave-MacMillan, 2011), y Narrating Narcos, Culiacán and Medellín por la universidad de Pittsburgh. Es profesora de la Universidad de Austin. Su Twitter es @polit_gabriela
© Literal Publishing. Queda prohibida la reproducción total o parcial de esta publicación. Toda forma de utilización no autorizada será perseguida con lo establecido en la ley federal del derecho de autor.
Posted: February 23, 2022 at 8:47 pm