THE SUDDEN
LA SÚBITA
Eduardo Mitre
Translation by Gabriel Mitre
A sack of letters
overspills:
Eight rise up and
¡zing!
appears the squirrel.
     Upright, static
like an Egyptian goddess
she pretends not to notice me.
She rummages, picks something up,
smells it, grinds it up
but we don't know what.
Rain drizzles. She lifts her tail
placing it overhead
like an umbrella.
Peering at the horizon,
she sharpens her gaze
and shoots away: where?
With just one stitch,
she sews and unsews
her presence in space.
*Image by Rubí Flores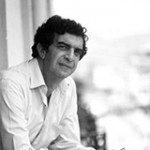 Eduardo Mitre (Oruro, Bolivia, 1943) is the author of Morada, Mirabilia, Desde tu cuerpo, Razón ardiente, Ferviente humo, Elegía a una muchacha and  Líneas de otoño.  
©Literal Publishng