UK, Septiembre 2022
Reino Unido, Septiembre 2022
Adriana Díaz Enciso
September comes with the certainty of the end of a summer that, in the year we reached 40 degrees, the roads started to melt and the earth in the UK literally burnt, seemed eternal. As if to remind us of the mutability of all things, the first days of the month are an alternation of rain and sunshine, light and gloom, and the unbearable question of whether it's time now to put away our sandals, until next year. No matter how glorious/infernal summer may have been (and it was both), the return to this normality of uncertain weather brings some sensation of shelter—something we can trust, until further notice.
At Liverpool Street Station, on the 8th of September, while I queue to buy a sandwich for my journey, I notice a photograph of the queen in a festoon that's been left behind since the Jubilee. It's a strange moment: it seems to me that, from behind the mask of old age and the picture's distant formality, a real woman, alive, peers for an instant, without giving anything away. We still don't know that she's unwell.
Through the train window I see the restored greenery. The rain has given us the landscape back. It feels miraculous that we've recovered it from the withered, scorched earth that surrounded us for quite a while and which broke your heart to see, with a not insignificant dose of terror.
I'm grateful for the relief and the return of the beloved landscape, but my mood is not precisely jubilant. It must be exhaustion. As so many other people in the planet, and no doubt in this country, I am tired of working and working and yet having no security in any way. The state of the world isn't conducive to optimism either, and let's add to this that just two days ago Liz Truss showed up at Downing Street's door as the brand new Prime Minister (that we didn't even elect), with her abject praise of Boris Johnson and foreshadowing what this country is in for: a reverse in what respects measures to tackle the climate crisis, lifting the ban on fracking (where was she when the earth was burning, that she didn't see it? Campaigning). And let's not even get started about what her government promises in the way of more and more poverty for the poor, more privileges for the privileged.
The day prior to my journey I was in Windsor with a cousin who was visiting. Windsor, so cute, so neat. I don't know what the thoughts are of the homeless who spend the whole day looking at the castle's walls. My cousin was surprised to see them. We talked about how things are down here; I told him I don't understand how it is that we're not all out in the streets, protesting (though it is true that the strikes are multiplying). Perhaps, I say, we're not taking to the streets because we're all so tired, with this daily business of survival. Then we talk about the situation in Mexico: even worse. But let's not go there today; these pages are about these days in the UK, and that's already quite a lot.
In Windsor my umbrella broke. I wanted to buy another one, the big, sturdy kind, but it being Windsor, all of them were stamped with the Union Jack. I preferred to get wet.
Anyway; I was saying that my mood on the train on the 8th of September is not cheerful. I'm on my way to Chelmsford, Essex, to read at an event a couple of fragments from my poetry pamphlet Flint, recently published, which is dedicated to the late Keith Flint and to my very dear friend Armando Vega Gil, who also took his own life the same year (2019). People tell me that it's a luminous book, at least considering its subject matter, and I'd like to feel that luminosity somehow, but today I can't find it; it seems to me frankly ridiculous to go and read from that book precisely when I'm feeling so downcast, but here I go, nonetheless. The landscape through the window (trees and more trees, as if it were some wood) before arriving at Chelmsford finally cheers me up.
***
I'm going to read before two talks for Ignite Chelmsford, a community cultural space managed by Marc De'ath. Today it will feature Darren Emerson, director of East City Films, talking about his VR interactive experience In Pursuit of Repetitive Beats, as well as Uncle Dugs, from Rinse FM, a multi-awarded DJ and historian of the rave culture. Music at the end will be courtesy of Intense Records.
Chelmsford, where Keith Flint grew up, is a small city traversed by the rivers Can and Chelmer; the town centre could be very handsome, had they not turned it into a gigantic shopping mall. The cathedral is a gentle and melancholic presence in this afternoon of brief sunshine and much rain. I am grateful for the opportunity to read in Chelmsford: I don't want to reserve the circulation of my book to the literary circuit. I knew little of Flint before his death (and hardly anything about the rave culture or of dance and electronic music), but I've wanted, insofar as I am able, to bring the book here, to Essex, that was his home.
In the UK's geography, Essex is not precisely known for its culture, and it's an often-vilified county, looked down upon.
Before the event, the bar opens in the space where  Ignite Chelmsford's gatherings take place each month, and I find myself among a mix of people of different ages, joyful, friendly, and utterly enthusiastic. As I talk with some of them, I realise that there are indeed interesting things going on in their community. Music is an important part of that exchange, and during the weekend there will be a record fair.
Shortly before the talks start we find out about the death of Queen Elizabeth II. The consensus seems to be that the news is sad, though expected, given her age, but nobody seems to be really affected. The event goes on in the best of moods.
***
What do I think, or feel, as a Mexican who's been living in the UK for the past 23 years, as I hear about the queen's passing? Though it is true that the British monarchy exerts an unwholesome fascination on the rest of the world (I still remember, as a teenager, my mother's excitement as she watched on TV that ill-starred wedding, described as a "fairy-tale"), it is definitely not part of my culture. I don't have the slightest idea, for instance, why princes William and Harry, who I keep on mixing up, are angry at each other, and I don't very much care. Royalty for me isn't so much from another country, as from another planet. For the same reason, I have no elements to judge it with any authority. I know there was a picture of the queen in the ceremony where I got my British nationality, but I wasn't forced to sing "God Save the Queen", though I do remember that the national anthem was played in the Town Hall's rather defective sound system, and it's not altogether clear to me whether that made of me a "subject" or not—if I am, that is, of my identities, the most outlandish. I have heard many convincing arguments as to why the monarchy shouldn't exist; far fewer equally convincing in its defence, though they do exist, and all I have clear is that it isn't black and white, and that getting rid of it is not as easy as a tooth extraction. Because I don't have the experience of what it is to grow up in a monarchy, I try to respect those for whom it has an important meaning, and also those who loathe it. They all have their reasons. Personally, it leaves me rather indifferent, and a bit confused.
But I sort of liked the queen. In common with many, I believe she was a woman who carried out with dignity, sobriety and discretion what she believed was a service and her duty. I may not agree about that service having been necessary, but she seemed to me a decent public figure (something which, of course, cannot be said about everyone in her family), with the terrible exception of her blind spot: the protection of that rogue son of hers, Andrew. When her Jubilee came in June this year, it seemed to me logical that the 70 years of her reign were celebrated, and that it would be naïve and a bit unfair to expect it not to be so, but when I saw the squandering of money involved in the celebrations, precisely when the country's going through one of its worst financial crisis, and many people simply don't have enough to eat, I was furious. It would have been a gracious gesture of sensitivity and empathy to tone the whole thing down. The display of power was obscene and vulgar.
I was even more furious when I saw in the news the happy crowds, celebrating an extravagance that went directly against them. That is definitely not what I have in mind when I say that people in this country should take to the streets.
But I've said it already: in general, I respected the queen, though not so much the institution she represented. News of her death reminded me, I don't know why, of that image of hers—an old lady in mourning and with a black facemask, sitting completely alone at Westminster's Abbey during her husband's funeral in 2021. It's a tough image. Of course, innumerable people all over the world have had to face the death of loved ones in terrible circumstances since the beginning of the pandemic. It's just that it cannot be easy to have the whole world gawking at your pain.
***
But let's go back to the world of us, ordinary people. At Ignite Chelmsford on this 8th of September, when Darren Emerson talks about In Pursuit of Repetitive Beats, he mentions the beginnings of the underground movement of illegal parties that grew from the peak of acid house in the late 1980s, at the end of what he defines as Margaret Thatcher's "reign… of terror". The 90s saw that culture flourish, and though it was perceived as purely hedonistic, through its demolition of all kinds of social and racial barriers as a liberating reaction to the Thatcherism's atmosphere, it took on a strong political component, as it confronted the establishment and the persecutory hysteria to which they wanted to sacrifice it, as many other youth cultural movements.
Afterwards, Uncle Dugs leads us through a very funny narrative of how, out of his love for music, he became one of the most loved DJs in a culture to which he has been devoted for decades, and thanks to which his life went a very different path from that of the "awful" plumber he says he was before. He also talks about his loyalty to Dagenham, where he grew up, which is now part of Greater London, but which still is, essentially, Essex.
(For me, in 1990s Mexico, rave culture went largely unnoticed. I was—wrongly, it goes without saying—convinced that the music of my liking was the only one that mattered. In Mexico, in those years, the political element of music was to a great extent channelled through the massive concerts that collectives of musicians, artists and students, of which I was part, used to organise. The above mentioned Armando Vega Gil was without doubt one of that movement's pillars. During those gigs we informed the audience about what was really going on in the war in Chiapas, gathered aid for the civilian grassroots of the Zapatista Army of National Liberation and for the victims of the Acteal massacre, and they were also a way of protesting against the attempts at prohibition of open-air concerts.  The bands that participated played rock, reggae or ska.)
During the questions' session after the talks, with different generations talking over each other in their eagerness to affirm the culture that defined each of them, I remember the importance and urgency of music in human life (the importance and urgency it had for me, for instance, when I was involved in the organisation of those Mexican concerts). When a very young poet and rapper complains about how things have changed now, and the lack of counterculture in present-day Chelmsford, where young people just gather to drink sophisticated £8 cocktails, Uncle Dugs suggests she starts her own movement. As Darren has said already, we're unfortunately living a moment very similar to that of Thatcherism. Perhaps this is the time (always cyclical) to wake up and correct the course.
***
That night, before going up to my bed-and-breakfast room, I stop for a moment at the pub downstairs. I look at the light rain that makes the pavement sparkle, and I think of the queen's death. Of course, it is a major change, even if only symbolic. When I was born, the queen was already there. In Mexico we have a saying, when someone is arrogant or demands undeserved privileges: "they're hardly the queen of England". The woman seemed to be as immovable as the Big Ben. Over here, coins, notes and stamps will change. Her death comes after a few convulsive years that have forced us to bear in mind the omnipresence of change: the pandemic, war in Ukraine, the threats of nuclear warfare, and the acceleration of climate change in a planet that doesn't seem able to withstand much longer. Queen Elizabeth II really does symbolize another world.
Perhaps she couldn't take receiving Liz Truss as her new Prime Minister two days before her death. Perhaps she had seen enough. I'm glad, I think, that she made it to celebrate her Jubilee. She looked happy. But I'm still furious that they spent so much.
***
The following morning is the same as any other day. Children and teenagers in Chelmsford hurry to school. On my way to Central Park, I see on the motorway near it a gigantic crown, apparently a monument put there to celebrate the Jubilee. It's a very weird thing, somewhat threatening, as if directly from The Castle of Otranto, and I'm not sure I'm not hallucinating.
Central Park is spectacular. Not, it goes without saying, as much as that other more famous park with the same name in that also more famous city, but it is most beautiful nevertheless, with the River Can peacefully running through it and the viaduct's arches looming ahead, passing the lake. I see a tall sequoia with its copperish bark, weeping willows by the river pecked at by the rain, a beautiful tree-lined avenue. Two days before he died, Keith Flint took part in the Saturday parkrun in Central Park. As an international pop star, he could have lived anywhere in the world, but he chose to stay in Essex, and he was an active member of the community. I understand that his Prodigy bandmates hold the same loyalty towards their homeland. I think of Uncle Dugs' loyalty to Dagenham; of what gives meaning to people's lives, and of how mysterious that is, in all our diversity.
I also think that it's a good thing that Flint had the chance to run with others surrounded by this park's beauty shortly before he died.
***
When I get back to Liverpool Street station in London, there are no more old Jubilee ornaments. Instead, there's one of the official photos of the queen that we now will see around the whole country, and another one, more intimate and human, signed "with affection from the railway family". There she is, dressed in blue, with her hat, sitting among several railway workers in their orange overalls.
On Saturday, the 10th of September, London—and the whole country—is mobilised for the multiple proclamation of Charles as King Charles III. Starting his reign at 73 years old, with a perpetual expression on his face of what seems like anguish, he cannot expect a reign as long as his mother's, or as popular. He says that quite clearly in his accession speech, where he talks about his will to carry out "the heavy task that has been laid upon me" in "what remains" of his life. He doesn't sound overly enthusiastic. He has been greeting the crowds outside Buckingham Palace, strangers who seem to love him well, and looking at the flower tributes to his mother. During the ceremonial silence before his proclamation as king outside the Royal Exchange, the only sound is that of a barking dog.
It is well known that the now king Charles has particular concerns about the ecological emergency. Though his privileges are unjustifiable, he represents an institution that is surely obsolete, and even though to ridicule him is a kind of national sport, we must admit that in his pronouncements on that regard he's no idiot. It is thought that, as Prince of Wales, he was always exceedingly opinionated. I wonder if, as a king, he'll exceed his duty again in the face of the backward steps in all things ecological promised by Liz Truss for her new government, or if now he'll be forced to shut his mouth for good, which is the monarch's required position. I would like to see them debate on the matter, with consequences, but I'm afraid it won't happen.
***
All the newsletters I'm subscribed to are sending some message related to the queen's passing. It's a bit too much. The messages are respectful; careful, also, of not causing offense, or at least not too much, to the monarchy's opponents. My favourite is by Michael Schmidt, founder of the Carcanet publishing house and the PN Review, who finds a perfect balance, with humour and elegance, remembering the two occasions in which he had the chance to see the queen move among poets. For his part, John Lydon, aka Johnny Rotten, whose incendiary lyrics and rendering with the Sex Pistols of "God Save the Queen" caused so much outrage in that other Jubilee in 1977, sends a message with the photograph of Elizabeth II used for the single's launch, but now clean of the letters that defaced her. "Rest in Peace Queen Elizabeth II", reads the message: "Send her victorious".
Extinction Rebellion announces that the Festival of Resistance that would take place this weekend, including the taking of Hyde Park (one of the royal parks) will be postponed, after weighing up the risks involved in the mobilization during such peculiar days. XR does take to the streets, regardless how hard Boris Johnson's administration tried to restrict that right.
***
There have been many cannon shots in honour of the deceased queen and the new king, pageantry and ceremonies all hermetic to me, and carried out in full solemnity by people with the most extravagant outfits. That of the trumpeters who play the fanfares is all golden and flashes in the sun.
Crowds keep on gathering around Buckingham Palace, where they've stopped allowing the delivery of more floral tributes. Instead, they've designated a special area in Green Park next door, but people also leave them spontaneously under any tree, or even on the branches. Some children's dramatic messages, no doubt influenced by the adults' reaction, call my attention: a girl draws many faces crying their eyes out and a kind of humanoid flying arrow that is also crying; in another, the child's words say, "Sorry. I miss you. Please come back", and there are others with drawings of the queen, with her eternal hat. I'm amused by the one starting with a respectful "Dear the Queen".
One day, not long ago and also in Green Park, I was in a bad mood, I don't remember why exactly thinking of the queen's privileges, and suddenly I told myself, "But the poor woman can't go for a walk in Green Park just outside her door and then go to a café, like any normal citizen. What kind of life is that?" Now I think that it's a good thing that the floral tributes come out of the palace and fill the park—a kind of symbolic liberation, which I suppose always comes handy to the souls of the dead.
Whatever it is that we think of the monarchy, there is no doubt that for many people this has some meaning. We may problematize things and wonder what does it mean that something means something for someone. There can also be terrible meanings, and of course there are voices questioning the queen's importance, or saying that it's about time to finally put an end to monarchy. There are also debates between people from the Commonwealth who are mourning Elizabeth II and those who are angry, and with good reason, for the harm caused by the British Empire and the absence of reparation. Even so, I am seeing with my own eyes quite a lot of people, mixed with the curious (like myself) and tourists, who are genuinely saddened, and rather than feeling I have the right to simply dismiss them and sweep them aside, I want to see the individuals behind the news. I want to understand. I also wonder what the death of the queen means for that other old woman who's begging outside Green Park, watching the hordes that ignore her.
I have spent hours these days on several buses' upper deck watching the city, watching people, trying to find the answer: what does the death of this woman that some call Her Majesty mean to the inhabitants of this country. Despite the mobilisations provoked by it, people, of course, go on living their lives. These days I have seen multitudes, as multitudes are in London—of all races, all nationalities and all conceivable looks. All over the city there are images of the queen, many enormous. Some show her already old. In others, we see her on the day she was crowned, young and beautiful. The only thing clear to me is that all of us, royalty or not, these crowds and the royal family we see in our screens, all of us, are going to the same place. We're all walking towards death, and there is a sensation of vertigo in watching so much life, so sprightly, including mine, knowing what the final stop is—indeed common to all. I have seen happy people, tired or grumpy people, thoughtful people; I have seen the stoic bus driver that keeps silent when a passenger yells at him; I have seen people on their own and people with their partners, families, friends; I have seen people talking to themselves, or with evident mental health problems; people who are ill and those who are anguished. These days are conducive for stumbling on the Buddha's first three visions (and hopefully this journey and these reflections will draw me close to the fourth one too, even if I can't imagine how): the inevitability of sickness, old age and death. Undoubtedly, the first noble truth is made manifest everywhere: suffering in human life.
The 10th of September is not only the day of Charles III's accession to the British throne. It is also the World Suicide Prevention Day.
***
On the 11th of September I hear, with enormous sadness and dismay, of the passing of Javier Marías, magnificent Spanish author who no doubt was deserving of the Nobel prize. I never met him personally, but we had a few brief epistolary exchanges in which he was kind and generous, and he helped me find the Friends of Arthur Machen, a literary society devoted to the genius Welsh author that Marías admired and knew well. Marías' literary passions had a marked anglophile dimension. He was in a coma when the queen died, so he didn't know. I wonder what he would think—he, king of the intangible literary Kingdom of Redonda—about all this pomp and ceremony, about that funeral cortege that is slowly crossing Scotland, with people in the streets, roads, bridges and paths waiting to watch it pass, throwing flowers, and what he would have written in his column for El País.
***
On Saturday I attend my friend Anne-Marie's birthday party in a pub in Bethnal Green, east London. Her friend Jamie is in charge of the music, with his rendering, rich in emotion and verve, of songs by The Beatles, The Smiths, Johnny Mathis, Bowie, while on a screen in a corner images of the queen's entire life are played ceaselessly. A curious combination, in which triumph belongs, irrefutably, to life. I think again of the importance of music in our lives, and of the things that give meaning to our passing—alas, so brief!—through this world.
During these days of rambling, trying to find a common feature in the human face—the illustrious and the anonymous, that singled out and that of the crowds—I suddenly find myself facing the full moon, rising flushed and glowing among the clouds that are finally dissolving. It's good to be alive, I think. It is good.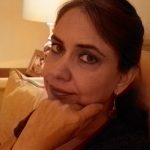 Adriana Díaz-Enciso es poeta, narradora y traductora. Ha publicado las novelas La sed, Puente del cielo, Odio y Ciudad doliente de Dios, inspirada en los Poemas proféticos de William Blake; los libros de relatos Cuentos de fantasmas y otras mentiras y Con tu corazón y otros cuentos, y seis libros de poesía. Su más reciente publicación, Flint (una elegía y diario de sueños, escrita en inglés) puede encontrarse aquí.
©Literal Publishing. Queda prohibida la reproducción total o parcial de esta publicación. Toda forma de utilización no autorizada será perseguida con lo establecido en la ley federal del derecho de autor.
Las opiniones expresadas por nuestros colaboradores y columnistas son responsabilidad de sus autores y no reflejan necesariamente los puntos de vista de esta revista ni de sus editores, aunque sí refrendamos y respaldamos su derecho a expresarlas en toda su pluralidad. / Our contributors and columnists are solely responsible for the opinions expressed here, which do not necessarily reflect the point of view of this magazine or its editors. However, we do reaffirm and support their right to voice said opinions with full plurality.