Waru (2017) means eight in Māori: it's a film made up of eight chapters, made by eight directors (all Māori women, ranging from the incredibly experienced Briar Grace-Smith to debut director Paula Jones) with eight point-of-view characters (also Māori women) bound together by one cinematic strategy –each chapter is shot in a single take– and one character we never see –a child named Waru.
We gradually come to realize that the fluid camera, which intently follows the characters leading each chapter, moving in and out of intimate spaces with astonishing technical audacity, is Waru's watchful eye. It is his voice (Hatene Kereopa) that opens the film in voice-over, saying, "When I died, I saw the whole world." It's a move reminiscent of Julie Dash's Daughters of the Dust (1992), where the Unborn Child (voiced by Kai-Lynn Warren) narrates the film in utero, observing and shaping the first steps towards healing, after slavery, between her parents and across her community.
Each chapter of Waru begins at 9:59 a.m. on the morning of Waru's tangi (funeral) after his death at the hands of his caregiver; together, they build toward a picture of a complex, interconnected community. Form and function mesh perfectly: As Sarah Watt writes for Stuff.co.nz, "the nature of whānau (as in 'community' rather than our Pākehā [white settler] definition of 'nuclear family') lies at the heart of Waru – and it is our whole community that suffers when one of our children dies."
Each chapter embodies one element of he hīkoi aroha, the work of the heart that is both individual and communal, necessarily involving each person's awareness of, and responsibility for, their own actions, as well as attention to each other's. The result is a film that differs profoundly from the Strong Female Character isolationism beloved of supposedly 'progressive' Hollywood films. The mobile camera within each chapter, and the movement between subjectivities, spaces and moods between them, constantly asks the viewer: where are you? Where do you stand?
Several of the chapters focus on moments of confrontation, of different kinds: there's the slow-burning satire of Kiritapu's segment, in which a Māori sports presenter publicly and dramatically rejects her role as fig leaf for a white libertarian news host with the text message incitement/support of the Māori woman journalist reporting from the tangi; but there's also the ritualized meeting at the tangi between Ranui, who is Waru's father's grandmother and of the Ngāti Tūpuna lineage, and Waru's mother's grandmother, of the Ngāti Imurangi lineage, about whose land will shelter Waru's body. It is a fraught encounter, one that is hard for the Pākehā viewer to read fully because of the density of ritual language and action – but also because the story is still unfolding. When Ranui welcomes Waru's mother into her car to grieve at the end of the segment, there is a sense of rapprochement that also defies the dominant narrative stereotype of "conflict."
Unlike Once Were Warriors (Lee Tamahori, 1994), perhaps the best-known Māori feature film globally and one that also focused on women's resistance to domestic violence, Waru eschews depictions of violence, although it does not shrink from presenting and representing their consequences. As such, and through the camera's closeness to the point-of-view characters, the viewer becomes sensitised to the undercurrents of both verbal and physical aggression that manifest more subtly (or not particularly subtly, in the case of the broadcaster calling for "body-snatching pics") and make up the climate in which murderous violence is enabled. Seen through Waru's eyes, the small gestures of alliance and abuse become movingly palpable, particularly in Mere's story, the penultimate chapter of the film, where the cause of Waru's death becomes clear.
Mere is the only non-adult point-of-view character (although we see Waru's classmates in the second segment, led by his nursery school teacher, Anahera), and the older sister of a boy of about Waru's age. Mere carries her grandmother's walking stick, a beautiful carved object of great power that echoes the sticks that Mihi's daughters play with in the fourth segment (claiming they are dragon-killing swords), and, in the third sequence, the branch that breaks Em's fall but also cuts her leg, sobering her up –one of many ways in which the non-human world is a strong and active presence in the film.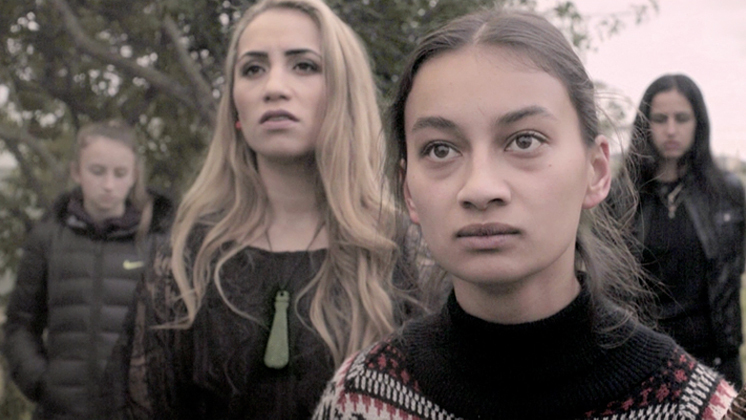 Mere draws on that power to confront one of the uncles building a bonfire outside the marae (a community house where the tangi takes place). It's an extraordinary performance by Acacia Hapi, a healthcare professional, in her first screen role, directed with astonishing confidence and clarity of mood by Jones, also making her debut. Mere commands the screen from the moment she appears, when we hear her voice singing off-camera to her grandmother. We follow her as she takes her brother to the marae, but remains outside, tidying up the shoes left respectfully by a bench –then trying on some velvet wedge heels for size, a sweet and telling symbol of the adult role that she is about to take on.
Her older cousin Abbey (the shoes' owner) warns her to stay away from the uncle, but as the segment unfolds it becomes clear that Mere knows only too well what this uncle is capable of. When she sees him approaching a younger girl, she decides to confront him in front of the other men. "You know who is responsible," she says in Māori, "why didn't you stop it?" The camera circles between the shamefaced responses of the younger men, who are Māori speakers (the older uncle does not understand), and the group of women of all ages who take a stand with Mere as she speaks with her grandmother's stick in hand –and her grandmother's power flowing through her.
Where are you? the film asks. Although it speaks directly to and from an Aotearoa context concerning violence against and within Māori whānau, Waru also speaks presciently and powerfully to the current moment in film culture, as the #MeToo hashtag brings women (and men) of all ages together like the group that joins Mere, to confront male entitlement and abuse, and the silence that has enabled it for too long. As Kiritapu makes clear when she names the Pākehā children who have been murdered in recent years, abuse of the vulnerable and less powerful is not a cultural problem, but as the film argues, it is one that can be addressed by community accountability.
Waru demonstrates that Māori community is undertaking that accountability, led by women using every strategy available to them, from Auntie Charm's cooking for the community in the first story (which Grace-Smith adeptly makes an incredible invitation to the film, including for Pākehā viewers whose lack of awareness is lightly satirized in Willow, Charm's son's willing but over-confident girlfriend) to the more visible activist strategies undertaken by Kiritapu and Mere –and finally the direct action undertaken by perpetually-differing sisters Titty (short for Whatitiri, Thunderer) and Bash (Uira, Lightning), in a segment whose black-and-white cinematography indicates that we might be in the realm of the spirit powers called on by Mere. It's a thrilling finale that asks us, the viewer, to take action having learned from he hīkoi aroha.
Over the end credits, Māori songwriter Maisey Rika sings "Nia," a heart-breaking ballad for Nia Glassie, whose 2007 murder and its Pākehā media coverage is part of the film's underlying story. The song's repeated line, "I see red, I see red" calls on our rage against injustice, but also reminds us that –despite half a millennium of European colonial genocide– indigenous people are present, visible and active globally, and working in their communities to undo the legacy of that colonial violence. "I'm still here," says Waru in the film's final line. We, the audience, need to be there, too.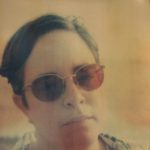 So Mayer is the author of Political Animals: The New Feminist Cinema, The Cinema of Sally Potter: A Politics of Love, and the co-editor of Catechism: Poems For Pussy Riot, The Personal Is Political: Feminism and Documentary and There She Goes: Feminist Filmmaking and Beyond. Her Twitter is @tr0ublemayer 
©Literal Publishing
Posted: November 30, 2017 at 11:30 pm