Donald Trump's Trade War With China: Will the American People Stand as Collateral Damage?
Hélène Dieck
Despite the Republicans' longstanding tradition of support of free trade, President Trump has initiated a trade war with China that is likely to intensify over the next few months, potentially hurting American companies and consumers.
The first salvo was fired last June, with the imposition of a tariff of $50 billion dollars of Chinese imports. It was meant to force China to agree to ease access to the Chinese market for American companies and prevent their being forced to surrender valuable expertise and technology in order to operate in China. Negotiations between the two countries have not yet yielded any results, and the Trump administration decided to impose tariffs on Chinese imports in order to coerce China into accepting lesser restrictions on US companies operating in China. This decision to show strength in order to achieve his objective is on par with his preference for aggression over negotiation. Now the president has announced an additional tariff on $200 billionof Chinese goods, leaving the American people as collateral damage.
President Trump has attempted to convince us that the economics of this negotiating tactic are sound, saying that tariffs will bring more money to the federal budget, shift low-cost supply chains away from China, and make American products more competitive for local demand. However, his administration is omitting that the ones shouldering the cost of this extra federal revenue are not the Chinese, but those buying Chinese goods, meaning US consumers and US companies. Even the jobs saved thanks to the new tariffs in a steel factory will be more than offset by the jobs lost by other US companies now buying steel at a higher price.
So far, the tariffs only applied to a limited number of items, such as bulldozers and motorcycles. But Americans have already seen the price of household items such as dishwashers go up because of these new US tariffs. Now the administration is planning on expanding the list of tariffed goods, potentially hurting the economy of the American people. The Trump administration announced that the final list of goods was carefully chosen so as not to impact the American consumer. Commerce Secretary Wilbur Ross stated on CNBC, "We were trying to do things that were least intrusive on the consumer." "We really went item-by-item trying to figure out what would accomplish the punitive purpose on China and yet with the least disruption in the US." However, the plan now amounts to half of all Chinese imports. In addition, some big economic players such as Apple have managed to negotiate to leave items such as smart-watches and Bluetooth devices off the list of tariffed goods. In the end, the final list includes the following consumer items: food, tools, housewares, and electronics. At a time when Americans are shopping for clothes for Christmas, the list also includes nylon, cotton, and polyester. Furthermore, it is expected that prices of groceries such as nuts, fruits, and vegetables will soon increase. The announced plan is to start with a 10 percent tax, before going up to 25 percent in 2019, after the Christmas shopping season has passed. As a result, the American consumer will most certainly pay for this increase in tariffs, particularly after the New Year.
Is Trump's negotiation tactic working? Following the first wave of tariffs, instead of showing signs of weakness at the negotiating table, China responded with the same hostility initiated by Donald Trump, implementing the same volume of tariffs on US goods. China chose to target the agriculture sector, whose continuants largely support Donald Trump. "China has openly stated that they are actively trying to impact and change our election by attacking our farmers, ranchers, and industrial workers because of their loyalty to me," Trump said on Twitter. "What China does not understand is that these people are great patriots." In an attempt to deter China to further retaliate, the Trump administration has threatened to impose tariffs on an additional $267 billion dollars of Chinese goods, covering almost all Chinese imports ($505 billion last year), in the event that China increased its tariffs as well. China already announced that it will indeed tax new American products, but limited the value to $60 billions of US goods.
For now, the negative impact on the US economy seems to be rather limited. TD Securities predicted an additional 0.1 percentage point to the inflation rate over 2019 and JP Morgan Chase estimated that the US gross domestic product growth will be cut by 0.1 percentage points. For its part, China has more to lose than the US with this escalation. Indeed, China is experiencing a slowing pace of economic growth and an increasing debt. JP Morgan Chase also predicted that the new US tariffs will most likely lead to the unemployment of at least 700,000 Chinese workers and will have a significant negative impact on the Chinese economy.
The trade war is likely to persist as there are no signs of easing relations between the two superpowers. Surrendering to President Trump's aggressive tactic would be a major sign of weakness for China, which makes new negotiations harder. In the long run, US companies stand to lose their competitive edge against countries like Japan or Germany, who will benefit from China's cheaper supply chains. In the short run, given the negative impact on the American people and US business interests in China, the administration is standing to lose voters in the upcoming mid-term elections.
*Image by Dimitra Tzanos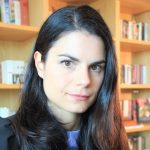 Hélène Dieck received her PhD from Sciences Po, Paris, France. She was previously responsible for elaborating military doctrine at the French Ministry of Defense and served as a visiting researcher at the RAND Corporation, Washington, DC. She currently works as a migrant welfare specialist at Qatar Foundation and recently publishedThe Influence of Public Opinion on Post Cold War U.S. Military Interventions (Palgrave, 2015).
©Literal Publishing
Posted: September 24, 2018 at 10:28 pm