HAMARTIA HATCHET
Carmen Boullosa
Translated by Lawrence Schimel
Losing, Losing
I lost my life to the roulette wheel. It wasn't voluntary.
I'm addicted
to gambling,
had only that left to bet.
I lost my life, just that.
I was looking the other way
when the dice escaped from my fingers.
The demon gathered them up before I could see their faces.
"I won," he told me.
Cackling,
leaving no room for chance, the devil seized me.
Lineage
I wasn't a robinsoncrusoe,
nor did I bite the apple like some eve,
nor follow in drake's footsteps,
nor discover the x-rays that later revealed your bones.
No, I didn't take part in assaults on foreign ports,
I didn't travel, I didn't explore, I didn't capsize in storms, I neither discovered nor renewed.
I did nothing at all.
I was expelled from eden but not of my own accord.
Old Age
Like a fish out of water,
dehydrating, the dry skin of the elderly loses its firmness, it wrinkles. Jawbones want to undress themselves, disgusted by their ugly covering. Skulls are in a hurry to be uncovered.
But we elderly are not like fish out of water, because without water a fish dies.
Our lives are not rivers,
that go to empty into the sea.
A dry riverbed, mankind,
forgetting everything, senile,
returns to its childhood.
*From HAMARTIA HATCHET by Carmen Boullosa (©2020  White Pine Press).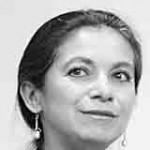 Carmen Boullosa (Mexico 1954) is a leading Mexican poet, novelist and playwright. She has authored more than 30 titles.